<< Previous Section - Corded Headset Solutions for Cisco Phones
Next Section - Understanding a corded Cisco Headset Solution >>
Section 3: Cisco Compatibility Guide
Click column headings to view products
Cisco Model:

H-Series Headset

U10 Cable
26716-01


2.5mm Cable 70765-01

2.5 Cable 65287-01

M22
Amplifier

Bluetooth

Wireless
Headsets
HL10
Lifter
CS50/CS55/CS70
EHS Cable
CS500/W700
EHS Cable

USB



Cisco 12 VIP

ANY

✓

✓

ANY

✓

Cisco 30 VIP

ANY

✓

✓

ANY

✓

Cisco 521G

ANY

✓

✓

ANY

✓

Cisco 524G

ANY

✓

✓

ANY

✓

Cisco 6921

ANY

✓

✓

ANY

✓

Cisco 6941

ANY

✓

✓

ANY

✓

Cisco 6945

ANY

✓

✓

ANY

✓

APC-43*

Cisco 6961

ANY

✓

✓

ANY

✓

Cisco 7821

ANY

✓

✓

ANY

✓

APC-4

APC-43

Cisco 7841
ANY

✓

✓

ANY

✓

APC-4

APC-43

Cisco 7861

ANY

✓

✓

ANY

✓

APC-4

APC-43

Cisco 7902, 7902G

ANY

✓

ANY

✓

Cisco 7905, 7905G

ANY

✓

ANY

✓

Cisco 7906, 7906G

ANY

✓

ANY

✓

Cisco 7910, 7010+SW

ANY

✓

ANY

✓

Cisco 7911, 7911G

ANY

✓

ANY

✓

Cisco 7912, 7912G

ANY

✓

ANY

✓

Cisco 7920

ANY

✓

Cisco 7921, 7921G

ANY

✓

Cisco 7925G

ANY

✓

ANY

Cisco 7929

ANY

✓

Cisco 7931G

ANY

✓

✓

ANY

✓

Cisco 7932G

ANY

✓

ANY

Cisco 7940, 7940G

ANY

✓

✓

ANY

✓

Cisco 7941, 7941G

ANY

✓

✓

ANY

✓

Cisco 7942G

ANY

✓

✓

ANY

✓

APC-4

APC-43*

Cisco 7945, 7945G

ANY

✓

✓

ANY

✓

APC-4
APC-43*
Cisco 7960, 7960G

ANY

✓

✓

ANY

✓

Cisco 7961, 7961G

ANY

✓

✓

ANY

✓

Cisco 7962G

ANY

✓

✓

ANY

✓

APC-4

APC-43*

Cisco 7965G

ANY

✓

✓

ANY

✓

APC-4

APC-43*

Cisco 7970, 7970G

ANY

✓

✓

ANY

✓

Cisco 7971, 7971G

ANY

✓

✓

ANY

✓

Cisco 7975, 7975G

ANY

✓

✓

ANY

✓

APC-4

APC-43*

Cisco 7985, 7985G

ANY

✓

ANY

Cisco Model:

H-Series Headset

U10 Cable
26716-01


2.5mm Cable 70765-01

2.5 Cable 65287-01

M22
Amplifier

Bluetooth

Wireless
Headsets
HL10
Lifter
CS50/CS55/CS70
EHS Cable
CS500/W700
EHS Cable

USB



Cisco 8811

ANY

✓

✓

ANY

✓

APC-43

Cisco 8821

3.5mm

✓

Cisco 8841

ANY

✓

✓

ANY

✓

APC-4

APC-43

Cisco 8845
ANY

✓

✓

ANY

✓

APC-4
APC-43
Cisco 8851
ANY

✓

✓

✓

ANY

✓

APU-7
APC-43/APU-72

✓

Cisco 8861
ANY

✓

✓

✓

ANY

✓

APU-7
APC-43/APU-72

✓

Cisco 8865
ANY

✓

✓

ANY

✓

APC-43/APU-72

✓

Cisco 8941

ANY

✓

✓

✓

ANY

✓

APC-82

Cisco 8945, 8945G

ANY

✓

✓

✓

ANY

✓

APC-82

Cisco 8961

ANY

✓

✓

Dongle Required

ANY

✓

APU-7

APU-72

✓

Cisco 9951

ANY

✓

✓

✓

ANY

✓

APU-7

APU-72

✓

Cisco 9971

ANY

✓

✓

✓

ANY

✓

APU-7

APU-72

✓

Cisco Cius

ANY

✓

✓

✓

ANY

✓

Cisco CTS500

ANY

✓

✓

ANY

✓

Cisco DX650

ANY

✓

ANY

✓

APU-72

✓

Cisco SPA 303G

ANY

✓

✓

ANY

✓

Cisco SPA 501G

ANY

✓

✓

ANY

✓

Cisco SPA 502G

ANY

✓

✓

ANY

✓

Cisco SPA 504G

ANY

✓

✓

ANY

✓

Cisco SPA 508G

ANY

✓

✓

ANY

✓

Cisco SPA 509G

ANY

✓

✓

ANY

✓

Cisco SPA 512

ANY

✓

✓

ANY

✓

APC-45

Cisco SPA 514 & 514G

ANY

✓

✓

✓

ANY

✓

APC-45

Cisco SPA 525

ANY

✓

✓

✓

ANY

✓

APC-45

Cisco SPA 525G

ANY

✓

✓

ANY

✓

APC-45

Cisco SPA 921

ANY

✓

✓

ANY

✓

Cisco SPA 922
ANY

✓

✓

ANY

✓

Cisco SPA 941

ANY

✓

✓

ANY

✓

Cisco SPA 942

ANY

✓

✓

ANY

✓

Cisco SPA 962

ANY

✓

✓

ANY

✓
* Cisco 7942G, 7945, 7945G, 7962G, 7965G, and 7975G telephones using an expansion module (sidecar) will need Plantronics # 85638-01 for use with wireless headsets. The standard wireless cable to your phone is not long enough, and the 85638-01 extension cable is required.
---
ENABLING WIRELESS HEADSETS FOR REMOTE ANSWER:
NOTE: Many Cisco phones require the headset option to be 'enabled' when viewing each individual phone setting. This is modified on the system side, and a few models allow this change at the phone.
NOTE: We have experienced EHS cables initially not answering remotely, and you need to be at your phone to press the headset button to establish a call. To resolve this issue:
1) Unplug the EHS cable from the wireless base and telephone.
2) Unplug the power cord from the base and wait 60 seconds.
3) Plug the power cord back into the base and wait for the power indicator lights to come on.
4) Plug the EHS cable into the wireless base and telephone.
That should resolve the issue, and it is now ready for use.
---
PROGRAMMING FOR CISCO PHONES VIA PHONE INTERFACE (IP 7965G & 7945G):
By default, the wireless headset remote hookswitch control feature is disabled. You can enable it through the Cisco Unified Communications Manager Administration application. To do so, choose Device > Phone and locate the phone you want to modify. In the Phone Configuration window for the phone, select Enable for the Headset Hookswitch Control option.
On the phone, you can verify that the feature is enabled by choosing Settings > Device Configuration > Media Configuration, and verifying that the Headset Hookswitch Control setting displays Enabled.
---
PROGRAMMING FOR CISCO PHONES VIA WEB INTERFACE (SPA):
Phones should be running firmware version 7.5.2b and above to support EHS cables. APC-45 cable needs to be plugged into the 2.5mm headset port of the phone.
Plantronics EHS should be selected in the web interface(CISCO Call Manager) under Voice-->User-->Audio-->EHS type-->Plantronics.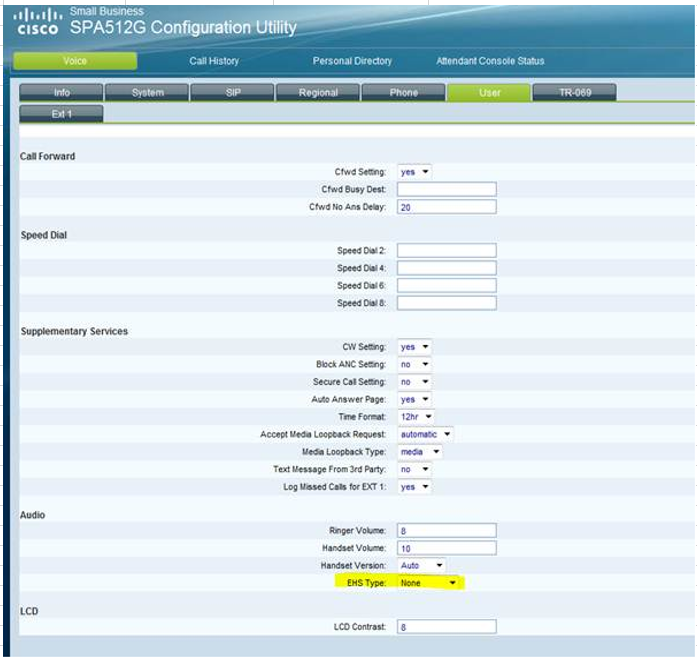 << Previous Section - Corded Headset Solutions for Cisco Phones
Next Section - Understanding a corded Cisco Headset Solution >>