The Plantronics CS55 Wireless Headset Date Codes is located on the bottom of the base. You'll see a sticker that contains the letter B, followed by another letter and string of numbers. The date code consists of the second two characters (the letter and first number, e.g., J8 or I5).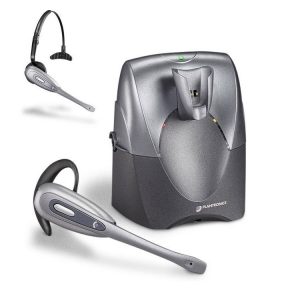 For the current versions of the Plantronics CS55 wireless headset click: Wireless Headsets
When trying to determine if your product is under warranty, you need to look on the bottom of the headset base and find the Plantronics CS55 date codes. This is how you will decipher when your exact product was manufactured at Plantronics and when the 1-year warranty started.
Warranty of product is handled directly with the manufacturer. Typically you will register the product and then file a claim that the unit is defective to start the warranty/replacement process. We always suggest calling the manufacture's tech support team to attempt to troubleshoot the headset over the phone. It's much quicker and easier to resolve your issue if you don't have to ship your headset to Plantronics and wait for a replacement unit.
The Plantronics CS55 replace the CS50 and both quickly became the most popular wireless headsets for use with business telephones. They offer all-day talk time, wearing options for over-the-head and over-the-ear, with impressive roaming distance capabilities. With the addition of an Electronics Hookswitch Cable or handset lifter, you can also receive receive remote call alerts and have the ability to answer and hangup when away from your desk.