We recently had an inquiry if we sell any aviation headsets for commercial airline pilots?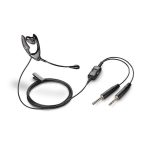 Yes, we sure do.  We sell the Plantronics aviation headset models MS200, MS250, and MS260.  These are standard 2 plug commercial grade headsets with 5ft cords for commercial and military pilots (2 plugs = 1 each, PJ055 and PJ068), which are the most common.  Chances are if you're a commercial pilot, you have probably worn a Plantronics aviation headset when you fly. That's because Plantronics has been supplying headsets to pilots for more than 40 years, and not to mention having the FAA stamp of approval and meeting the TSO (Technical Standard Order) C57a and C58a specifications that dictate the performance of headsets that are used aboard aircraft.  And even though the FAA is a U.S.-only agency, these FAA flight standards are recognized all over the world.
The Plantronics MS200 commercial aviation headset combines a unique lightweight design and advanced technology to deliver the ultimate in comfort and reliability.  Its compact under-the-ear design ensures a secure, comfortable fit and it is convenient to carry and stow.
The Plantronics MS250 commercial aviation headset uses a proven design to set new standards in comfort and reliability for pilots.  The MS250 is a monaural headband model that goes over the head and covers one ear.
The Plantronics MS260 commercial aviation headset is a binaural headband model that goes over the head and is the same as the MS250, except it covers both ears.  The Plantronics MS260 comes in handy for those international flights because when you're landing in foreign countries, you really want and need to hear every word from air traffic control.  Unlike domestic routes where pilots usually wear their headsets throughout the duration of the flight, you might only have the headset on for takeoff and landing on an international flight.  And the binaural dual ear headset really helps you concentrate when communicating with an international air traffic controller in another country.
The Plantronics MS200 seems to be the most popular choice among pilots, probably due to its light weight under the ear design with an ear bud that makes it feel stable on the ear, and of course not to mention the award winning superior sound quality.  The noise-canceling microphones on these Plantronics aviation headsets enable clear, uninterrupted communications between the pilot up in the air and air traffic control on the ground.  The MS series of Plantronics aviation headsets are built for comfort and have a track record of reliability.  Each of these compact light weight headsets also come with a carry case for convenient quick and easy portability.  So kick the tires, light the fires, just grab it and go!  Whether you are flying a Boeing 737 full of vacationers or a military transport full of Humvees , from outer space to aerospace, we may just have the headset for you.