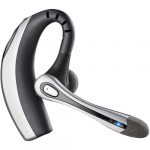 End of Life Announcement – Plantronics Voyager 510 Headset
The Plantronics Voyager 510 headset (part # 72270-61) will be discontinued. The Voyager 510S system is not affected by this action, and will remain available. The last order date for the Voyager 510 headset is December 31, 2009 and is only available while supplies last.
The Voyager PRO is available as a replacement, which has won praise from press and customers alike, offers next generation performance, fit, and reliability for mobile users.
For the latest: Plantronics Voyager Bluetooth Headsets