Poly VVX 150 2-Line IP Business Phone
Whether it's a home office or a common area, you want a reliable, affordable small business phone with great sound and looks—but you don't want to break the bank. Why choose? Enjoy super clear conversations on a two-line Poly VVX 150 Business IP Phone that's affordable, easy to set up and everyone can use. And let's hear it for Poly Acoustic Fence. It eliminates background noise to keep calls quiet wherever it's noisy—home office, front lobby, or wall mounted. IT will appreciate robust provisioning and management capabilities that take the headache out of telephony deployment and support.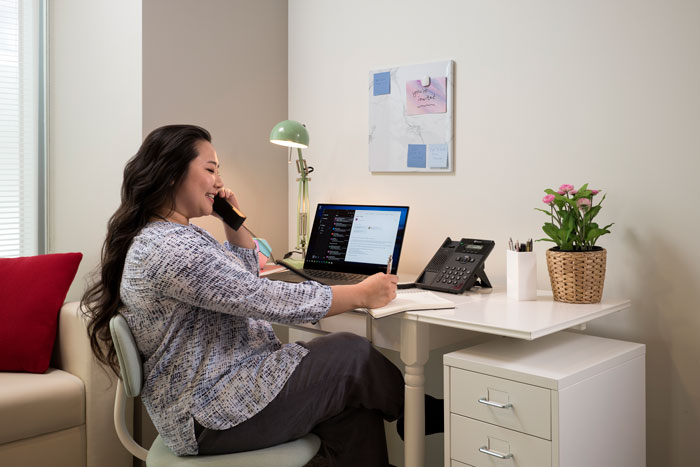 Two line keys with a 2.5 inch backlit monochrome display.
Crystal clear sound with Poly HD Voice and Poly Acoustic Clarity.
2 port 10/100 MBS Ethernet.
Microban® antimicrobial product protection actively reduces the growth of bacteria 24/7.
Reduce your carbon footprint with these ENERGY STAR® rated phones.
Reversible desk stand/wall mount.
** POE (power over ethernet) (A/C Power Supply sold separately)
---
Business IP Phone Benefits:
Conversations stay on track. Hear every nuance with industry-leading sound quality featuring Poly HD Voice.
Eliminate distracting background noise at the source with exclusive award-winning Poly Acoustic Fence technology.
Easy deployment and administration with web-based management tools and zero-touch provisioning.
Your phones stay cleaner for longer with integrated Microban® antimicrobial product protection.
---
POLY VVX 150 Business IP Phone Specifications:
USER INTERFACE FEATURES
2.5" graphical backlit monochrome LCD (132×64 pixel resolution)
Voicemail support1
Reversible desk-stand/wall-mount
Unicode UTF-8 character support
Multilingual user interface including Chinese, Danish, Dutch, English (Canada/ US/UK), French, German, Italian, Japanese, Korean, Norwegian, Polish, Portuguese, Russian, Slovenian, Spanish, and Swedish
FEATURE KEYS
4 context-sensitive "soft" keys
2 line keys with bi-color (red/green) LED "Home" feature key
4-way navigation key cluster with center "Select" key
2 volume control keys
Dedicated keys:
Back and Home
Hold and Transfer
Headset
Hands-free speakerphone
Microphone Mute
AUDIO FEATURES OF THE POLY VVX 150 BUSINESS IP PHONE
Poly HD Voice delivers lifelike voice quality for each audio path handset, the hands-free speakerphone, and the optional headset
Poly Acoustic Fence technology removes background office noise heard by far end when using handset or wired headset
Poly Acoustic Clarity™ technology providing full-duplex conversations, acoustic echo cancellation and background noise suppression
Poly Computer Audio Connector app installed on your PC (Windows only) lets you to play computer audio through your VVX phone and use your phone as a microphone
TIA-920 Wideband Audio
Type 1 compliant (IEEE 1329 full duplex)
Frequency response—150 Hz—7 kHz for hands-free speakerphone, handset and optional headset mode
Codecs: G.711 (A-law and μ-law), G.729AB, G.722 (HD Voice), iLBC
Individual volume settings with visual feedback for each audio path
Voice activity detection
Comfort noise generation
DTMF tone generation (RFC 2833 and in-band)
Low-delay audio packet transmission
Adaptive jitter buffers
Packet loss concealment
HEADSET AND HANDSET COMPATIBILITY
Dedicated RJ-9 headset port
Hearing aid compatibility to ITU-T P.370 and TIA 504A standards
Compliant with ADA Section 508 Subpart B 1194.23 (all)
Hearing aid compatible (HAC) handset for magnetic coupling to hearing aids
Compatible with commercially-available TTY adapter equipment
CALL HANDLING FEATURES1
2 SIP identity (registration)/ 2 programmable line keys
Shared call/bridged line appearance
Flexible line appearance (one or two line keys can be assigned for each registration)
Enhanced Feature Keys make powerful feature shortcuts on line key appearances or soft keys
Distinctive incoming call treatment/call waiting
Call timer and call waiting
Call transfer, hold, divert (forward), park, pickup
Called, calling, connected party information
Local three-way audio conferencing
One-touch speed dial, redial
Remote missed call notification
Do not disturb function
Reverse Number Lookup via LDAP
Calling Party Identification (RFC8225 classifications—Trusted, Unknown, SPAM)
Electronic hook switch capable
Local configurable digit map/dial plan
OPEN APPLICATION PLATFORM
Supports Poly Apps SDK and API for third-party business and personal applications
Bundled with Polycom UC Software:
Corporate directory access using LDAP
Visual Conference Management
NETWORK AND PROVISIONING – POLY VVX 350 BUSINESS IP PHONE
SIP Protocol Support
SDP
IETF SIP (RFC 3261 and companion RFCs)
Two-port Ethernet switch 10/100BaseTX across LAN and PC Ports
Manual or dynamic host configuration protocol (DHCP) network setup
Time and date synchronization using SNTP
FTP/FTPS/TFTP/HTTP/HTTPS server based central provisioning for mass deployments
Provisioning and call server redundancy supported
QoS Support–IEEE 802.1p/Q tagging (VLAN), Layer 3 TOS, and DHCP
VLAN—CDP, DHCP VLAN discovery, LLDP-MED for VLAN discovery
Network Address Translation (NAT)— support for static configuration
"Keep-Alive" SIP signaling
RTCP and RTP support
Event logging
Syslog
Hardware diagnostics
Status and statistics reporting
TCP
UDP
DNS-SRV
IPv4, IPv6, dual stack (IPv4/IPv6) mode
SECURITY
802.1X Authentication and EAPOL Media encryption via SRTP
Transport Layer Security (TLS)
Encrypted configuration files
Digest authentication
Password login
Support for URL syntax with password for boot server address
HTTPS secure provisioning
Support for signed software executables
POWER
Built-in auto sensing IEEE 802.3af Power over Ethernet Class 2, 5.0 W (Max)
External Universal AC/DC Adapter (optional) 5VDC @ 3A (15W)
ENERGY STAR® rated
POLY VVX 150 BUSINESS IP PHONE COMES WITH
Console
Handset with handset cord
Network (LAN) cable—CAT-5E
Desk Stand/Wall Mount Bracket
Setup Sheet
SIZE
23.4 cm x 23.1 cm x 5.5 cm WxHxD
9.1 in x 9.2 in x 2.2 in WxHxD
PART NUMBER
2200-48810-025—VVX 150 WW PoE
WEIGHT
Carton weight: 0.890kg (1.962 lbs)
MASTER CARTON QUANTITY
WARRANTY
1 Most software-enabled features and capabilities must be supported by the server. Please contact your IP PBX/Softswitch vendor or service provider for a list of supported features.