As Versatile As You — The Headset With Near-Endless Options
Your day doesn't start (or end) in the office. That's why the Poly Voyager 6200 UC Bluetooth® neckband headset with earbuds provides the best in both versatility and mobility. Enjoy the superb audio you expect from Poly in a wear-anywhere style you can pair with up to eight devices. Now you're talking. (And walking.)
---
Wear It All Day — Comfortable Enough To Wear For Hours
Get performance, comfort and versatility in one device. A whopping four omnidirectional microphones bring your voice to the forefront and minimize distractions. When your neckband vibrates to alert you to an incoming call, your earbuds are always ready to take it.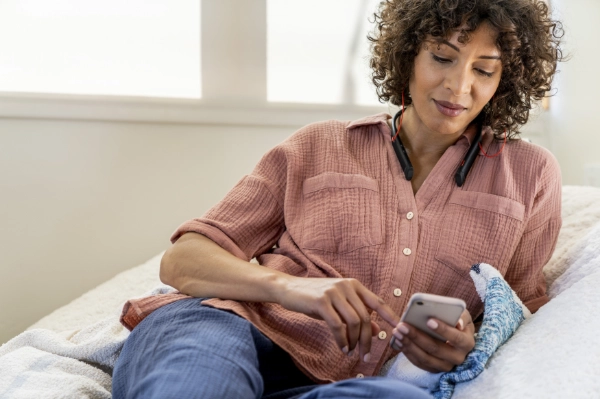 ---
Connect To All Your Devices — Pairs With Your Choice Of Devices. Go Mobile!
Need to keep one ear on your phone and one ear on your desktop? Done. The Voyager 6200 UC uses multipoint technology connects you to any two devices at the same time, and pairs with with up to eight.
Plus, with Class 1 Bluetooth range, you can walk away from your PC, tablet or mobile and still stay connected.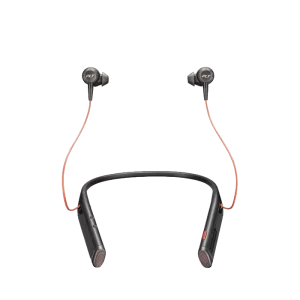 ---
Customize — Adjust The Settings To Make It Yours
Get the most out of your Voyager 6200 UC with Poly Lens app. Keep software up to date, manage personal settings, use personal health and wellness reminders to stay focused and energized all day. Connecting to Poly Lens gives IT the ability to provides better service and support when you need it.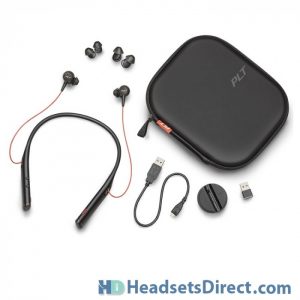 ---
Built For Compatibility
The Poly Voyager 6200 UC headset is compatible with the most popular voice platforms – we just work. Poly solutions provide excellent audio quality for both you and those on the other end of the call – no matter your platform of choice.

Poly is certified (when offered) with all major communication platforms.
---
Poly Lens – Intelligent Insights, Scalable Management
Poly Lens software gives IT teams visibility and control over voice, video, and headset devices. Deploy, configure, update, and get valuable insights from one endpoint or thousands using one scalable platform. Poly Lens makes it simple: no heavy IT lifting required.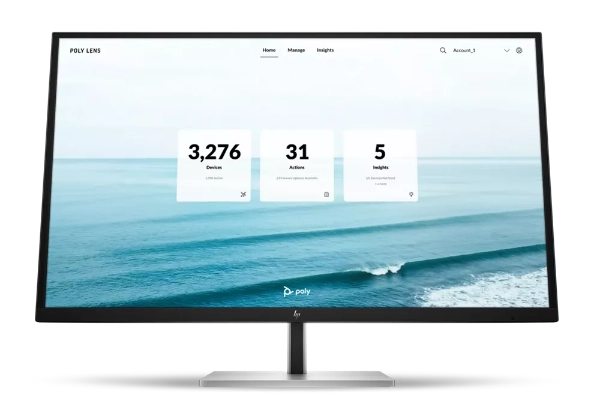 Poly Lens APP – Designed For You
Get the most out of your Poly devices. Use one convenient app to manage all your compatible devices. Keep software up to date, manage settings, and use the personal health and wellness reminders to keep you focused and energized all day long. With the Poly Lens App, you can customize your devices to work the way you do.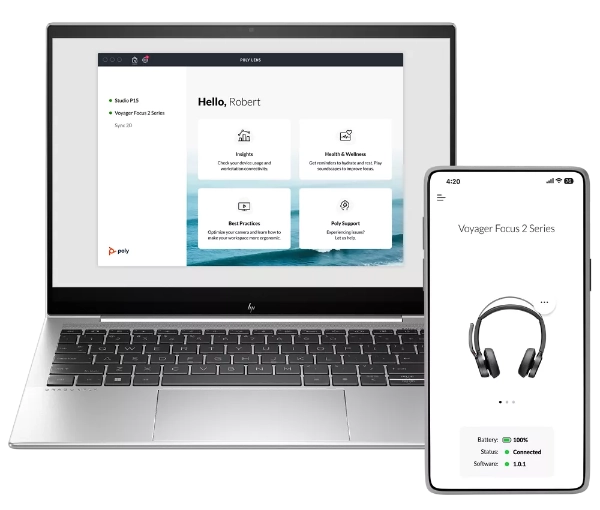 ---
Voyager 6200 UC Bluetooth Headset Features:
Professional-Grade Audio with Enhanced Digital Signal Processing:
Four Omnidirectional microphones capture every nuance of your voice while enhanced noise canceling minimized background noise, so your caller hears you, not your surroundings.
On-Demand Active Noise Canceling (ANC):
On-demand ANC reduces background noise and distractions.
Connect To Your Deskphone:
Use with most desk phones with addition of MDA220
Built-In Versatility In A Neckband With Earbuds: 
Consumer-styled behind-the-neck design with discreet earbuds. Switch from stereo to mono to hear your surroundings simply by dropping an earbud, or remove both earbuds for face-to-face conversations.
Incoming Call Alert:
Neckband vibrates to alert you of incoming calls; so there's no need to look at your mobile phone.
Dynamic Mute Alert: 
The dynamic mute alert feature senses when you start to talk while the headset is on mute and sends you a voice prompt.
Class 1 Bluetooth with 98 Feet Wireless Range: 
Roam freely with up to 98 feet of wireless range from your desktop or laptop.
Customizable Call And Media Options:
The Poly Lens app provides user customization and value-added features to configure settings and update firmware.
HI-FI Stereo And Passive Noise Canceling With Earbuds: 
Comfort-fit earbuds provide high-quality hi-fi stereo along with passive-noise canceling for immersive audio that can help you stay focused in an open-office environment.
Dedicated Mute Button: 
Convenient dedicated mute button.
Wideband Audio And Stereo Telephony Support: 
Wideband audio provides high-quality PC telephony and is compatible with smartphone enabled for HD voice. Support for stereo telephony and spatial audio (with compatible applications).
Up To 9 Hours Of Talk Time: 
Wear your headset all day long with up to 9 hours of talk time, 16 hours of listen time and 14 days standby time.
---
Voyager 6200 UC Bluetooth Headset Specifications
General
POLY

SKU: 208748-101
UPC: 017229158498

HP

SKU: 7D7G5AA
UPC: 197192148341

Warranty: 2-year
Listen/Talk/Standby Time
Up to 16 hours listen, 9 hours talk and 14 days standby
Roaming Range
Up to 98 feet (30 meters)
Battery Capacity
Charge Time
1.5 hours for full charge
Bluetooth Technology
Bluetooth 5.0 with BLE Bluetooth Profiles used
Audio Profiles
Advanced Audio Distribution Profile (A2DP) 1.2
AVRCP 1.5
Codecs
Classic; Low Latency, APTx
Receive Audio Performance
Active noise cancelling (ANC)
Receive Frequency Response
20 Hz – 20 kHz (high-fi stereo and stereo telephony)
Hearing Protection
SoundGuard DIGITAL protects against sound levels above 118dba
G616 Anti-startle (during calls) detects and eliminates any large sudden increase in signal level
Time-Weighted Average prevents average daily noise exposure from exceeding 85dBA
Microphone and Technology
Boomless design
Four omnidirectional microphones with digital signal processing (DSP)
Weight
Call Controls
Call answer/end
Mute
Volume +/-
Media Controls
Mute
Play
Pause
Track forward/back
Voice and Other Prompts
Enhanced voice alerts announce

Talk time remaining
Mute
Connection status

Neckband vibrates to alert incoming call
---
What Comes In The Box:
Voyager 6200 UC Headset (208748-101)
USB Bluetooth mini-adapter with mute indicator (205250-01  – BT600)
Small, medium, and large ear tips (211149-01, 211149-02, 211149-03)
Carrying case (211149-04)
USB charging cable (201885-01)
Desk Charging Stand (211149-05)
Quick Start Guide
Safety booklet
Warranty insert