Poly Studio P15 Video Conferencing for Business Professionals – Poly 2200-69370-001 or HP 842D1AA#ABA

Make Remote Feel Less Distant! Make the most of video call wherever you're working. The Poly Studio P15 Video Bar part # Poly 2200-69370-001 or HP 842D1AA#ABA ensures you always look and sound your best. High-performance cameras compensate for lighting imbalances, while Poly's premium audio if fine-tuned to help you focus and eliminates distractions. IT gains robust cloud management and troubleshooting of every device from anywhere.

Don't Just Show Up, Stand Out – Put Your Best Face Forward. Every Call.
Stand out with the Poly Studio P15 video bar. Exceptional optics, powerful audio, automatic camera framing, and cutting-edge noise blocking tech to give you freedom to move and command the conversation. The sleek bar is simple to set up and Poly Lens give IT the tools to keep it all smooth and stress free.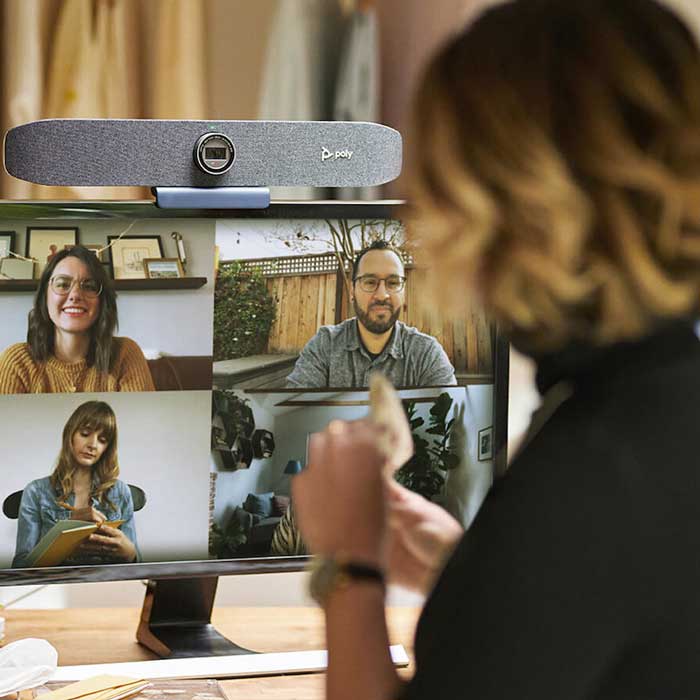 Look Amazing, Be Amazing – Automatic Camera Framing Keeps You Front And Center
Stay centered on camera without staying glued to your chair with automatic camera framing. When you're able to move, your energy stays up. When your energy is up, you're able to keep your audience engaged. With the automatic camera framing in the Poly Studio P15, you can go where the moment takes you but still stay in the spotlight.

Get Ready For Your Closeup – Enjoy Incredible Video And Audio Clarity In A Small Package
The Poly Studio P15 personal video bar gives you everything you need in one sleek device to look and sound your best on video calls. Exceptional optics and a high-performance 4K image sensor bring out your inner star.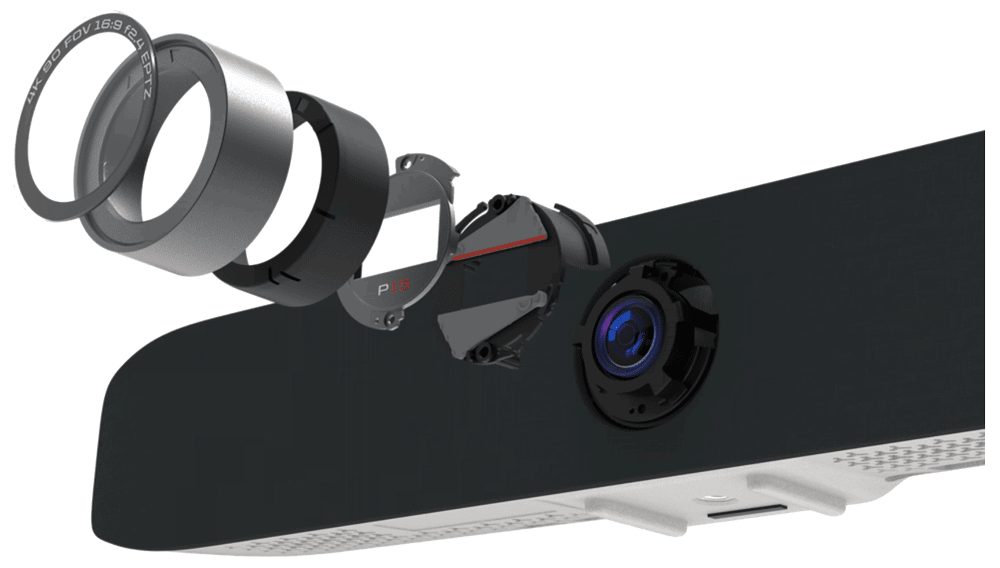 Smart Sound That Makes You Sound Smart – Innovative Acoustics Re-Define "Loud And Clear"
Make fuzzy-sounding audio and "say-again" moments history with acoustic innovation from Poly – the people who put the first headset on the moon. The integrated speaker features acoustic suspension with a passive radiator for rich sound, while the advanced multi-microphone array follows your motion to keep your voice coming through clearly.

Sound Ridiculously Good – Keep The Good Sound. Block The Bad.
Wherever you work you're probably surrounded by all kinds of noise – coworkers yakking near the water cooler, barking dogs, your toddler's emergency, you name it. Prevent distracting noises and side conversations from interrupting your meetings with NoiseBlockAI and Acoustic Fence technology. Interruptions avoided, embarrassment averted.

The Freedom To Work How You Want – Works With Any Video App
There's nothing to learn. The Poly Studio P15 works with the video apps you already know. A simple USB connection to your PC or Mac will transform your video conferencing experience. Volume and mute buttons ensure control is always within reach without fumbling for your mouse.

---
Always look and sound your best
Premium camera optics
Automatic low-light compensation
Camera view optimized for personal workspaces
Rich, clear audio to hear every word
Noise cancelling microphones block extraneous sounds
Integrated privacy shutter ensures your video is off
Simple to set up and use
Fast and easy setup
Complete kits and bundles for a simple one-box solution
Poly Lens Desktop app keeps things running smoothly
Health and wellness reminders to get the most out of your workday
Robust Cloud Management
Manage and track devices from anywhere
Troubleshoot issues for any user
Inventory management with interactive mapping
Summarized actions and insights
---
Poly Studio P15 Specifications
Camera
Ultra HD (4K 16:9, 2160p), Full HD (1080p), HD (720p)
90 degree DFOV
Personal conference view with auto-framing
True color and low light compensation Certified by Zoom and Microsoft Teams
Electronic zoom up to 4x
Manual pan, tilt, and zoom control through Poly Lens Desktop App
Audio
Poly Acoustic Clarity technology provides full-duplex conversations, acoustic echo cancellation and background noise suppression
3-element beam-forming microphone array
Poly NoiseBlockAI technology
Poly Acoustic Fence technology
50 Hz to 14kHz frequency response
100 Hz to 20 kHz frequency response speaker
Interfaces
1x USB 3.0 Type-C port (with USB 2.0 compatibility)
2x USB 2.0 Type-A ports
Power connector
Kensington security lock
Power Requirements
External DC power supply: 12V/3A
System Requirements
Windows version 8.1, 10
Mac OS 10.10 or higher
USB 3.0 required for 4K video
Device Driver Support
USB 2.0/3.0/3.1
UVC/UAC Plug and Play compatible
Compatibility
Certified for Microsoft Teams and Zoom applications
Compatible with any application that supports standard USB/UVC standards
Manageability
Other Features
Integrated privacy shutter
Adjustable monitor clamp
Tripod ready
USB-A ports built-in for wireless headset adapter or other peripherals as USB hub
Status LED indicates calling and mute state
Dimensions
With monitor clamp: 17W x 3 H x 3 D (Inches)
Without monitor clamp: 17W x 2.5 H x 3 D (Inches)
Operating Conditions
Temperature: 0 degrees C to +40 degrees C
5% to 95% relative humidity, non-condensing
Altitude: Up to 10,000 ft
---
What Comes In The Box
Poly Studio P15 USB video bar
Removable monitor clamp
Power supply
Power cord
USB-C cable (separate adapter required to connect to USB-A port on PC/MAC, not included)
Setup sheet
2 year warranty
Poly SKU: 2200-69370-001
HP SKU: 842D1AA#ABA
---
Frequently Asked Questions:
How are the Poly Studio P Series personal video conferencing devices different from other devices we sell for meeting rooms?
Poly Studio P Series is designed for personal use, not groups. This means the cameras and audio are tuned to the needs of an individual, such as a narrower field of view camera and focused microphones. They aren't recommended for group use cases, as it could result in some participants not being seen or heard clearly. Products such as Poly Studio USB, Poly Studio X30, and Poly Studio X50 video bars are recommended for meeting spaces
Does this mean a Poly Studio P Series device should only be used at a desk? What about a "focus room" or other shared space designed for individuals?
Focus rooms or other drop-in rooms designed for individuals to have private video calls are a great use case for Studio P15 or P21. That's an individual use case, which is what these products are designed for. If the room is primarily designed for 2 or more participants, then one of our other Poly Studio products designed for groups is a better fit.
What applications cant he Poly Studio P Series products be used with? Are they Microsoft Teams and Zoom certified?
All Poly Studio P Series products use standard Windows and Mac audio and video drivers and should work with any audio and video applications that use those drivers. They are also planned for certification with Zoom and Microsoft Teams, at or as soon as possible after they begin shipping.
Does the privacy shutter on Poly Studio P5 / P15 / P21 mute both audio and video?
No, it only mutes the video, as there are cases when you want audio to be sent, but not video.
What is the microphone pickup range of Poly Studio P5 /P15 / P21?
We haven't published microphone pickup range specifications for the Poly Studio P devices. All have microphones designed for clear pickup in a personal workspace.
Is the Poly Lens Desktop app required for Studio P5 / P15 / P21 to work?
These devices use standard Windows and Mac audio and video drivers. Poly Lens Desktop is not required but is highly recommended for keeping the device software up to date and adjusting settings.
What mounting options are available for the Poly Studio P15?
Poly Studio P15 ships with a mounting clamp that attaches to a standard 1/4-20 tripod screw thread on the bottom of the device. This makes it easy to place on top of a computer display, though it is not designed to use on a laptop display. The mounting clamp can be removed for use with a tripod or other device that can use the tripod thread. No optional stands or mounts are available from Poly.
How is Poly Studio P15 different from Poly Studio USB?
Poly Studio P15 is designed for personal use cases, while Studio USB is designed for groups. The field of view of the cameras are quite different and designed for these use cases – 90 degrees for Poly Studio P15 (idea for individuals, to small for groups), and 120 degrees for Poly Studio USB (ideal for groups, too wide for individuals). There are several other differences that make them better suited for the use case they are designed for, such as mounting and management options.
What are the Studio P15 USB ports used for?
The two USB-A ports can be used as a USB hub for the computer Poly Studio P15 is connected to. They can be used for a Poly wireless adapter or other peripherals and provide extra USB ports for the computer.