Productivity, Unplugged – CS510-XD Wireless Headset – Poly 88284-01 or HP 7E2J8AA
For even the most dense environments, help everyone be more productive with the Poly (formerly Plantronics) CS510-XD wireless headset part # Poly 88284-01 or HP 7E2J8AA for desk phones. Get convenient company-wide deployment and desk phone compatibility.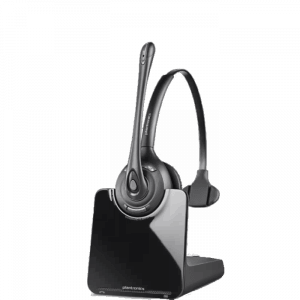 ---
Poly CS510-XD Gives Everyone More Freedom To Move
Everyone in the office could use more flexibility. Let them roam confidently 350 ft from the CS510-XD headset base with unlimited talk time option. They'll be able to collaborate simply, since teams can conference up to four headsets on a single base.
---
Effortless Deployment
Set the scene for convenient company-wide deployment and keeping everyone comfortable. The Poly CS510-XD headset offers a stylish, over-the-head or over-the-ear options make it possible. Everyone can have a headset thanks to improved density wireless technology.

---
Poly CS510-XD Wireless Benefits:
Being mobile will improve your efficiency on every call
Covering one ear (monaural) allows conversations with co-workers
While talking; walk to files, reference materials, co-workers, copier…
Freeing your hands for typing and writing increases productivity
Weighing 74 grams the Plantronics CS510-XD fits securely for all day comfort
With CS510-XD units, 3x the number of units can be used in one office
12 hours of talk time gets you through the busiest of work days
Superior audio quality helps in never asking to repeat information
350+ feet of distance gives you mobility throughout your office
Using 900MHz technology lets you deploy more Plantronics CS510-XD systems
Adaptive power system optimizes for range and talk time


Rechargeable battery included
---
Poly CS510-XD Wireless Headset Specifications
General Info
Headset weight: 72 g
Warranty: 1 year
Model # CS510-XD
Base reads: C052-XD
POLY

SKU: 88284-01
UPC: 017229138490

HP

SKU: 7E2J8AA
UPC: 197192156254
Connects to
CS510-XD Headset Is Ideal For
Enterprise office environments with a large concentration of desk-centric workers looking for a simple-to-set-up, simple-to-use wireless offering
Talk Time
Wireless Frequency
CS510-XD Roam Distance
Audio Performance
Narrowband or wideband: up to 6,800 Hz
Hearing Protection
SoundGuard

Protects against sound levels above 118 dBA
Easy Set Up
Only Available From Headsets Direct