AudioCodes Zoom C470HD High-End Touch Screen Business Phone
The AudioCodes Zoom C470HD phone is a feature-rich desktop device with high voice quality, superior ergonomics and simple workflow design.
When deployed in Zoom Phone environment, the C470HD delivers an optimal user experience and provides traditional PBX voice functionality.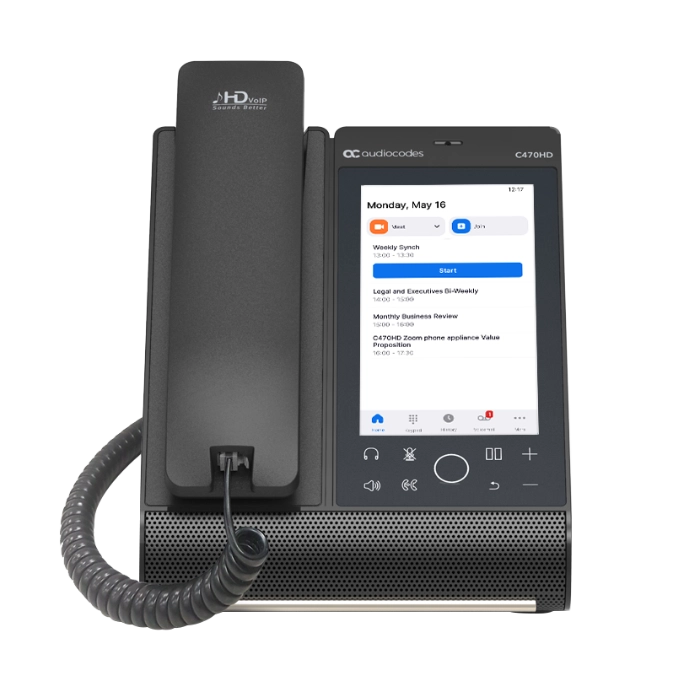 AudioCodes IP phones support Zoom's Zero Touch Provisioning (ZTP), thus deployment and provisioning don't require registration from the phone itself. Simply plug into a network, via Wi-Fi or fixed Ethernet cable, and start working right away.
---
Superior Zoom Phone Experience
The AudioCodes 400HD series of Zoom-certified phones is a range of easy-to-use, feature-rich products for boosting workplace productivity by providing a superior Zoom Phone experience.
Each phone is packed with advanced features to deliver crystal-clear voice quality, superb image clarity, calendar synchronization and one-click to join functionality for seamless integration with any Zoom Phone deployment in any sized enterprise.
All AudioCodes Zoom-certified devices can be managed and monitored from the cloud using Zoom Device Management (ZDM).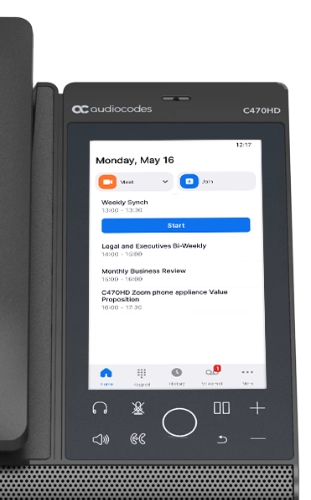 Zoom Key Features:
Basic and advanced calling features, including PSTN calling, transfer to voice mail, peer-to-peer calls, in-call controls (Mute/Unmute, Hold/Resume), call transfer and call park.
Zoom call flip to another device
Call monitoring (listen, whisper, barge, conference barge, take over)
Do not disturb (DND)
View and manage voice mail
Hot desking
Group call pickup
---
AudioCodes Zoom C470HD Phone Features:
The Zoom C470HD is a high-end, executive business phone certified for Zoom Phone Appliance, featuring a remarkable clean and intuitive design with a graphical portrait 5.5″ color touch screen and a virtual keyboard.
Total Touch single surface design (touch screen, touch keys)
High-end portrait 5.5″ touch screen (720 x 1280), easily readable from a distance
Full duplex speakerphone and headset connectivity
Dual GbE support
PoE or external power supply
USB headset support
Integrated Bluetooth headset support and dual-bank Wi-Fi connectivity∗
Android OS 9.0 (roadmap for Android OS upgrade)
Kensington lock
* Bluetooth and Wi-Fi is supported in specific regions such as the USA, Canada, the EU, Switzerland, Israel and others, and requires a specific CPN with a "DBW" suffix when ordering.
---
AudioCodes Zoom C470HD Phone Technical Specifications:
User Interface
Intuitive touch screen including virtual keyboard
Touch keys with backlight for Home, Mute, Speaker and Headset
Touch keys without backlight for Back, Hold, Transfer and Volume
Virtual keypad (triggered via the speaker or headset touch key)
Multi-lingual UI support
Network and Security Features
Voice coders: G.711, G.729, G.722, SILK
Acoustic echo cancelation
Adaptive jitter buffer
Voice activity detection
Comfort Noise Generation
Packet lost concealment
RTP/RTCP packetization (RC 3550, 3551), SRTP (RFC 3711)
Media Processing
HTTP/HTTPS secured provisioning
UDP/TCP, NTP, NDS/SRV
RTP/RTCP packetization (RC 3550, 3551), SRTP (RFC 3711)
TLS version 1.2 — secured transport layer
802.1x for secured network access
VLAN discovery modes: CDP-LLDP, CDP only or LLDP only
Support for HTTP proxy ad PAC file, either manually or via DHSP option 252
General Specifications
Centralized management supported by the AudioCodes One Voice Operations Center (OVOC) Device Manager
Zero touch with AudioCodes Redirect server
---
AudioCodes Zoom C470HD Phone Unique Hardware Parameters:
Wired Connectivity
USB Headset, RJ-9 Analog Headset
Tow RJ-45 Gigabit Ethernet (GbE) (10/100/1000BaseT Ethernet) ports for WAN and LAN
Screen Orientation
Wi-Fi "DWB" CPN
Dual band 2.4 GHz and 5 GHz
802.11b/g/n Wi-Fi support
Bluetooth Connectivity

(for headset)
PoE Class
DC Power Jack
12V, optional external power supply 2A/12V 100~240V
Base Stand Options
Single position, no wall mount
AudioCodes Zoom C470HD Phone Unit Dimensions
180mm (W) x 165mm (D) x 230mm (H)
Unit Weight
Storage/Operation Temperature
-4 to 158°F / 32 to 104°F
General
AudioCodes C470HD ZPA
SKU:

POE: ZOOM-C470HD-DBW
Power Supply: ZOOM-C470HDPS-DBW