Poly Edge E350 IP Desk Phone w/ Bluetooth & Wi-Fi Connectivity – Poly 2200-87010-025 or HP 82M89AA
Easy to use and packed with features, the Poly Edge E350 IP desk phone part # Poly 2200-87010-025 or HP 82M89AA pairs the famous Poly noise reduction technology with cutting-edge design. Whether you're hot-desking at work or calling from your home office, these phones bring style to any desktop.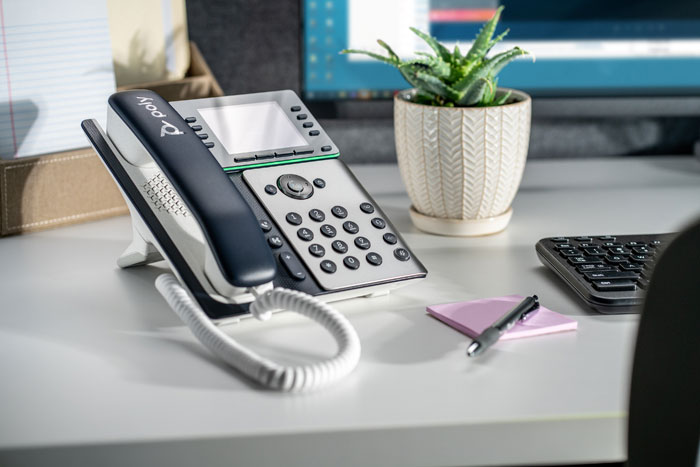 ---
Perfectly Paired
Hybrid Working At Its Best With A Headset and Your Paired Mobile Phone
Integrated Bluetooth® 5.0 on the Poly E350 IP desk phone gives you freedom to move about the office with your Bluetooth headset and you can answer your paired mobile phone calls with your desk phone. Fast pairing on selected Poly headsets makes connecting your headset easy.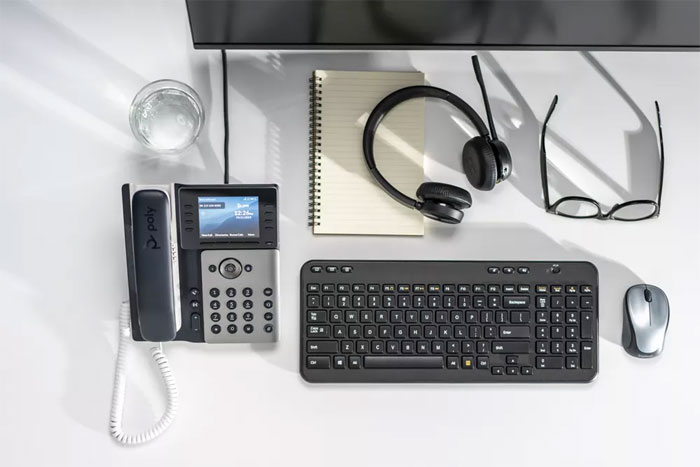 ---
Easy To Deploy
Save Time and Hassle Getting Phones Up and Running
Poly Lens integration makes these phones a breeze to setup and support. QR code-linked video tutorials get users up and running almost immediately. And with simple out-of-the-box Wi-Fi configuration, this phone gives you peak performance anywhere you've got a signal.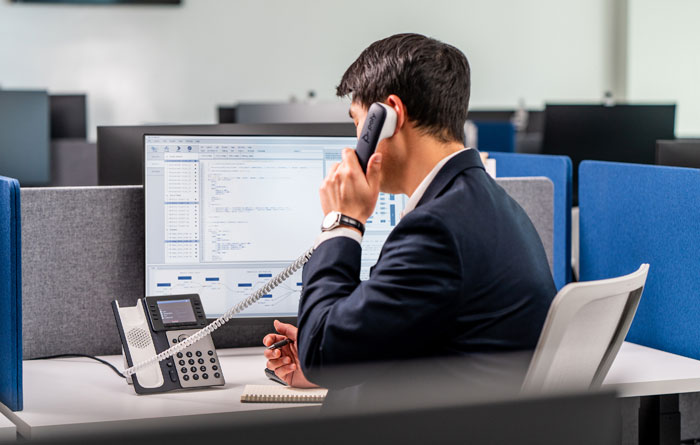 ---
Incredible Audio
Featuring Poly Legendary Voice Quality and Noise Blocking
With noise eliminating Poly NoiseBlockAI and Acoustic Fence technologies, you can expect clear calls every time. And our signature HD voice and bass-frequency-enhancing speaker design; gives you audio quality you'll have to hear to believe.
---
Integrated Microban® Antimicrobial Protection
Rest assured that your devices, enhanced with Microban® antimicrobial product protection, stay cleaner, fresher and more durable for longer. Protection that lasts the life of the product, actively reducing the growth of bacteria 24 hours a day, 7 days a week.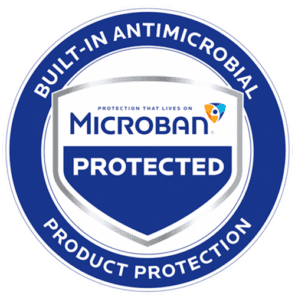 ---
Poly Edge E350 IP Desk Phone Features:
Stay informed with style with the surround light status indicator with RGB mixing.
Built-in NFC technology for advanced integrations.
Phones stay cleaner, longer with integrated

Microban® antimicrobial protection.

Hear every nuance with signature Poly HD voice and bass frequency enhancing speaker design.
Poly Acoustic Fence and Poly NoiseBlockAI technologies eliminate noise and distractions.
8-line keys support up to 32 lines, features, and contacts.
4 soft keys under the display are context sensitive making features easy to find.
New pagination key brings additional lines and speed dial contacts into view.
Bright 3.5-inch color IPS display shows everything you need from your phone to be more productive.
Two high speed GigE PoE Ethernet ports for the LAN connection to your IP phone with a passthrough connection to your PC.
Integrated Wi-Fi makes it easy to install the phone in home offices or hard to cable locations.
Easily pair your mobile phone or headset with integrated Bluetooth.
Improved accessibility with text-to-speech feature and screen color adjustments for color blindness and larger font settings.
Know how you are connected or if you are on mute with backlit keys.
Supports Bluetooth, USB, RJ9 and Electronic Hook Switch (EHS) headsets.
---
Poly Edge E350 IP Desk Phone Specifications:
General
Poly SKU: 2200-87010-025
HP SKU: 82M89AA
UPC: 197497341379
Warranty: 1-year
Poly + enhanced support available (sold separately)
Lines/Feature Keys
8-line keys supporting up to 32-line key assignments for lines, contacts, and features supported with pagination
4 context-sensitive "soft" keys
4-way navigation key cluster with center "Select" key
Home and back feature keys
Pagination key for additional lines/contacts
Volume +/- control keys
Hold and Transfer keys
Headset select key
Speakerphone select key
Mute key (illuminated when muted)
Voicemail key
User Interface Features
Color 3.5″ IPS LCD display (320×240 pixel resolution)
Voicemail support*

* Most software-enabled features and capabilities must be supported by the server. Please contact your IP PBX/Softswitch vendor or service provider for a list of supported features.

WebKit-based browser
2-position desk stand (optional wall mount kit sold separately)
Unicode UTF-8 character support
One USB Type-C port (2.0 compliant) for media, storage applications, headset connectivity
Surround lighting for the status indicator (RGB with color mixing)
Integrated Bluetooth 5.0
NFC Support
Multilingual user interface
Poly Edge E350 IP Desk Phone Audio Features
Poly HD Voice technology delivers lifelike voice quality for each audio path: Handset, hands-free speakerphone, and optional headset
Poly Acoustic Clarity technology provides full duplex conversations, acoustic echo cancellation, and background noise suppression
Poly Acoustic Fence technology eliminates background noise when using a handset or wired headset
Poly NoiseBlockAI technology removes most background noise when using the speakerphone
Poly Computer Audio Connector app installed on your PC (Windows only) enables selecting your phone for PC audio in/out to use the phone's handset, optional headset and handsfree speakerphone with PC applications
Frequency response – 150 Hz-14kHz for handset, optional headset and handsfree speakerphone modes
Codecs: G.711 (A-law and µ-law), G.729AB, G.722 (HD Voice), G.722.1, iLBC, OPUS
TIA-920 wideband audio, type 1 compliant (IEEE 1329 full duplex)
Individual volume settings with visual feedback for each audio path
Voice activity detection
Comfort noise generation
DTMF tone generation (RFC 2833 and in-band)
Low delay audio packet transmission
Adaptive jitter buffers
Packet loss concealment
Headset and Handset Compatibility
Dedicated RJ-9 headset port
Hearing aid compatibility to ITU-T P.370 and TIA504A standards
Compliant with ADA Section 508 Subpart B 1194.23 (all)
Hearing aid compatible (HAC) handset for magnetic coupling to hearing aids
Compatible with commercially available TTY adapter equipment
USB headset support (USB Type-C)
Bluetooth headset support
Call Handling Features*
*Most software-enabled features and capabilities must be supported by the server. Please contact your IP PBX/Softswitch vendor or service provider for a list of supported features.
Enhanced Feature Keys make powerful feature shortcuts online key appearances or soft keys
Shared call/bridged line appearance
Busy Lamp Field (BLF)
Flexible line appearance (1 or more-line keys can be assigned for each line extension)
Distinctive incoming call treatment/ call waiting
Call timer and call waiting
Call transfer, hold, divert (forward), park, pickup
Called, calling, connected party information
Local 3-way audio conferencing
1-touch speed dial, redial
Remote missed call notification
Do not disturb function
Reverse Number Lookup via LDAP
Calling Party Identification (RFC8225 classifications—Trusted, Unknown, SPAM)
Electronic hook switch capable
Local configurable digit map/dial plan
Open Application Platform
WebKit-enabled full browser that supports HTML5, CSS, SSL security and JavaScript
Supports Polycom Apps SDK and API for third-party business and personal applications
NFC-enabled Edge E series phones allow third-party applications to read serial number and other device information that can be useful in application development such as guest login for phone hoteling or Bluetooth pairing.*

*Most software-enabled features and capabilities must be supported by the server. Please contact your IP PBX/Softswitch vendor or service provider for a list of supported features.

Corporate directory access using LDAP
Visual Conference Management
Poly Edge E350 IP Desk Phone Network and Provisioning
SIP Protocol Support
SDP
IETF SIP (RFC 3261 and companion RFCs)
Two-port gigabit Ethernet switch 10/100/1000Base-TX across LAN and PC ports

Conforms to IEEE802.3-2005 (Clause 40) for Physical media attachment
Conforms to IEEE802.3-2002 (Clause 28) for link partner auto-negotiation

Manual or dynamic host configuration protocol (DHCP) network setup
Time and date synchronization using SNTP
FTP/FTPS/TFTP/HTTP/HTTPS server based central provisioning for mass deployments
Provisioning and call server redundancy supported*

*Most software-enabled features and capabilities must be supported by the server. Please contact your IP PBX/Softswitch vendor or service provider for a list of supported features.

QoS Support-IEEE 802.1p/Q tagging (VLAN), Layer 3 TOS, and DHCP
VLAN-CDP, DHCP VLAN discovery, LLDP-MED for VLAN discovery
Network Address Translation (NAT) – support for static configuration
"Keep-Alive" SIP signaling
RTCP and RTP support
Event logging
Syslog
Hardware diagnostics
Status and statistics reporting
IPv4, IPv6, dual stack (IPv4/IPv6) mode
TCP
UDP
DNS-SRV

Wi-Fi network connectivity*

*Ordering an optional power supply unit will be necessary if not powered over Ethernet with PoE (i.e. Using Wi-Fi for network)
2.4-2.4835 GHz (802.11b, 802.11g, 802.11n HT-20)
5.15-5.825 GHz (802.11a, 802.11n, HT-20,802.11n HT-40)
Security
802.1X Authentication and EAPOL Media encryption via SRTP
Transport Layer Security (TLS)
Encrypted configuration files
Digest authentication
Password login
Support for URL syntax with password for boot server address
HTTPS secure provisioning
Support for signed software executables

Wi-Fi encryption: WEP, WPA-Personal, WPA2-Personal, WPA2-Enterprise with 802.1X (EAP-TLS, PEAP-MSCHAPv2)
Power
Built-in auto sensing IEEE 802.3af Power over Ethernet (PoE) (Class 4) 13 W (Max)
External Universal AC/DC Adapter 48VDC @ 0.52 (12W) – Power supply unit (PSU) sold separately*

*Ordering an optional power supply unit will be necessary if not powered over Ethernet with PoE (i.e. Using Wi-Fi for network)

ENERGY STAR® rated
Safety
Regulatory Approvals**
**Planned compliances
Radio
FCC Part 15.247 & FCC Part 15.407
EMC
Poly Edge E350 IP Desk Phone Package Contents
Console with Microban® Antimicrobial protection
Handset with Microban® Antimicrobial protection
Handset cord with Microban® Antimicrobial protection
Network (LAN) cable – CAT-5E
Desk stand
Setup sheet
Optional Accessories
Poly Edge E Power supply unit (PSU): 2200-49925-001 (Poly) | 86H66AA#ABA (HP) (sold separately)