So what should a GOOD headset cost?
Headset Price Comparison
When considering headsets for your business, you need to narrow your search to commercial-grade products. "You get what you pay for" couldn't be truer. Commercial-grade headsets provide exceptional sound quality for your customers and aid you in hearing without misunderstandings. With advancements in technology, wireless headsets now offer the same high-quality sound with the added benefit of freedom to roam your office, a HUGE productivity booster. But can you afford them, and what should you expect in regards to headset pricing?
Here's a place to start:
Corded headset with direct-connect cable $100-150 A great option would be the HW510 headset with an A10 cable for $93.30. This would give you a business-grade headset that fits over your head with a speaker on one ear. It's made for all-day wearing comfort with excellent sound quality and durability to last for years. The A10 cable is the most common cable for multi-line business phones. You will need to confirm which cable you need before purchasing.
Corded headset with amplifier $150-200 When you add an amplifier, you gain universal compatibility, speaker and microphone volume controls, and a mute switch. With the same HW510 from above, your investment of $136.80 will make you more productive with a headset and amplifier adjusted to your exact volume requirements.
Wireless headset with EHS or handset lifter $225-325 The Plantronics CS540 is by far the most popular wireless headset, and when paired with an HL10 handset lifter, your total investment is $246. This gives you a headset with 2 different wearing options, 7 hours of talk time, and is the lightest headset in the industry. With the HL10, you will receive alerts when away from your desk and have the convenience to answer and hangup remotely. Your productivity will jump, not only with hands-free writing and typing, but also with the ability to roam your office.
Bluetooth headset for mobile phone only $85-125 With a Bluetooth headset, like the Plantronics Voyager Legend, you will be hands free with a comfortable and light-weight headset that easily pairs to most Bluetooth mobile phones. For only $85, you will immediately reduce neck and shoulder strain from trying to hold your phone against your shoulder and enjoy mobile calls again.
Computer USB headset $50-200 Computer headsets are becoming extremely popular as we migrate to VoIP phone systems that use a softphone. With a computer headset that plugs into your USB port, like the Plantronics W440, for only $182.98 you can roam your office while on calls, to converse with co-workers, grab files, or make copies. When you choose a wireless headset, you get the most value out of your investment with a huge productivity boost.
As you start determining the cost of your headset investment, you'll need to wrestle with what level of support you will need. Are you a headset expert, where the lowest-priced headset is all you need? Or do you need a human to talk to about compatibility, how it works, needed accessories, cables, and EHS adapters?
Most importantly, don't fall into the trap of a "great price" or an online auction until you really understand what you're getting and what a great price DOESN'T get you.
What's the real price if it takes you hours to research what you need, more time to figure out how to install it, and lastly, you're stuck dealing with the manufacturer for support or warranty replacements. That low price isn't sounding so low anymore.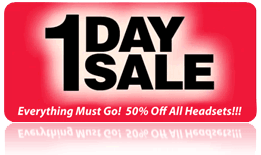 Is that big-box-store headset that looks just like the ones you saw on the internet but only costs $49 right for you? The answer is NO, commercial grade headsets are NOT sold where you can buy Justin Bieber CDs. Sound quality, durability, wearing options, and comfort define a commercial-grade headset from a consumer-grade product and yes, they cost more, but the difference is like night and day.
For a GREAT headset experience…
…find a headset PRICED to include the support you'll need!!!
To learn more about headset compatibility, visit Headsets 101 – Ultimate Guide To Understanding Headsets
>>Contact form<<