1) Blackwire C610 –
The Plantronics Blackwire C610 has comfort, wideband technology for premium audio and is optimized for PC Communications. The unique dynamic EQ feature optimizes voice quality when on calls and automatically adjusts EQ settings for high-quality music or multi-media playback and the Noise-canceling microphone filters out background noise.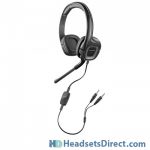 2) .Audio 355 – The .Audio 355 computer headset connects to your pc or laptop through the two 3.5mm soundboard jacks.  Head into the studio without leaving your chair. The .Audio 355 headset indulges your ears with 40 mm speakers for rich, resonant stereo sound and maximum bass response. Your callers will think you've entered a sound chamber when hearing you over the noise-canceling microphone during Skype or other Internet calls. With the .Audio 355 computer headset, you can make internet calls, listen to music, podcasts, and more from your pc. Convenient inline controls allow you to quickly adjust your listening volume and mute your microphone. Listen in total comfort thanks to the lightweight design and pillow-soft, swivel-mounted ear cushion.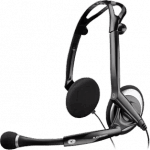 3) .Audio DSP-400 – Pull the most potential from your PC audio. The unique Digital Signal Processing technology of the .Audio 400 USB headset provides bright stereo sound for music and movies. Foldable and stowable, it's perfect for travelers hitting the road. Listen to music on a CD, MP3, or watch a movie in stereo wherever your laptop goes. Also great for Dragon Naturally Speaking software.
In today's competitive landscape, improving productivity has become a global mantra. For those who spend hours each day on long conference calls, webinars and video conferencing, the exceptional voice clarity and all-day comfort of the Blackwire C610 makes communications more effective and productive.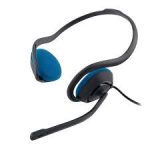 4) .Audio 646 DSP-The .Audio 646DSPis a "neckband / behind the neck" style computer headset that incorporates Digital signal processing which provides enhanced sound quality in this comfortable, discreet stereo USB headset. A noise-canceling microphone and wideband acoustic echo cancellation capture a broader range of voice signals for calls that are clearer and more natural sounding. The acoustically tuned equalizer supplies rich, resonant stereo sound and optimizes voice response to clearly hear vocal tracks when listening to music, watching a movie or playing a video game. USB plug-and-play connection means there is no software to install. With a comfortable, lightweight fit and easy-to-use inline controls, the .Audio 646 DSP is the perfect headset for all your PC audio needs. 

5) Blackwire C210-M –  The Blackwire C210-M was specifically optimized for Microsoft Office Communicator 2007 and Microsoft Lync 2010. Remarkable audio quality, yet economically designed for enterprise-wide deployment. Excellent audio and voice clarity is essential to ensuring clear communication and collaboration. With lifelike audio, a noise-canceling microphone which filters out background noise, and simple call controls for a convenient hands-free environment, the economical Blackwire C210-M makes PC voice communications more effective.
---
If your deciding between computer headset models, it never hurts to see what the most popular models are, because chances are other customers have purchased computer headsets and found what they liked and continue to buy. Choosing any will provide a great headset to use with your desktop or laptop computer.