Best Call Center Headsets. 

What

 You Need To Know.
Call centers have popped up everywhere and with good reason. They are a necessity for consumers needing to get information about products or services as well as for companies canvassing consumers about their own services. It is a good marriage of exchanging information, growing market share, and satisfying customer needs. Many companies have their own call center department within their organization while others prefer to outsource their call centers. Either way, a call center agent can only be as good as the tools and training provided to the staff. That is why Headsets Direct is offering up this list of the Best Call Center Headsets. It is filled with smart choices.

Best Call Center Headsets Start With Noise Canceling.
When discussing noise canceling headsets, it's important to recognize you have different noise reduction features at work.
First is noise canceling microphone. This is affecting how well your caller hears you when answering calls. With business-grade headsets, up to 75% of your ambient background noise can be reduced or eliminated allowing your caller to hear your voice above and beyond anything happening in your background environment. To make sure unwanted background sounds are not transmitted by the headset microphone, which can interrupt calls and be very distracting, many headsets include a noise-canceling mic. These mic booms include a special directional microphone that picks up sound in a specific pattern that is focused towards the user's mouth. Sounds that come from all directions, such as background noise, are picked up with less amplitude and therefore are heard by the far end at a reduced level. To provide the best noise reduction the optimum position for a noise canceling microphone boom is directly in front of the user's mouth. Since this can be distracting to the user, as its in their eyeline, a compromise is made so that the microphone boom is typically located at the corner of the mouth. The microphone booms can be bent so that the microphone is in the correct position.
Newer technologies are now making it possible to put an invisible barrier around you which completely blocks out background noise. This works well in loud call center environments or users working from home with kids crying or dogs barking.
The second element is noise canceling relates the headset speaker and how you, the user, can hear better in loud environments.
Passive noise-cancellation relates to how the headset is physically constructed. The larger the speaker/cushions and materials used, the greater the barrier. This separates noise around you from what you're trying to hear through the headset (your caller).
Active noise-cancellation typically has internal microphones listening for background noise. It electronically generates a reverse sound wave that is transmitted into your speaker to eliminate or cancel out the background noise. This technology does great with low, harmonic sounds like jet engines, fans or HVAC units with a constant hum. They tend to struggle with loud, irregular office type noise and higher frequencies.
Hybrid noise-canceling typically starts with the above active noise-canceling. Then they add external microphones for a better understanding of the noise you're trying to eliminate. This technology handles office noise much better, as well as, higher frequencies. Business-grade headset manufacturers like Poly, Jabra, Logitech, Bose, and Sennheiser have taken the performance of standard Active Noise Canceling (ANC) technology to the next level with Hybrid ANC, which is optimized for an open office environment which is filled with noise and distractions. It's not just the background noises that are different in the office compared to an airplane, subway, or city noise but it's also how it's being used, most notably for important business calls. Speciality engineering goes into high-quality ANC headsets so it doesn't impact the audio when being used on calls. Headset manufactures use their office and call center knowledge to optimize the ANC performance of headsets, so they sound natural and cause less fatigue when used on long business calls. For those users working in the most distracting of open office environments the benefits offered with Hybrid ANC technology provides the best experience to ensure you stay focused and productive.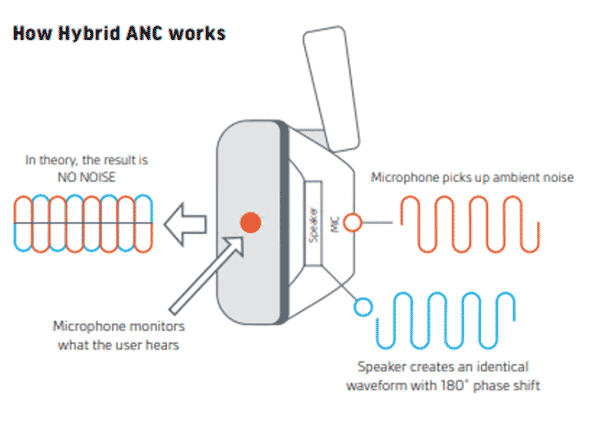 At Headsets Direct we listen to what our customers are asking for and we have the skill set to dig deeper and get to the important questions. This allows us to offer our customers high-quality call center headsets to achieve their goals. Amazon may offer the convenience of 2 days shipping and value pricing; but we offer unbeatable customer service with years of knowledge that other companies simply can't beat. We also provide genuine product from industry leading manufacturers.
If you will allow us to help with your call center headset needs, you will be incredibly pleased and amazed at just how easy the process of getting the right headset for call center agents can be. Whether you are managing a call center and have quotas you need to meet, or you are a call center agent and need to make sure you have the best noise reduction feature on your headset, with superior crisp sound quality, and great battery life, we will get you what you need with style and comfort by offering products that give you the best in headset technology and reliability.
Each call center may be set up differently with cubicles or an open office floor plan, but the end goal is the same; make sure your caller hears your voice with perfect clarity and not the noise surrounding you. If you are both able to hear each other clearly, with top-notch audio quality, you will be able to service them quickly and efficiently making their experience a more pleasant one. You will enjoy the confidence your noise-canceling headset brings you and having the best call center headsets will get you there!
Call centers are not created equal. To choose the best call center headsets for your agents you will need to prioritize what features and functions you require of your headset by weighing the pros and cons. Should it be a wireless Bluetooth headset or a corded USB headset?
If you are in a loud area you may benefit from large binaural speakers with Active Noise Cancellation. Having a noise-canceling microphone in a call center is certainly a must! If you choose a wireless Bluetooth or DECT headset, having remote answering ability with it may be critical for your business so no calls are missed. Will you have more than 38 call center agents in an area? If so, then the density will need to be considered so there are no interference or performance issues. These are all subjects we can help you tackle so your call center runs smoothly and efficiently.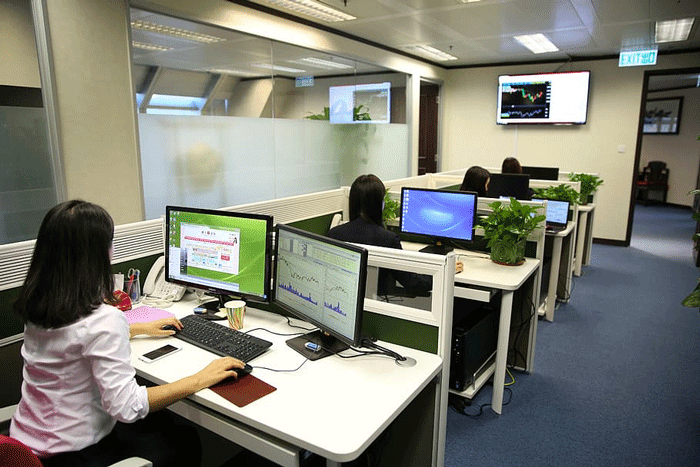 The choices below have proven themselves to be some of the best can center headsets money can buy.
The Best Call Center Headsets Options:
---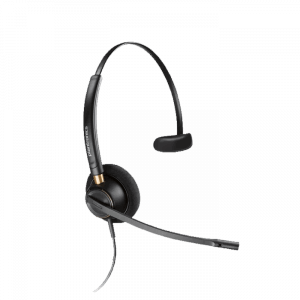 This mono headset is lightweight, durable, and comfortable to wear. It gives you great control with its bendable noise-canceling microphone and adjustable headband. This office headset comes with soft foam cushions which are easily replaced as they wear over time. You can also purchase an upgraded leatherette cushion which will last longer, be more comfortable and is easier to sanitize. There is a temple pad located at the end of the headband to add support and stability. If you are in a quiet to medium noise environment with a few employees and need to have one ear open for your surroundings, this is a particularly good corded headset choice.
You will also need a bottom cable or adapter to connect to you office phone, PC or mobile device. Call us for assistance in selecting a compatible bottom cable or amplifier for your needs or visit our Headset Compatibility Guides. The HW510 is one headset within the HW500 series of headsets, which is the the middle tier of business grade corded headsets. The HW300 series is the entry level and the HW700 is the premium.
---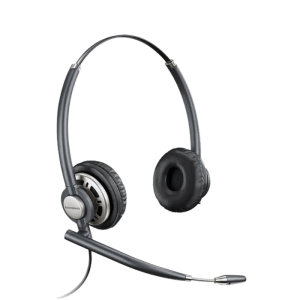 Poly EncorePro HW720 | Wired Headsets (for office phone, PC, or mobile)
You will love the comfort of leatherette dual-ear pads against your ears. The binaural ear cushions really cut back on the noise around you and keep you focused on your call. This is the perfect solution for medium to loud environments where the user's ability to take information accurately is critical. Your brain can simply focus on the caller and conversation and not be pulled in different directions with sounds from your background environment competing with sounds from your caller.
Regarding HD voice clarity, the microphone pulls out to just the right spot and your voice will sound clear and perfect. You will need a bottom cable or amplifier to connect this headset to your office phone, PC or mobile device. Call is for assistance or visit our Headset Compatibility Guides. With an adjustable headset and soft cushions, the HW720 is made for all-day wearing. Being part of the HW700 series, it's Poly's premium corded headset for office and business professionals.
---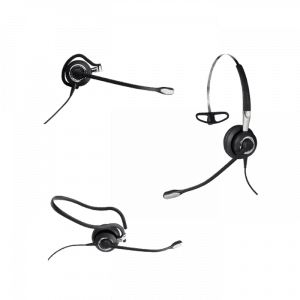 This headset is a favorite for its comfort, and incredibly light, convertible design. It comes with multiple wearing options and will give you crystal clear conversations with the noise canceling microphone. For users that are new to headsets or large businesses that simply want to standardize, the Jabra BIZ 2400 Convertible is an excellent solution. Users can choose the lightweight, low profile wearing style with the ear hook behind the ear. Others will opt for using the headband which adds a little more weight, but typically a more secure fit. Last is the neckband that balances on both ears and extends just below your hair line.
What makes the BIZ 2400 a great headset is it's versatility and durability. Ultimately users will find one of the three wearing options that best suits their needs for years to come. The cable terminates in a Jabra Quick Disconnect connection that connects to a direct connect cable or amplifier, depending on what you're plugging into. Give us a call to confirm compatibility and the components you need for a perfect headset solution.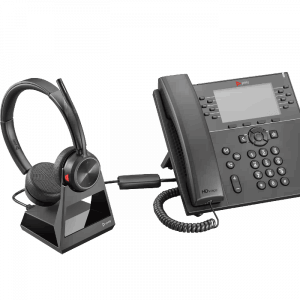 If you want a well-padded headset that covers both of your ears completely and really lets you delve into your calls; this is the headset for you. The battery life is excellent and will give you 12 hours of talking time. Its incredible wireless range will allow you to roam the office up to 400 ft and for remote pick up and hang up, just add a compatible EHS cable or Handset Lifter and never miss a call!
With the Poly Savi 7220 (the best wireless headset for office) you're buying a headset that delivers productivity. First, you will be covering up both ears so you can focus on your callers and hear them clearly. The noise canceling microphone will cut down on background noise helping your callers hear you more clearly. Being able to hear your caller clearly and vice versa makes for a better, more productive call without the need to repeat information.
The Poly 7200 wireless headset is very comfortable for all day wearing, with a padded headband and leatherette ear cushions. The base has a compatibility slide switch enabling it to connect to most multi line business phones. There is also speaker volume, and microphone volume adjustments. The headset offers on/off controls, mute button and volume up/down settings allowing you to easily manage your call remotely.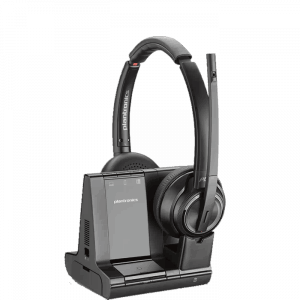 Poly Savi 8220 | Wireless Headsets (office phone, PC, and mobile phone)
With the Poly Savi 8220's noise-canceling feature, this is a fantastic choice for anyone in a busy call center. Soft leatherette, dual-ear cushions help with noise reduction in and of itself, but switch on the ANC (Active Noise Cancellation) feature, and the world around you fades away. At least that is what it will feel like. The Savi 8220 muffles background noise from radio's, fans, co-workers, and air conditioners. You will be focused and more productive by being able to hear yourself think and strategize clearly. The noise-canceling headset microphone brings your voice front and center for your caller. Roam up to 590 ft while on your call, and with an EHS cable or Handset Lifter you will be able to answer and hang up calls remotely – so you won't miss that important call.
The other productivity advantage of the poly Savi 8220 is it connects to multiple devices. You simply put one headset on in the morning and now you're connected to office phone calls, computer use (softphones, webinars, training for example), and mobile phones. The headset base also has a ringer built-in for those that are using it as a VoIP softphone through their PC. When your softphone rings you will hear it from the base and in the headset, making sure you never miss a call. The base has a compatibility slide switch making is compatible with over 800 office phones, along with adjustments for speaker and microphone volume settings.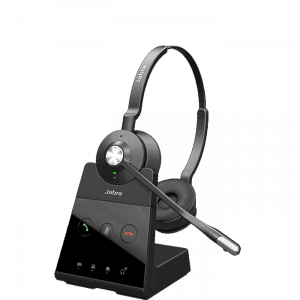 This headset is the one you want when you are in a large call center or an individual working from home. It has the ability to handle 3X the wireless density in the same area without interference. The quality of your calls is vital, and you will always sound clear to your caller. The Engage 65 series is also half the weight of its competition. Jabra manages to give you a technically advanced headset, in every way, in a headset that weighs next to nothing. Amazing! If you would like remote answer/hang up ability be sure to add a lifter or EHS cable.
With an adjustable headband, lightweight design and leatherette cushions covering both ears you will find wearing this headset very comfortable while being a huge productivity booster. This headset will connect to most multi line business phones as well as Windows/MAC computers. With a computer connection you now have the ability for firmware updates and customizing how the product works with with Jabra Direct, a free download. The advantage of using a headset is quickly recognized in the office when it comes to PC usage for online training or watching webinars. By using a headset as your computer speakers, you can quietly take care of business without interrupting everyone else in the office with speakers blasting away.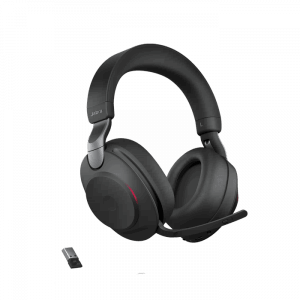 Jabra Evolve2 85 UC Stereo | Wireless Headsets (PC and Bluetooth mobile devices)
This is Jabra's Premium wireless hands-free headset. If you want the top of the line performance, style, and technology, Jabra has worked it beautifully together with this headset. Maximize productivity with ANC speakers, 10-microphone technology, and 37 hours of talk time. There is also a busy light visible from any angle, so co-workers see you are on a call. Enjoy the binaural cushions that surround your ear with velvety softness. This Evolve2 85 is one of the best call center headset money can get.
This particular headset is built around being an excellent solution in extremely loud environments or for users that want complete concentration on their caller. It uses ear cups that go around the ear completely sealing off any noise in your immediate area. Also included is a USB dongle making it easy to connect to your PC for users that have softphone applications. It also connects via Bluetooth to most mobile devices and is great for streaming music and videos. You can download free software from Jabra for the customize your headset listening experience.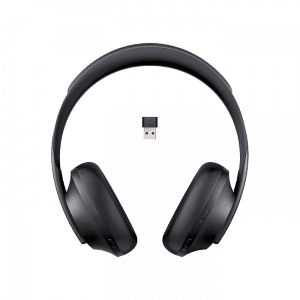 When looking for call center headsets, noise-canceling is a top feature for some. This noise cancellation headset is the cream of the crop. It has 11 levels of noise cancelation and equalization technology that brings clear audio quality. You get 20 hours of talk time and a lightweight, comfortable design. The ear-cups are angled to really fit around your ears and with the four-microphone system, your caller will hear you and only you throughout your conversation.
Many users of the Bose 700 UC greatly appreciate the boomless microphone technology. Microphones are built into the speaker cups that angle forward to pick up your voice from in front of your mouth. Noise canceling technology is able to differentiate background noise in your environment, which is cancelled out. This ensures your voice is picked up clearly and transmitted to your caller.
---
Which call center headset is best for you?
We often hear this from our call center users and it depends on wearing style, what you want to connect to and your environment. There isn't one perfect solution to cover every call center, but with our help we can find the perfect headset solution for your call center. Key factors we want to discover will include:
Do you want to standardize with one wearing style, making inventory management quick and easy?
Do you want to offer users a convertible headset with multiple wearing options?
Will your environment need single ear headsets, allowing one ear to stay open for co-worker interaction or dual ear for better focus on callers?
Will a less expensive corded headset be better for the budget? Or will wireless headsets provide greater value/productivity for call centers?
If you decide on wireless, you will need to consider how many wireless headset will be active at the same time (known as density). Headsets use different frequencies and adjustments in distance may also need to be considered to avoid issues. Battery life and talk-time will also be a consideration of considering wireless headsets for your call center. Either headsets with long battery usage or headsets with hot-swappable batteries will be required to get your agents comfortably through their shift.
Do you need each individual to have their own headset or will different shifts share the same headset?
Will you need headsets for training? Some businesses will use training to allow new agents to listen in to agents with more experience. Managers and supervisors on occasion will listen into users for coaching purposes.
Always allow for breakage with spare call center headsets on hand. This keeps your agents up and going and you can take care of replacing lost or broken headsets as time permits. Without spares, you will find agents unable to work.
Poly and Jabra both offer free software, Lens for Poly, and Direct for Jabra with your UC headsets. You can customize your headset settings and make sure firmware is always up to date so your headset performs it's very best and proves to be an indispensable asset for your call center endeavor!​
---
Best Call Center Headset Q&A:
Is a single ear or dual ear headset better? Most call centers prefer to use headsets that cover both ears. This allows agents to focus on calls better, with less background distractions. Covering both ears will also reduce the over-all volume in the room as agents don't feel the need to talk louder and over each other. You have headsets that are in-the-ear, on-the-ear and around-the-ear. For best results, you want a headset that creates the best barrier for sound, making it as easy as possible for your agents to hear.
Can you use a training headset for listening into calls in a call center? If using wired headsets, choose headsets with a quick-disconnect connection. This allows you to add a Y-training cable and second headsets for new agents to listen into calls or managers to listen on coaching and monitoring. If using wireless headsets that connect into a traditional RJ9 headset or handset port, you can use our wireless headset training adapter to monitor calls.
What headset is the most durable for call center use? When factoring in durability, you really to get what you pay for. Inexpensive headsets under $100 will sound acceptable out of the box, but simply don't hold up to the use and abuse headsets need to withstand in a busy, and often 24/7 call center. Typically corded headsets are chosen for their durability with business grade models starting at $100. If your budget requires low end solutions, you will need to plan on having 10-15% in spare inventory ready to be swapped on a moments notice as units break. You also have to factor in downtime as you ship broken units back and forth to a manufacturer for replacements.
Is there an advantage of using an amplifier with call center headsets? Using a wired headset amplifier increases the cost of each station slightly and takes up more desk/cubical space. The advantage of using an amp is better audio quality, speaker and microphone volume controls along with a mute button.
How important is choosing headsets with replaceable accessories? Most call centers have high agent turnover, thus increasing the importance of selecting headsets that have replaceable accessories. Purchasing spare/replacement ear cushions will allow you to quickly sanitize headsets and replace cushions as needed when new agents start. Many call centers opt for leatherette cushions for greater agent comfort, but also promote better hygiene with regular use of sanitizer wipes.
If you have further questions on the Best Call Center Headsets, please contact Headsets Direct at 1-800-914-7996. Feel free to browse our entire headsets selection for office and contact center.