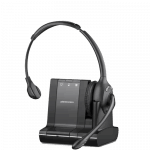 Plantronics recently announced the Plantronics Savi W710 Wireless Headset has been discontinued and is no longer available now that supplies have run out.
The current replacement as of August 14, 2019 is the Plantronics Savi W8210 Wireless Headset:
Plantronics W8210 Wireless Headset: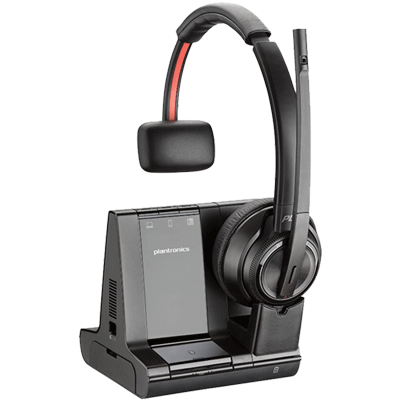 Today's enterprise and contact center professionals work across a range of devices – from PC to mobile to desk phone. The Savi W8210 single ear wireless headset system makes call management effortless with three-way connectivity that lets you switch seamlessly between deskphone, PC and mobile devices. Conference two of your three devices to collaborate with colleagues or connect up to four Savi 8200 Series headsets for training or call resolution.
Savi W8210 wireless headset delivers enterprise-grade DECT audio for a premium listening experience. Plantronics Savi W8210 is ideal when you need to be dialed into calls but also hear what's going on around you. You will always sound your best even in noisy environments. For the most sensitive environments, you can turn up noise canceling with the close conversation limiting feature (configurable in Plantronics Hub) for additional privacy.
The Savi W8210 monaural headset system helps you achieve peak performance and productivity with a range of communication features. Enterprise-grade DECT audio allows you to roam or multi-task (Line of sight: 580 ft; Typical office environment: 180 ft) from your PC. One-touch controls – such as call answer/end, volume up/down and mute – let you manage calls from any connected device within roaming range. Convenient voice prompts notify you of mute status, roaming range limit, and more. And with up to 13 hours of talk time on a single charge, the Savi W8210 headset is ready to work whenever you are.
Talk/standby time: Up to 13 hours talk time, up to 50 hours standby time
Headset wireless range: Line of sight: 580 ft; Typical office environment: 180 ft
Battery capacity: Mono 490mAh
Battery type: Rechargeable, replaceable, lithium ion polymer
Charge time 3 hours
Wireless technology: DECT 6.0 and Bluetooth v4.2
Audio profiles: Advanced Audio Distribution Profile (A2DP); AVRCP;
Bluetooth Hands-Free Profile (HFP); Bluetooth Headset Profile (HSP)
Codecs G726, G722, Broadvoice32, OPUS/CELT 16kS, OPUS/CELT 48kS​
Receive frequency response: Wideband: 100–6800 Hz; Multimedia 20 Hz–20 kHz
Speaker sensitivity: 118 db SPL max
Speaker impedance: 32 ohms
Speaker size: 32 mm
Hearing protection: SoundGuard DIGITAL: protects against sound levels above 118dBA; G616 anti-startle (during calls) detects and eliminates any large sudden increase in signal level; Time-weighted average prevents average daily noise exposure from exceeding 85dBA* *Requires Plantronics Hub software to enable SoundGuard DIGITAL features.
Microphone technology: Noise canceling
Microphone frequency response: Wideband: 100 Hz–6800 Hz
Microphone sensitivity: 112 db SPL max
Headset weight: Mono: .25 lbs/115 g
Call controls: Call answer/end, mute, volume +/-, ANC on/off, power on/off
Voice alerts: Multiple voice prompts
Languages: Configurable by Plantronics Hub software
Model: W8210-M: Certified for Skype for Business. W8210: Built for UC applications and soft phones from Avaya, Cisco, Skype and others.​
1 Year Warranty
SKU# 207309-01
UPC 0017229163393