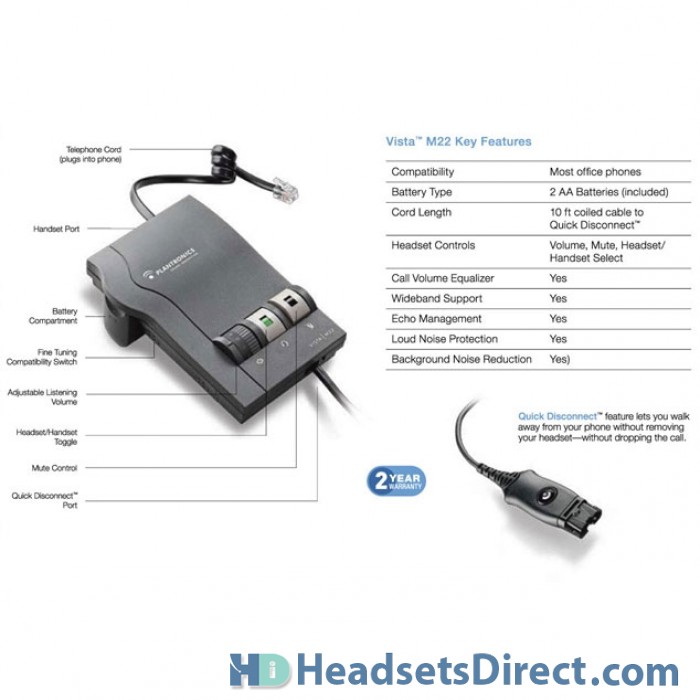 You start your work day with your corded H-series Plantronics headset plugging into your Plantronics M22 Vista Amplifier. After a hectic morning of calls, you decide to take a short break from calls to get to that pile of filing that's been staring at you the past few days.  A few minutes later, you've finished your task and your phone rings, so you push the headset button on your M22 to pick up your call, but find that when you push the headset button on your M22, it's pausing and taking a few seconds before it connects you to your caller.  What's happening?  And more importantly, how can we keep that from happening again?
It sounds like your M22 could be "falling asleep" between calls. With most phones they have the ability to keep your M22 active and ready.  However, there are some phone models  that do not have that function and after 90 seconds of inactivity, the M22 will power down, thus causing the pause in your call connection.
Luckily there is a way to find out if it is going into sleeping mode, or if more trouble shooting will be needed.
Try these steps the next time a call comes in:
As the call is ringing in you'll need to push the M22 Amplifier's middle button off and on again.
If your caller is on the line right away, then you'll know it's the M22 falling asleep and it can be corrected with the purchase of a Power Cord p/n: Plantronics 45671-01. That will keep your M22 awake and answer ready at any time…no more pausing.
If you find that after pushing the button off and on and you are still getting a pause before it picks up, then you'll need to contact us or Plantronics for more trouble shooting.