Wireless Smartphone Headset Options:
The Latest in Plantronics Bluetooth Headsets.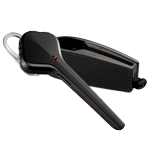 Using a Bluetooth headset or earpiece on your smartphone gives you wireless freedom with crystal clear sound quality. The Voyager Edge provides great talk time, a convenient travel case with extra charging power, and an extended microphone for great voice pick up. With ear gels that fit comfortably in your ear, you will regularly find yourself forgetting you have the headset on. The base is unique in that it provides extra charging power when the headset is stowed away. For $129.99, the Voyager Edge gives users great value in a comfortable Bluetooth headset, while offering great sound quality and eliminating background noise.
For details, pricing, and ordering: Plantronics Voyager Edge
Need More Wireless Choices?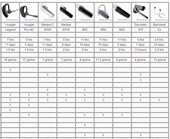 We offer a wide selection of compatible Smartphone Bluetooth headsets, earpieces, and microphone designs. When considering Bluetooth headsets, you will want to consider wearing styles, talk time, and if you require a base that doubles as a charging source. With wearing styles, you have in the ear and over the ear. In-the-ear headsets are small and lighter, but will feel less secure to some users. Over-the-ear headsets have the circuitry and battery located behind your ear, which allows for a more secure fit, but will add slightly more weight to the unit. Generally speaking, users will quickly find they prefer one wearing style over the other based on how the headset molds to their specific ear shape and size. As for talk time, it's important to find a model that meets your typical needs. Take a few days and add up how much time you spend on your phone. This is the only way to ensure you choose a headset that will exceed your typical usage. There's no point in buying a headset that under performs your needs and is constantly in need of a charge. A few Bluetooth headsets include a base that also acts as a charger. This makes it very convenient to place the headset in the base between long calls to recharge optimal performance.
Inexpensive models will start in the $30 range, and dual ear, hi-fi, USB-compatible headphones will approach $300. With a wide range to choose from, you will easily find a Bluethooth headset that fits your budget, needs, and wearing style.
Check out our easy-to-understand side-by-side comparison grid at Bluetooth Headset Guide.
---
Corded Smartphone Headset Options:
Single Ear or Dual Ear Options with 3.5mm Connections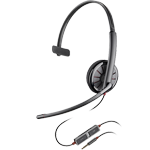 The Plantronics Blackwire C215 & C225 headsets are easy to use with the 3.5mm connection for versatility across multiple devices, so you can focus on collaboration and productivity, rather than headsets and cables. The professional-grade noise-cancelling microphone keeps background noise from affecting call quality. Soft foam ear cushions stay comfortable all day long, while the folding ear cushions make it easy to store at the end of the day. The C215 (Single Ear) or C225 (Duel Ear) are a must have for any mobile device user.
Product details and ordering: Plantronics C215 (Single Ear) $28.00ea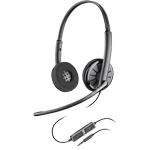 Product details and ordering: Plantronics C225 (Dual Ear) $32.00ea
---
Short Info Videos:
We have selected a few informative videos to help you better understand Smartphone headset options:
New from Plantronics
How Do I Order Smartphone Headsets?
Order now on our fast and secure website, or call 1-800-914-7996 today!
---
Frequently Asked Smartphone Headset Questions
How do I order headsets for my smartphone?
Just give us a quick call at 1-800-914-7996, or order online.

How easy is it to connect a Bluetooth headset to a smartphone?
It will take you 2-3 minutes to be up and talking. You simply put the headset into pairing mode, have your phone search for Bluetooth devices (your headset should appear), choose to connect, and your done.

What is Smart Sensor Headset Technology?
Headsets with Smart Sensors only connect to your phone when they are on your ear. You will never again be talking into your phone and realize your headset is the active device that is sitting in your pocket or purse with your caller yelling "Are you there?".

How is the quality of Bluetooth headsets on a smartphone?
Technology has advanced Bluetooth audio quality to amazing levels. With the latest AudioIQ3, Windsmart, and DSP technology built in, your caller won't be able to tell you're on a Bluetooth headset whether you're in the office, at the mall, or cruising down the highway.

How easy is it to use the smartphone corded headset and cable solution?
As simple as plug-n-play. You plug the smartphone cable into the headset and your smartphone, and.your smartphone does the rest. It's really that easy. Just start making calls like normal, but enjoy the convenience of hands-free communication.

Is there a 2.5mm to 3.5mm adapter to use standard headsets on a smartphone?
Yes, part number 84372-01 allows you to plug a 2.5mm headset plug into a smartphone 3.5mm plug, however, we have had customer issues on occasion with this solution and would only suggest this as a last resort.
---
The Advantages of Bluetooth Smartphone Headsets
Smartphones have become a central part of many peoples' lives. Saving battery life and being proficient are two things that are critical to any business. Smartphone Bluetooth wireless headsets allow you to multitask and save battery life at the same time. Smartphone wireless headsets give you better quality communication as well as a more interactive option. If you want the best communication tools for yourself and your business, you need to ensure that you are able to get the best wireless headset.
Many people use several different electronic gadgets that need to be linked in order to utilize them to their full capacity. With the right Bluetooth headset, you will be able to link your computer, as well as your tablets, to a desk phone or VoIP phone. The design of these smartphone headsets make this the state-of-the art way to communicate. Another benefit to consider when you purchase from Headsets Direct are our easy exchange and return policies, as well as Plantronics outstanding guarantee.