Poly SHS2371-11 PTT USB Adapter – Poly 92371-11 or HP 8K718AA#AC3
The Poly SHS2371-11 PTT USB Adapter part # Poly 92371-11 or HP 8K718AA#AC3 is based upon products that are the proven standard for Air Traffic Control and Public Safety Dispatch.  It is for use with training simulators, VoIP communications and speech recognition – anywhere that high quality USB audio with push-to-talk switching is required.  User comfort guaranteed by a wide range of compatible Poly headsets.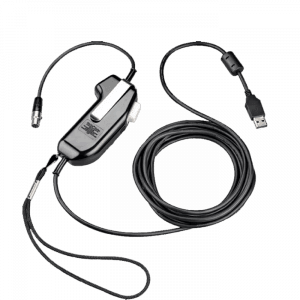 ---
Poly Push-To-Talk Features:
Compatible with standard USB drivers.

TA6MLX Connector (Not the standard Poly Quick Disconnect – See pictures above).

The Push-to-Talk switch enumerates as button 1 of a single button game controller.
The SHS2371-11 only works with Dual Channel headsets (HW261N-DC & SHR2073-01).
TECH TIP: The host software needs to support PTT functionality, which is recognized by windows as a game controller button 1. If not, the button press has no impact.
---
Poly Push-To-Talk Product Details:
Model: SHS2371-11
Version: Stereo
Warranty: 1 year
Poly SKU: 92371-11

Formerly 92371-01
UPC: 0017229159648

HP SKU: 8K718AA#AC3