Poly Earpiece kit for Starset H31 Headsets
The Poly Earpiece Kit for Starset H31 | 06448-01 is a set of 6 earpieces of different sizes for the Poly Starset models of headsets. These ear tips are pink in color with a clear tube that attaches to the headset.
The pink tip is made of a soft, rubber material that will stick into your ear canal, sealing off background noise around you making it easier for you to hear.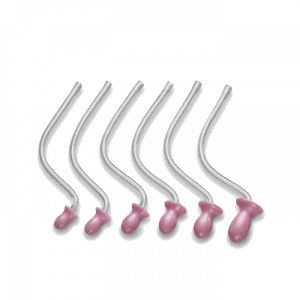 Product Note: Part number 06448-00 has been replaced by 06448-01.  The new item comes in a bag where the old item came in a box.  The ear tips did not change.
---
Headset Compatibility
Current Models
Discontinued Models
---
Poly Earpiece Kit for Starset H31 | 06448-01 Product Details:
SKU: 06448-01
UPC: 0017229155060
Eartip material: Rubber
Comes: 6 earpieces in varying sizes