Poly SSP2468-11 PTT USB Adapter – Poly 92468-11 or HP 8K7V8AA#AC3
Push-to-Talk products by Poly (formerly Plantronics), for example SSP2468-11 part # Poly 92468-11 or HP 8K7V8AA#AC3 are now available with USB interfaces.
They are based upon products that are the proven standard for Air Traffic Control and Public Safety Dispatch. Used with training simulators, VoIP communications and speech recognition – anywhere that high quality USB audio with push-to-talk switching is required.  User comfort guaranteed by a wide range of compatible Poly headsets. Compatible with standard USB drivers.
The SSP2468-11 adapter connects directly to the CA12CD-S (and older CA12CD) and provides a cordless USB-PTT solution.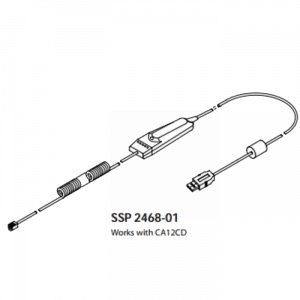 ---
Poly SSP2468-11 Product Details
Poly SKU: 92468-11

Formerly 92468-01 (SSP 2468-01)

HP SKU: 8K7VAA#AC3