Best Selling Plantronics
OPTION 1 - Plantronics CS540 Wireless Headset w/ HL10 Handset Lifter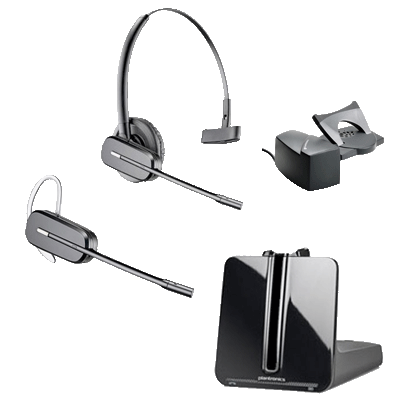 The Plantronics CS540 is the latest in
wireless headset technology.
Over-the-Head and Over-the-Ear wearing styles included.
Noise-canceling microphone.
Lightest headset in the industry.
350 foot range.
7 hours of talk time.
Remote answer/hangup with handset lifter.
1-year warranty.
60-Day money back guarantee.
OPTION 2 - Plantronics HW251N Corded Headset w/ M22 Amplifier
Frequently Asked Questions
What if I don't like it?
We have a 60-Day money back guarantee so nothing to worry about.


How about compatibility?
Give us a call at 1-800-914-7996. We're here to answer compatibility questions and anything else headset related.

I can't decide between wireless and corded?
It really comes down to budget. If you can afford wireless you can roam your office while talking and be much more productive, maximizing the value of your headset investment.

How complicated is setup?
Setup takes less than 10 minutes and we're always available if you have questions.

How long before it ships?
We're able to ship most orders the day they are placed.