Investing in and choosing a great quality Bluetooth USB headset or Corded USB headset is an important choice for most of us. We want to make sure we get the sound quality, comfort and function that work best for our needs.  You have found the perfect Plantronics USB headset and it works great for your PC needs, but now you need to have a headset that you can use with a desk phone as well.  You don't want to have a separate headset for your desk phone – having to switch between one desk headset and another USB headset is way too cumbersome.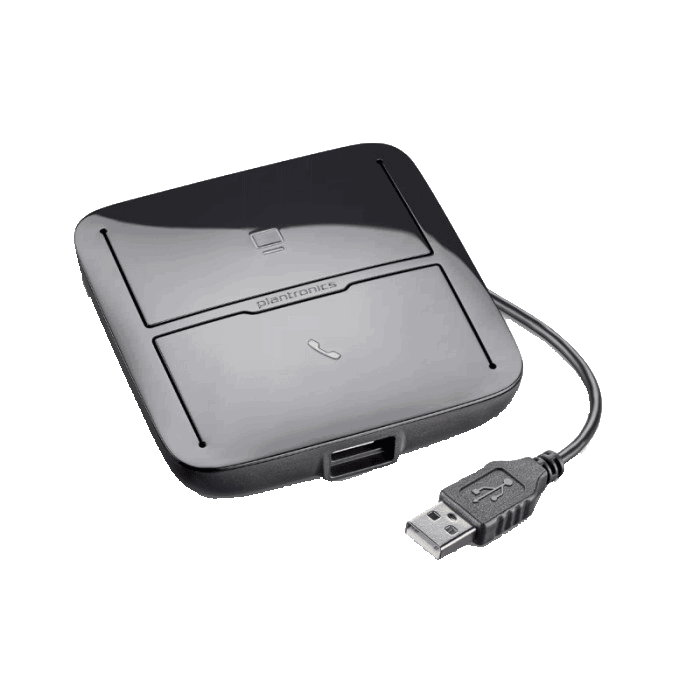 We have the solution that gives you the best of both worlds! The MDA220 USB works for easy transitioning to Unified Communications (PC, Desk Phone and Mobile) with just one headset.
Corded headset
If you'd like a corded option, the MDA220 USB works with either the EncorePro USB headsets or Blackwire USB headsets. Our Bluetooth USB headsets, like the Voyager Focus UC or
Voyager 8200 UC are compatible as well.  Just give us a call we'll be happy to go over any of the options with you.
Bluetooth
For a Bluetooth option, you'll just connect the USB cable to your USB port in your computer. This cable also supplies the power needed to operate the unit.  Then plug in your USB dongle (that came with your headset).  If your desk phone can take a Handset lifter for remote answering, you will also need the AC Adapter. You will then need to attach the telephone interface cable.  If your phone can take an EHS cable for remote answering,  you will not need the AC Adapter or the interface cable (but save it in a safe location should you need it later). Check with us for your phones compatibility needs.
Corded USB
For a Corded USB headset, you're going to connect the USB cable that is attached to the back of your MDA220 and plug it into the USB port of your computer. Then take the telephone interface cable, which came with the MDA220, plug it into the back of the MDA220 and  your phone's handset receiver jack. The cable from your handset receiver would plug into the small black box on the interface cable.  You are now ready to enjoy the convenience of using just one USB Headset with your PC and desk phone!