911 call centers and dispatchers are the 1st line of contact when an emergency call comes in. Because of you, our communities and loved ones are well taken care of and I hope you know how valuable and appreciated you are.
We know how essential it is, for a person in your position, that you have crystal clear, reliable communication devices.  That's were Plantronics, a proven leader in the headset arena, is able to make sure you're are hearing the details clearly, the 1st time, when on your calls.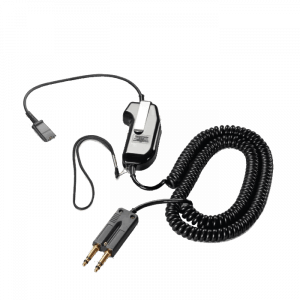 There are many different wearing styles and choices with our corded headsets, but we have listed the most popular corded headsets for 911 call centers. They have proven themselves to give excellent sound quality both with the speakers and microphones.
These popular corded headsets will work with your CA12CD-S Cordless PTT Adapters and our corded PTT adapters as well.
EncorePro HW710 Headset
The HW710 headset gives you much needed comfort for your busy day, with a thick padded ear pad and headband, you will be able to concentrate on your caller, but also hear your manager and co-workers with one ear open.
EncorePro HW510 Headset
What a work horse this headset is. It is lightweight, flexible, and gives you excellent speaker sound and microphone control.  The foam pad is very comfortable for all day wear.
TriStar H81N-CD Headset
For those that prefer having an over the ear option this headset will give you a great, secure fit and the speaker fitting into the ear canal for very clear sound. This headset was so popular that when Plantronics discontinued, government users made their displeasure known – and Plantronics brought it back.
StarSet  H31CD
If you are in a quiet environment this headset is popular as well. It has a voice tube microphone so you come across exceptionally clear to your caller. With 6 different ear tubes, you'll easily find the size that works best for you.
There are many other choices as well, like dual ear version for the EncorePro Series and other over the ear styles. Please visit Plantronics Headsets or give us a call and we'll be happy to discuss the Headset that will fill your needs perfectly.