Poly Elara 60 WS w/ Voyager Focus Introduction

This new Poly Elara 60 mobile phone station enhances smartphone collaboration. It allows you to transition seamlessly from your cell phone to the mobile phone station and control how you collaborate with headset, speakerphone, and handset options.
If you have a home office or often work remotely, the Poly Elara 60 was designed to make your life easy.  If you regularly use your cell phone or VoIP phone service though a mobile app on your phone, the Elara 60 will easily connect via Bluetooth.  This gives you a traditional dial pad with a comfortable, great sounding dual ear headset for all-day wearing.  With pillow-soft over-sized cushions and hi-fi audio quality, the headset will block out background noise allowing you to focus on your caller.
Understanding Active Noise Canceling (ANC) in headsets:
Above all, the Voyager Focus headset is one of the few models with Active Noise Canceling (ANC), which tunes the ANC to sound natural, reducing the inner-ear 'pressure' effect that is a common complaint with many ANC systems. The optimum in-office ANC and immersive stereo of the Voyager Focus UC provides the ultimate experience.  Concentrate on calls or listen to music in comfort.  In conclusion, this is a must have for anyone working from phone doing extensive outbound calling and dialing.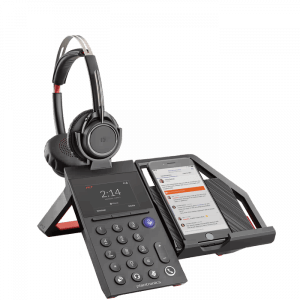 The Poly Elara 60 WS features:
Seamlessly collaborate with desktop like convenience with headset, speakerphone, and handset options
Multi-coil wireless and corded mobile phone charging options therefore, ensures your mobile phone is always charged
Use dedicated Microsoft Teams button to launch Microsoft Teams and view Microsoft Teams notifications
Supports advanced headset features, for instance smart sensors, dynamic mute alert, hi-fi stereo sound, and active noise cancellation
(features vary by Plantronics headset model)
Use Plantronics Elara 60 Series app to customize settings and update firmware (View Users Guide)
Simplified deployment with no need for service provisioning or extra wires since communications are powered by the mobile phone
In addition, you can wirelessly stream music or media from your smartphone for time away from work
The Poly Voyager Focus Headset features:
Bluetooth for multi-point connections
Triple-mics for unparalleled background noise canceling
Active noise cancellation lessens background distractions
Binaural stereo speakers provide hi-fi audio of amazing quality
Leatherette cushions with pillow-soft memory foam for comfort
1 Year Warranty
Part # 212952-411
For additional options visit: Bluetooth Wireless Headsets