You, on a speaker phone: Hello…how do I sound?
Them: Like you're on a speaker phone.
Ouch! – Even though your phone's speakerphone is convenient for you, it's taxing on your caller as they strain to hear you.
You sound bad because the speakerphone mics on your desktop or cell phone are, well, they're just lousy mics.  See below:
If you need the functionality of a speaker phone,
We have a wide variety of solutions, all with 360 degree microphone pickup, background noise cancelling, and multiple connection options.  We can even connect to your current deskphone.
In fact, we have an 
entire page
on audio conferencing, and a
comparison guide
 that helps you find the perfect speakerphone solution (ranging from less than $100 to just over $1,000).
---
Jabra Speak 710 Speakerphone – One option that works well for many users
This small speakerphone that you can use with your PC (comes with a USB cable and USB Dongle) and Bluetooth device is a real dynamo when it comes to the crisp, clear sound that you need for your conference call needs. All your co-workers listening in will get hear the detail of what is being said; there won't be time wasted on having to repeat what the caller is saying; it comes through loud and clear.
It's the perfect size, so portable, and won't take up much desk or table space and yet up to 6 people can enjoy the rich, vibrant sound that is emanating from this small speakerphone.
It's versatile in that you can lay it flat or place it in the standing position and point it in the direction of your listeners to get the best sound for the area you are in.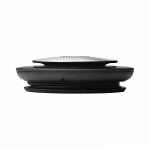 Here are some of the great features it offers you:
Jabra Speak 710 Features
Compatible with all leading UC Platforms

Crystal-clear calls with Omni-directional microphone

HD Voice/Wideband Audio for superior sound

One-touch Smart button for voice assistant

USB and Bluetooth connectivity

Wireless range up to 100 ft

15-hour rechargeable battery

Up to 6 people

Can pair two speakerphones for stereo sound

2-year warranty
This speakerphone will make you wonder how you ever got by using your mobile phones speaker; constantly straining to listen or turning up the volume so high you annoy those around you or even blow out your mobile phones speaker.  And you won't have the constant frustration of having to ask your caller to keep repeating what they've just said.
Another great feature of this unit is you can easily connect 2 together for coverage up to 12 people or if you simply want to enjoy stereo sound.
This little Jabra 710 Speak Speakerphone will make all your conference call headaches a thing of the past! Call us and we'll be happy to answer any questions you may have.