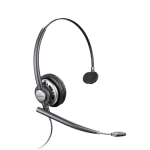 HW710 EncorePro Headset
When I use this headset I can relax, it is easy on the ear with the leatherette earpad.  This headset comes with a noise-cancelling microphone that has an adjustable and extendable boom for exact positioning.  The HW710 Headset lets you hear conversation around you so you know what is going on, but at the same time the noise-cancelling microphone will eliminate the background noise so that your client doesn't hear.  This headset features a quick disconnect and can be used with either a cable that is compatible with your phone, or an M22 amplifier. This headset supports AudioIQ and Clearline audio technologies.   You have the assurance that this headset will give you precise listening level, sophisticated hearing protection and superior audio performance.  This headset offers great balance, fit and comfort, and can be worn on either the right or left ear.
When you pair this up with an M22 or AP15 amplifier, the HW710 EncorePro Headset will give a better performance.  You have more options for microphone, hearing, and phone compatibility.  This headset is used in call centers across America based on the phone type and model; you can use either a cable or amplifier.
Plantronics Compatibility Guide
With this information you can determine which cord or amplifier works best with your phone.  This headset can easily be used with a quick disconnect and USB cord for those who have soft phone or computer calling.
With the wideband audio provided in the headset, this will extend the frequency radio range of audio signals transmitted over telephone lines, resulting in better quality speech. Traditional or narrowband telephone calls limit audio frequencies to the range between 300 Hz to 3.4 kHz.  Wideband audio increases the bandwidth limitation and transmits in the audio range to 50 Hz to 7 kHz or higher.
OK, now you have the headset and your cable or amplifier, you are ready to talk. No more shoulder and neck pain from squishing them together to hold the phone in place.  You really are hands free with this headset. Free to be able to type, rummage through files, write notes, all while on the headset with your client.