Problem:  I have a hard time hearing my calls and I work around loud talking people.  Which headset can I use for an extremely noisy place?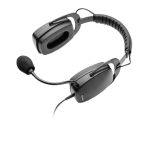 You may want to take a look at the binaural, duel ear, Plantronics SHR2083-01  Ruggedized headset.  The SHR2083-01 is a single wire design headset that has circumnaural earpieces that comfortably surround your ears to keep the conversation in and the unwanted distracting noise out.  It also has a noise canceling microphone that blocks out the background noise so that your callers don't hear everything going on around you so vividly, and a cushioned headband for comfort.  The Plantronics SHR2083-01 is a top of the line Ruggedized headset that can be used for extremely loud environments like the floor of the New York Stock Exchange, or if you just want to be able to block out the noise around you so that you can really focus and concentrate on your phone calls.
And the Plantronics SHR2083-01 Ruggedized headset doesn't have to be used in an extreme situation, we actually have customers that use them in call centers as well as regular office environments.  Some businesses will get these for employees that may have a little hearing loss or just a hard time hearing on the telephone.
The Plantronics SHR2083-01Ruggedized headset has the standard Plantronics Quick Disconnect plug, so this means that it can be used anywhere that the regular "H-series" corded headsets are used.  The SHR2083-01 will work with all of the Quick Disconnect cables such as the 26716-01 cord for Cisco 7940, 7960, and 7970 series phones; the A10 cord (66268-02) for specific Nortel, NEC, Mitel, ShoreTel & Iwatsu phones; the HIC (49323-04), HIP (61804-03), & HIS (72442-01) cords for specific Avaya phones; just to name a few.  It will also work with the Plantronics audio processors, amplifiers and adapters that have the Quick Disconnect cables such as the M10, M12, M22 & AP15 amplifiers for most single and multi-line corded telephones, as well as the DA40, DA45 and DA60 USB adapters for computers.
So if you are in the market for a top of the line durable headset that will help you to give your full attention and be immersed in your calls, check out the Plantronics SHR2083-01Ruggedized binaural dual ear headset.