Plantronics CA12CD-S PTT Cordless Adapter
The Plantronics CA12CD-S Cordless PTT Adapter is a cordless PTT (push-to-talk) headset adapter designed to provide encrypted communications and PTT functionality for applications such as Public Safety Dispatch and Air Traffic Control. The The CA12CD-S uses digital processing (DECT™ 6.0), and operates in the UPCS band (1.92 – 1.93 GHz ) in North America.  It features a Plantronics QD (Quick Disconnect) and is compatible with all "H" series headsets.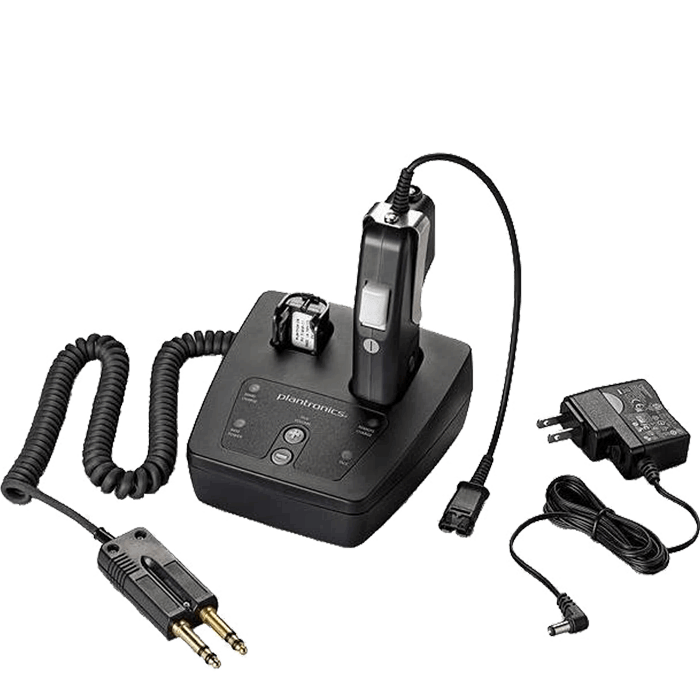 ---
PTT Adapter Features:
Cordless Amplifier for use with H-series Headsets
DECT 1.9GHz Push-to-talk amplifier for 6-wire applications
2-prong PJ-7 connector (equivalent to WE-425)
Hands-free mobile communication
Digital (DECT) technology operating in the 1.9GHz radio band
Provides superior voice clarity and security
Industry standard ergonomic design of PTT unit
PTT switch with selectable locking/non Locking operational modes
Two charging wells; one for the remote unit while the other facilitates charging the extra battery pack (supplied with unit)
Lithium-Ion battery packs provide approximately 8 hours talk time
Faster battery recharge rates
Quick Disconnect for use with Plantronics H Series headset tops
1 Year Warranty
SKU# SHS2900-01 & 207799-01  (Formerly 92900-01)
UPC 017229147249
Base reads: CA12CD-S with date code  MMYY (Formerly SHS2900-01)
Box label reads: 207799-01  (Formerly 92900-01)
---
TECH TIP: Info about the older CA12CD model:
The CA12CD was the predecessor of the CA12CD-S.  The two units use different wireless technology, thus making the remotes not interchangeable. Other accessories are the same.
Base reads: SHS2500-01 with date code  MMYY
Box label: 92500-01
80323-01 Remote Unit (Only compatible with CA12CD)