Business Grade Plantronics Headsets for Polycom Telephones Users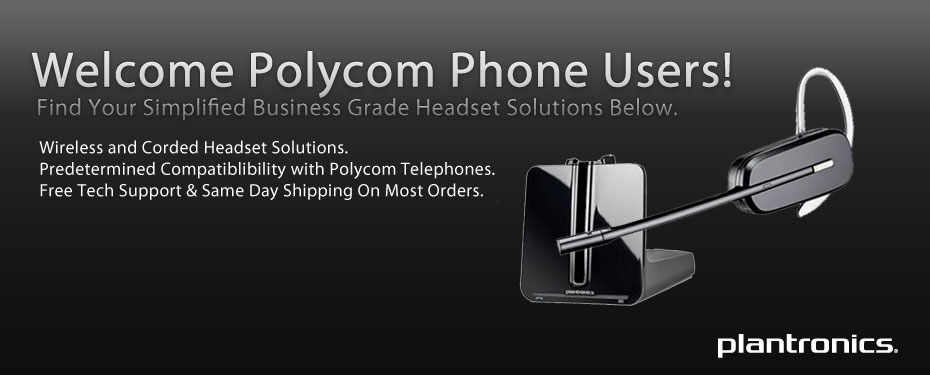 With up to 350 feet of range and weighing 21 grams, the CS540 is setting a new standard in the wireless headset industry.

---
Your Phone:
| | | |
| --- | --- | --- |
| Polycom SoundPoint IP 335 | Polycom SoundPoint IP 670 | Polycom VVX 310 |
| Polycom VVX 410 | Polycom VVX 500 | Polycom VVX 600 |
---
Your Wireless Headset Solution:
---
The CS540 Headset Offers The Latest in Wireless Technology!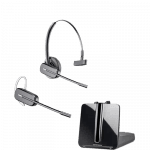 Choose your wearing style.
It's so comfortable, you'll forget you're wearing a headset with the CS540.  With two wearing styles included, you decide what's best for your all-day wearing comfort.
One-touch controls for adjustments on the go.
Speaker volume & microphone mute controls are at your finger tips allow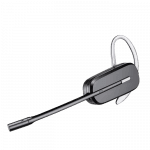 ing you to adjust your CS540 remotely without returning to your desk.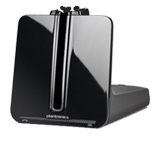 Fast and Easy Setup.
Setup only takes a few minutes with compatibility, microphone and speaker volume controls.  CS540 base settings are easily configurable to maximize your audio experience.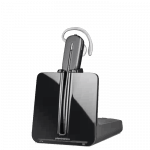 Productivity Booster.
Up to 350 feet of range to roam your office and 7 hours of talk time improve productivity as you're able to gather information throughout your office while continuing to talk.
Remote Answer & Hang-Up.
The APP-51 Electronic Hook-Switch (EHS) Cable further increases your efficiency, providing the ability to answer your calls remotely. When away from your desk, the headset alerts you to calls, so you never miss calls to voice mail.
---
Fast and Simple Setup
We have prepared a few videos to help you understand how simple it is to use the new CS540 wireless and HW510 corded headsets:
Introducing the CS540 Headset
Setting up the CS540 Headset
Why you need the HW510
---
How Do I Order?
Order now online with our
fast and secure website or
call 1-800-914-7996 today!
---
Your Corded Headset Solutions:
---
The HW510 sets the standard in over-the-head corded headsets!
All day wearing comfort.
Plantronics' most popular headset, the HW510 provides great value, durability and comfort for any business professional. The HW510 lets you interact with co-workers and communicate within your office by leaving one ear open and with the noise-canceling microphone, your caller hears your voice and not background office noise.
U10P Direct Connect cable for Polycom.
The U10P cable connects between your HW510 headset and your phone ensuring compatibility and making setup quick and easy.
---
The HW540 convertible headset gives you wearing options!
Choose over-the-head and over-the-ear.
Versatility is the hallmark of the innovative HW540 headset, with its best-in-class audio performance, all-day wearing
comfort, and a choice of wearing styles.
U10P Direct Connect cable for Polycom.
The U10P cable connects between your HW540 headset and your phone ensuring compatibility and making setup quick and easy.
---
Your Wireless Softphone Headset Solution:
---
The Voyager Legend 5200 UC is the world's smartest headset!
One headset does it all.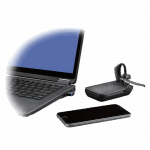 Stay in control. Make the Voyager 5200 UC an extension of your mobile life. With one touch, the headset connects with Siri, Google Now, or Cortana so you can call phone contacts, send messages, schedule meetings, or even search the web – all via voice. Plus, voice alerts give talk time updates and even announce incoming callers. Simply say "Answer" or "Ignore" to manage calls without lifting a finger.

Amazing audio quality.
Not in the office? Not a problem. Four adaptive microphones and WindSmart® technology work together to eliminate disruptive background noise, wherever you are. Your voice sounds clear and professional as you seamlessly transition between environments, inside or out. Now you can focus on what you're saying—not where you're saying it.
Convenient storage with additional charging power.
The Voyager 5200 UC includes a portable charging case that stores the headset and USB adapter when not in use.  The case conveniently provides a visual battery status for both headset and charging case – delivering up to 14 hours of additional talk time.