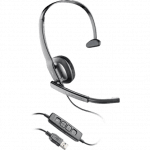 1) Blackwire C210-M – This headset is great when your office is your PC.  Whether you work from home, the road, or downtown, this is designed to function only with Microsoft® Lync™.  What could be termed a great headset because of the inline features on the cord, mute, volume up and down, answer / end call.  These are often purchased in quantities of 45, as they are usually used in call centers where the computer is the focus of every call.

2) .Audio DSP400 – Today's computer applications want to be heard, and spoken to, in full Technicolor sound! Whether surfing the web or streaming your favorite music, this headset is designed with you in mind. It does have the Plantronics DSP with the digitally enhanced USB cord. With power and clarity you can customize the mic for different applications.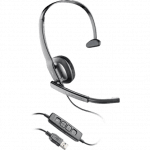 3) Blackwire C210 – This will connect to your PC via the USB on the cord. These are fantastic for video, webinars, conference calls, and live presentation with desktop sharing.  This does have Wideband with SoundGaurd, which protects against sound levels above 118db.

4) .Audio 355 – The Plantronics .Audio 335 is a quality multimedia computer headset.  It can be used for gaming, music, and voice recognition software.  When you need to keep in touch with family and friends, it will work well with soft phones such as Skype.  The USB port allows you to travel with your laptop, and be confidant that what you are hearing will not be overheard by people around you with the deluxe 40mm stereo speakers.

5) Blackwire C420 – This headset may look a little funky, but it is so comfortable.  The padding across the top helps to support the headset with ease.  It comes with a neoprene carrying case.  The enhanced Digital Signal Processing (DSP) provides clarity of voice not heard before.  SoundGaurd technology helps protect against audio spikes.
---
If you're deciding between computer headset models, it never hurts to see what the most popular models are, because chances are other customers have purchased corded USB computer headsets and found what they liked and continue to buy. Choosing any will provide a great headset to use with your desktop or laptop computer.