Question: What are the features on your standard Plantronics headset amplifiers such as the M10, M12 and M22?  I've misplaced my instructions.
Answer:  Here are the features.  You're looking at the amplifier in front of you.  The single RJ9 jack in front of the amplifier (marked with a headset symbol) should have the coiled "quick disconnect" cord plugged into it. The other end is where you connect the headset.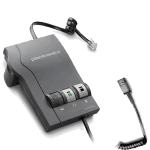 On top, to the left, you have a wheel with numbers to control the volume of what you hear through the speakers of your headset (it has a symbol of a speaker below it).  Next to the volume wheel you have the button that turns on your headset (it has a symbol of a headset below it).  The window in the button will show green (red on some older models) when "on" and black when "off."  Then you have the mute button next to that one, marked by luscious lips with a line across or a microphone with a line across. It too will show green (or red) when "on" and black when "off."
Looking at the back of the Plantronics headset amplifier you have three jacks.  The first one (round with a power symbol) is for an ac adapter, if you're using one with your amplifier.  The next one is an RJ9 jack marked with a handset symbol.  It's where you connect your…handset…once you've connected your amplifier to your phone, which brings us to the next RJ9 jack with the telephone symbol.  There is a short cord with loops (that looks like a pigtail) that goes from this jack to your telephone handset jack.
Still looking at the Plantronics headset amplifier, on the left hand side there is a "U" shaped door.  That's where you put the batteries in, if you're using batteries.  Remember that the top battery has the positive end facing out and the bottom battery has the negative end facing out.  If you look inside the chamber, you can see printed on the circuit board how they're supposed to go in, as a reminder.  Next to the battery compartment, there is a thin door (some have bumps and others have ridges).  When you remove the door, you will find a scale with numbers 1-6 and a round blue and white dial with minus and plus signs.  The scale is used to configure the amplifier to the phone.  It comes preset to 5 since most phones use that setting.  If you do not get a good dial tone, you may need to try one of the other settings.  On some phones that work on setting #1 you may need to remove the batteries since they work without them. The blue and white dial controls the volume of your microphone or voice tube (- less volume, + more volume).