Empower Every Hybrid Worker
The Yealink WH62 Portable Dual DECT wireless headset enables users to independently take calls easily with the traditional DECT base. It is flexible and convenient enough for hybrid working or on-the-go use.
---
Ultra-Portable
The WH62 Portable is a DECT wireless headset with a DECT dongle. You only need to use the DECT Dongle WDD60 without using the DECT base to enjoy the comfort of a DECT wireless headset. The Yealink DECT Dongle WDD60 is not only easy to install, plug-and-play, but is also easy to carry and connect for mobile use.
t's call distance is 3 to 5 times that of Bluetooth wireless headsets allowing customers not to mis a call at a further distance.  It is specially designed for hybrid working and is suitable for use in various scenarios. Whether working in the office, at home or on business trips, the WH62 Portable increases office flexibility and productivity.
---
Deliver HD Voice with Yealink Acoustic Shield
With Yealink Acoustic Shield technology, the Yealink WH62 Portable Dual DECT Wireless Headset will filter out background noise with 2x microphones, providing HD voice quality for your listeners, and ensuring distraction-free conversation.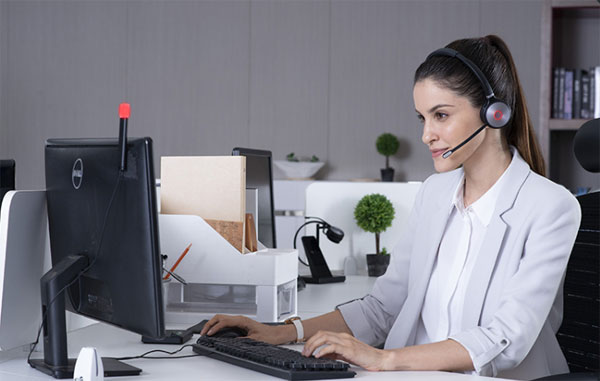 ---
Interruption Free
The busylight is enabled in the WH62 Portable. With the light on the headset turning red, people around you know that you are on the phone, instead of interrupting you unknowingly. Just stay focused on your conversation, for higher efficiency and better collaboration.
---
Native Integration
No EHS adapters needed, as you connect your Yealink deskphone directly using an included USB cable. A second Micro USB port located in the base will allow a connection to your PC, allowing one headset to connect to 2 devices. Integrated deeply with Yealink IP phones, you will experience crystal clear calls starting with your first call while wearing the Yealink WH62 Dual headset.
---
Match Your Platform
Compatible with diverse platforms, the WH62 Portable Dual headset perfectly matches your UC platform, delivering a consistent call experience with better communication quality and lower IT costs.
Connected with PC or desk phone, it boosts your productivity with the smooth user experience. Certified for Microsoft Teams, it is also designed with a dedicated Teams button for activating Microsoft Teams with one touch1.

1Microsoft Teams variant only.
---
Intelligent Mute Zone
When raising the Mic-boom to within 30 degrees, the headset will automatically activate the mute function, ensuring that you can easily switch to a private conversation with co-workers before continuing back on your headset.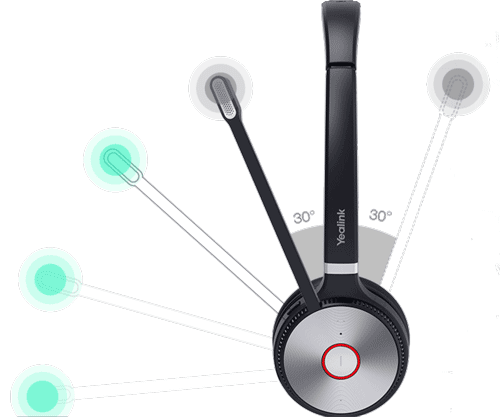 ---
Ensure Communication with Comfort
To meet various preferences of users, Yealink created the WH62 Portable headset with a lightweight design. The WH62 Portable boasts an adjustable headband, and easy to replace ear cushions to ensure all-day comfort.

---
Wireless Freedom & All Day Power
No matter when and where your conversation begins, this professional headset can always catch up to your steps. With up to 393 feet of wireless range and 14 hours talk time, it is suitable for users' daily communication needs. In addition, the product supports high density installation in the open office.
---
One For All Devices Management
Yealink USB Connect is available for the management of multiple Yealink USB devices, including headsets, speakerphones, and webcams. All the settings can be done through Yealink USB Connect.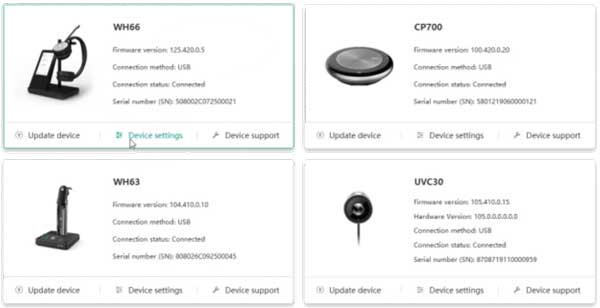 ---
Yealink WH62 Portable Dual DECT Wireless Headset Specifications:
General
USB 2.0
USB connectivity to PC
Integrated busylight LED indicator
Adjustable boom arm up to 320°
USB Charging cable (for headset)
Headset weight: 80 grams
Warranty: 2 yr
UC Version
SKU: 1208644
WH62 Dual Portable UC
Teams Version
SKU: 1208643
WH62 Dual Portable Teams
Battery for Yealink WH62 Portable Dual Wireless DECT Headset
Talk time: Up to 14 hrs
Standby time: Up to 125 hrs
Charging time: 3 hrs (5V/1.2A)
DECT
Wireless range: Up to 120m/ 393 feet
Secure DECT (level): Step C: authentication – DSAA2, encryption – DSC2 (128 bit)
Audio (Headset)
Dual microphone

ECM microphone
MEMS microphone

Microphone sensitivity

ECM: -44 ±3 dB
MEMS: 42 ±1dB

Microphone frequency range: 100 Hz-8 kHz
Speaker size: Ø 28 mm
Speaker sensitivity: 92.5 ±3 dB @ 60mV
Speaker impedance: 32 Ω
Speaker max output power: 30 mW
Speaker frequency range: 20 Hz-20 kHz
Speaker bandwidth:

Talk mode: 100Hz – 8 kHz
Music mode: 20Hz – 20 kHz
Easy Call Management
Answer/End/Reject a call
Volume up/down
Microphone mute
Move the microphone boom arm up to mute, or down to unmute
What comes in the Yealink WH62 Portable Dual DECT box:
WDD60 Dongle (1308039)
Dual headset
USB charging cable
Carrying Case
Quick Start Guide