Premium audio, all-day comfort and intuitive call management.
+ Smart Sensor technology
+ Corded reliability
+ Designed for portability
---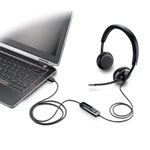 CORDED RELIABILITY
The Plantronics C520 corded USB headset includes the industry's first Smart Sensor™ technology to activate the connection only when you're wearing the headset. It easily and intuitively juggles PC calls and multi-media using audio alerts to manage connection, mute and volume status. With the Plantronics C520's easy portability, it offers premium audio quality and all-day comfort at your desk or at home.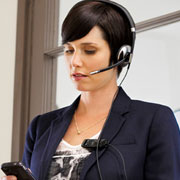 SMART SENSOR TECHNOLOGY
Experience industry-first Smart Sensor™ technology that lets you answer a call by simply putting on the C520 headset – making it the most productive and versatile corded headset on the market.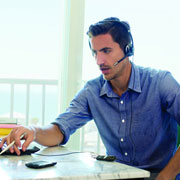 SUPERIOR AUDIO QUALITY
Offering PC wideband, noise-canceling microphone and high quality sound, the Blackwire C520 headset provides a truly outstanding audio experience – making it ideal for conference calls, webinars, listening to music and other multi-media. The Dynamic EQ feature optimizes your voice quality when on calls and automatically adjusts the EQ settings when you're listening to music or multi-media.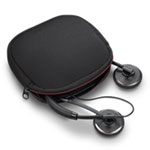 COMFORT AND PORTABILITY
Ultra-soft leatherette ear cushions and lightweight headband mean all-day comfort and a secure fit. Features ear cushions that fold flat, and includes a high-quality carrying case for easy storage and portability.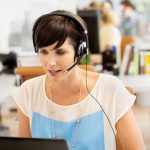 SOFTWARE-ENABLED FUNCTIONALITY
With Plantronics Spokes software get the added value of:
+ Call control across multiple softphones
+ Headset control panel allows customization of settings
+ UC presence automatically updated when on a call
---
Plantronics Blackwire C520 USB Headset:
The Blackwire C520 corded USB headset with Smart Sensor technology intuitively help you manage PC calls – simply put the headset on to answer a call and you'll hear every word thanks to its premium wideband audio quality. And with ultra-soft leatherette ear cushions and a lightweight headband, you'll enjoy all-day comfort and a secure fit. When work takes you on-the-go, simply fold the ear cushions flat, and store in the included carrying case. Durable and portable, the Blackwire C520 headset offers all-day comfort for juggling PC calls and multi-media – providing corded reliability that's ready when you are.
---
Plantronics Blackwire C520 USB Headset Features:
Smart Sensor technology lets you answer a call by simply putting on the headset
One-touch call answer/end, vol +/-, and mute
Inline indicator lights and user friendly audio alerts  the user to connection, mute and volume status
Dynamic EQ automatically adjusts audio settings between voice calls and music
Enjoy hi-fi stereo sound (C520) for unmatched audio clarity when listening to multi-media
PC wideband audio with noise-canceling microphones for high-quality PC telephony
Digital Signal Processing (DSP) provides natural voice sound
Carrying case for easy storage and portability
Connects to PC and Mac via USB
Dynamic EQ, microphone frequency response 100 Hz–8kHz optimal for wideband voice telephony (up to 6,800 Hz)
Hi-Fi stereo output from 20 Hz-20 kHz (C520 only)
Enhanced digital signal processing (DSP), noise-canceling microphone
Plantronics Spokes™ software provides added benefits:
Call control across multiple softphones
Battery status meter appears as an icon in the PC System Tray
Access to firmware updates as they become available
2 Year Warranty
SKU# 88861-01 / UPC: 017229140295