Business Media Desk Phone With Color Touchscreen
The Poly CCX 400 Business Media Phone is the "next generation" of CCX family of phones. With a 5-inch color touch screen and Android 9 powered performance, this phone is easy to use and sounds great – and blocks out the background noise to keep your conversations on track.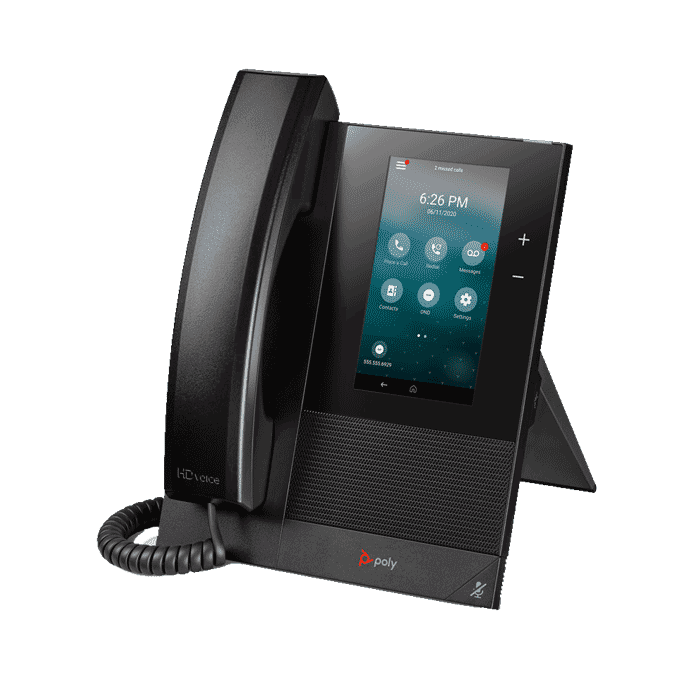 ---
Exceptional Voice Clarity
Hear every nuance with the industry's best sound quality featuring Poly HD Voice and Ploy Acoustic Clarity. Eliminate distracting background noise with exclusive Poly Acoustic Fence.
Dependable and Easy-to-Use
The CCX 400 improves collaboration and increases productivity – always on and ready for the next call. The Poly CCX 400 Business Media Phone combines an attractive ergonomic design with an intuitive user touch screen interface that together reduce the time spend learning new features and functions.
Straightforward Deployment
Easy for IT to manage with robust provisioning and management of telephony deployment and support.
---
Poly CCX 400 Business Media Phone Features:
Color Touch-screen Operation



Simple touch-access to contacts, meetings and voicemails – so users can get right to work
Audio Features
Hear every nuance with award-winning Poly audio technology
Headsets
Headset options suit workers' style with many ways to connect (USB, RJ9, and EHS ports)
Android 9 Performance
Fast, responsive scrolling, Dark UI option
Handset Speakerphone
Full duplex performance you can count on
Indicator
Message waiting indicator lets you know when you have a voicemail
---
Poly CCX 400 Business Media Phone Specifications:
User Interface Features
Gesture-based, multi touch-capable capacitive touch screen
5-inch color LCD (720 x 1280 pixel)
9:16 aspect ratio
Screen saver
On-screen virtual keyboard
Voicemail support
Adjustable base height
One USB-A port for media and storage applications
Unicode UTF-8 character support
Adjustable font size selection (regular, medium, large)
Normal and dark mode
Multilingual user interface
Audio Features
Poly HD Voice technology delivers lifelike voice quality for each audio path; handset, hands-free speakerphone, and optional headset
Poly Acoustic Clarity technology providing full-duplex conversations, acoustic echo cancellation and background noise suppression
TIA-920 wideband audio, type 1 compliant (IEEE 1329 full duplex)
Frequency response – 150 Hz – 7 kHz for handset, optional headset and hands-free speakerphone modes
Codecs: G.711 (A-law and μ-law), G.729AB, G.722 (HD Voice), G.722.1 iLBC
Individual volume settings with visual feedback for each audio path
Voice activity detection
Comfort noise generation
DTMF tone generation (RFC 2833 and in-band)
Low-delay audio packet transmission
Adaptive jitter buffers
Packet loss concealment
OPUS support
Headset and Handset Compatibility
Dedicated RJ-9 headset port
Hearing aid compatibility to ITU-T P.370 and TIA 504A standards
Compliant with ADA Section 508 Subpart B
1194.23 (all)
Hearing aid compatible (HAC) handset for magnetic coupling to hearing aids
Compatible with commercially-available TTY adapter equipment
USB headset support
Network and Provisioning for the Poly CCX 400 Business Media Phone
SIP protocol support
SDP
IETF SIP (RFC 3261 and companion RFCs)
Two-port gigabit Ethernet switch
10/100/1000Base-TX across LAN and PC ports
Conforms to IEEE802.3-2005 (Clause 40) for Physical media attachment
Conforms to IEEE802.3-2002 (Clause 28) for link partner auto-negotiation
Manual or dynamic host configuration protocol (DHCP) network setup
Time and date synchronization using SNTP
FTP/TFTP/HTTP/HTTPS server-based central provisioning for mass deployments
Provisioning and call server redundancy supported*
QoS Support – IEEE802.1p/Q tagging (VLAN), Layer 3 TOS, and DHCP
VLAN-CDP, DHCP VLAN discovery, LLDP-MED for VLAN discovery

Network address translation support for static configuration and "keep-alive"

SIP signaling
RTCP and RTP support
Event logging
Syslog
Hardware diagnostics
Status and statistics reporting
IPv4 and IPv6
TCP
UDP
DNS-SRV
*Planned localization
Security for the Poly CCX 400 Business Media Phone
802.1X authentication and EAPOL Media encryption via SRTP
Transport layer security (TLS)
Encrypted configuration files
Digest authentication
Password login
Support for URL syntax with password for boot server address
HTTPS secure provisioning
Support for signed software executables
Power (Varies by SKU)
Built-in auto sensing IEEE 802.3af PoE (Power over Ethernet) (Class 3) 13 W (Max)
External Universal AC/DC Adapter 5VDC @ 3 A (15 W)
ENERGY STAR® rated
Regulatory Approvals**
**Planned compliance
Safety
EMC
Operating System
Operating Conditions
Temperature: +32 to 104° F
Relative humidity: 5% to 95%, non-condensing
Storage Temperature
General
Size: 7.1 in x 8.5 in x 2.0 in (WxHxD)
Weight: 2.23 lbs
Warranty: 1 year
CCX 400
Poly Variations
SKU: 2200-49700-025 (CCX 400 Business Media Phone. Open SIP. PoE (Power over Ethernet). Ships without power supply. (UPC: 00610807893349)
SKU: 2200-49700-001 (CCX 400 Business Media Phone. Open SIP. PoE (Power over Ethernet). Ships with NA power supply. (UPC: 00610807893325)
SKU: 2200-49700-019 CCX 400 Business Media Phone. Microsoft Teams. PoE (Power over Ethernet). Ships without power supply. (UPC: 00610807893332)
HP Variations
SKU: 849A1AA#AC3 (CCX 400 Business Media Phone. Open SIP. PoE (Power over Ethernet). Ships without power supply. (UPC: 197497506297)
SKU: 84C14AA#ABA (CCX 400 Business Media Phone. Open SIP. PoE (Power over Ethernet). Ships with NA power supply. (UPC: 197497515633)
SKU: 848Z8AA#AC3 CCX 400 Business Media Phone. Microsoft Teams. PoE (Power over Ethernet). Ships without power supply. (UPC: 197497506242)
---
What Comes In The Poly CCX 400 Box:
CCX 400 Console
Handset with handset cord
Network (LAN) cable – CAT-5E
Desk stand
Setup Sheet
Power supply dependent upon SKU