Jabra Link 14201-40 Electronic Hookswitch Adapter (Panasonic)
Electronic hook switch solution for Panasonic IP KX-NT553 & 556 and Digital KX-DT543 & 546 phones.  The Jabra LINK 14201-40 enables remote Electronic Hook Switch Control (EHS) with Jabra wireless headsets and compatible phones. Jabra wireless headsets with EHS functionality boost productivity as they provide the users with the ability to answer and end a call, from their headset up to 450 ft away from their desk.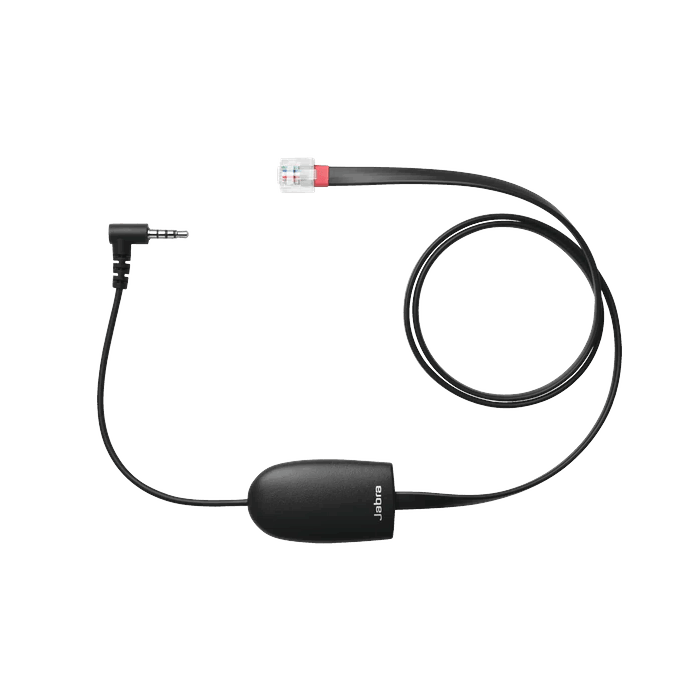 ---
Jabra Link 14201-40 Product Info:
1 Year Warranty
Jabra Link 14201-40 EHS
SKU#14201-40
UPC 0706487013129
---
Panasonic KX-NT553 & KX-DT546 Programming for Headset Use:
Connect the cables between the base of the Jabra headset and the Panasonic phone.

Connect the RJ45 plug on the Jabra EHS Adapter to the AUX port on the base of the Jabra headset, and connect the 3.5mm jack to the 3.5mm EHS port on the Panasonic Phone
Connect the handset cable of the phone to the port, marked with a handset, on the headset base.
Connect the Jabra phone cable (supplied with the headset) to the port marked with a phone, on the headset base, and the port marked with a handset, on the Panasonic Phone

Set the Following on your Jabra headset:

Set the Jabra headset adapter type to "IQ"
Set the phone setup switch for the Jabra headset to position "A"
NOTE: If you connect a headset directly to the 2.5mm jack port on the Panasonic phone, while the Jabra EHS adapter is connected to the 3.5mm EHS jack port, it may disturb the EHS signal.