Find All Your Needs on the Yealink WH66 Mono UC Workstation
The Yealink WH66 Mono DECT Wireless Headset UC Workstation gives users the possibility and flexibility to connect devices and manage communications from a single device. It also acts as a hub that integrates a full-duplex speakerphone, a wireless charging mobile phone stand, a 4-inch touch console and a USB hub, which together offer an incredible set of features allowing you to meet, connect and collaborate seamlessly and intelligently.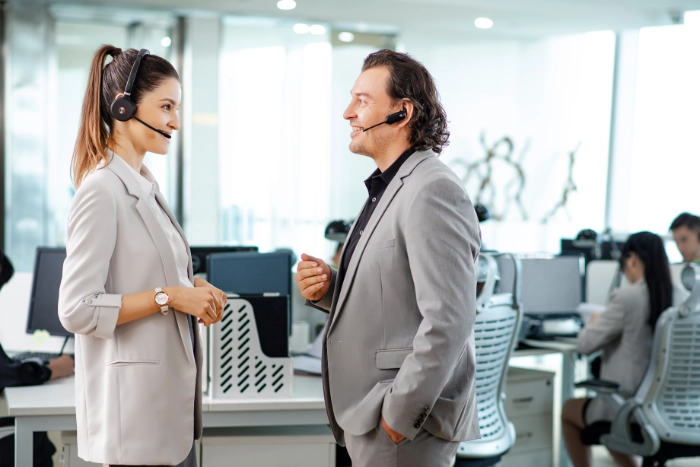 ---
Deliver HD Voice with Yealink Acoustic Shield
With Yealink Acoustic Shield technology, the Yealink WH66 Mono Wireless DECT Headset will filter out background noise with 2 microphones, providing HD voice quality for your listeners, and ensuring distraction-free conversation.
---
Stay Focused and Enhance Productivity
The Yealink UC Workstation is more than a single base. It eases the management of business communication demands and other USB devices. It also delivers great flexibility with a set of integrated features to facilitate your daily routine. It is professional, collaborative, and available.
---
Ensure Your Communication with Comfort
To meet the various preferences of users, Yealink created the WH66 DECT wireless headset with a lightweight design, soft and breathable ear cushions, and a 330° adjustable microphone to ensure all-day comfort.


---
Wireless Freedom & All Day Power
No matter when and where your conversation begins, the WH66 headset will give you the performance you need for worry-free roaming. With up to 120m wireless range and 8 hours talk time, it is suitable for users' daily communication needs.
In addition, the WH66 Mono DECT wireless headset supports high density installation in the open office.
---
Match Your Platform
Thanks to the broad compatibility of Yealink personal collaboration devices, users can enjoy consistent call experience across UC platforms, which promises better communication quality, higher productivity and lower IT costs.

---
One For All Devices Management
Yealink USB Connect is available for the management of multiple Yealink USB devices, including headsets, speakerphones, and webcams. All the settings can be done through Yealink USB Connect.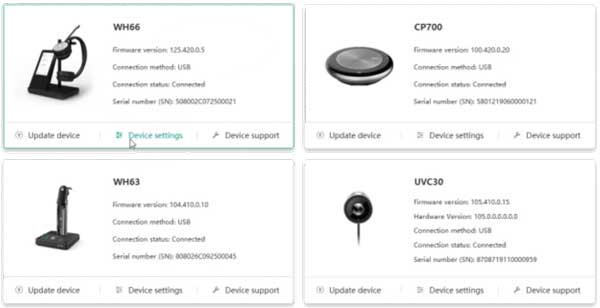 ---
Yealink WH66 Mono DECT Wireless Headset Specifications:
General
4-inch (480×800) capacitive touch screen
2 feature buttons
1 Type-A USB 3.0 port
USB 3.0 & 2 Bluetooth devices connectivity
Integrated busylight LED indicator
Adjustable boom arm up to 320°
2 Type-A USB 3.0 ports in the built-in hub
Charging stand (for headset)
Headset weight: 80 grams
Workstation weight: 398 grams
Warranty: 2 yr
UC Version
Model: WH66-Mono-UC
SKU: 1308007
WH6X Series
Teams Version
Model: WH66-Mono-Teams
SKU: 1308002
WH6X Series
Battery for Yealink WH66 Mono Wireless DECT Headset
Talk time: Up to 13 hrs
Standby time: Up to 90 hrs
Charging time: 2.5 hrs (12V/2A)
DECT
Wireless range: Up to 160m/525 feet
Secure DECT (level): Step C: authentication – DSAA2, encryption – DSC2 (128 bit)
Audio (Headset)
Dual microphone
Microphone sensitivity: -44.0+/-3 dBV
Microphone frequency range: 100 Hz-10 kHz
Speaker size: Ø 28
Speaker sensitivity: 92.5+/-3 dB, 0.179 V
Speaker impedance: 32+/-4.8 Ω
Speaker max output power: 10 mW
Speaker frequency range: 20 Hz-20 kHz
Speaker bandwidth:

Talk mode: wideband, 100Hz – 8kHz, 16kHz sample rate
Music mode: full-band, 20Hz-20kH, 48kHz sample rate

Hearing Protection

Peak Block Protection
Daily Noise Exposure Protection
Audio (Base)
Microphone type

ECM Omnidirectional microphone

Microphone sensitivity
Microphone frequency range
Speaker size
Speaker sensitivity
Speaker impedance
Speaker max input power
Speaker frequency range
Easy Call Management
Answer/End/Reject a call
Volume up/down
Microphone mute
Move the microphone boom arm up to mute, or down to unmute
What comes in the Yealink WH66 Mono DECT Wireless Headset box:
WHB660 Workstation base
Mono headset (WHM621)
Power Adapter
2 – 1m USB 3.0 Cable
Quick Start Guide
Optional accessories (sold separately)
BLT60 busylight
WHC60 Wireless charger
BT50 Bluetooth dongle
---
Yealink WH66 Mono DECT Wireless Headset

Firmware Requirements:
1) Determine Yealink phone firmware from one of the below methods:
From the idle screen press OK
From the idle screen select Menu and Status
2) Knowing your phones firmware, use the link below to determine headset/EHS compatibility: