Plantronics Savi W410 Wireless Headset:
Plantronics Savi W410 is a wireless headset system for laptop centric professionals using PC softphones and multimedia. Plantronics Savi W410 offers the highest quality audio with DECT technology built into the USB adapter, wideband support offering superior audio quality and battery life with adaptive power usage for extended talk time. The DECT USB adapter has 180-degree articulation for optimal positioning and storage and the over-the-head wearing style provides all day comfort with enhanced stability. Conference in as many as three additional Savi headsets on a call and enjoy improved efficiency, while experiencing an unprecedented level of comfort and functionality. Improve PC communications with the only portable DECT USB headset on the market, offering exceptional HD-voice quality and hands-free mobility.
---
Plantronics Savi W410 offers Over-the-Head Stability for Today's PC User.
+ Up to 300 feet of wireless range
+ Designed for Portability
+ Unmatched PC Audio Clarity
WIRELESS FREEDOM
For PC-based office and remote workers, the Savi W410 wireless headset offers excellent audio quality, up to 300 feet of wireless range and all day wearing comfort in a stable monaural design.
SUPERIOR AUDIO QUALITY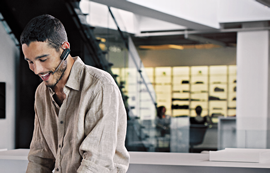 Enjoy DECT™ technology that provides best-in-class audio while eliminating interference from Wi-Fi networks. Advanced wideband audio using CAT-iq technology provides high definition voice quality while a noise-canceling microphone reduces background noise interruptions, ensuring great audio quality and easing listener fatigue.
SOFTWARE-ENABLED FUNCTIONALITY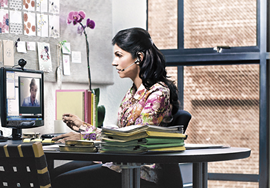 With Plantronics HUB software get the added value of:
Call control across multiple softphones
Battery meter conveniently displays headset battery life remaining in PC icon tray
Headset control panel for customization of settings, including call notification and related options
UC presence automatically updated when on a call
---
Plantronics W410 Wireless Headset Features:
Call control
Over-the-head, for enhanced stability (Monaural)
Up to 13 hours of talk time
300 feet of roaming distance
UC Standard version built for UC applications and softphones from Avaya®, Cisco®, IBM®, Skype® and more
1 Year Warranty
SKU# 84007-03
UPC 017229139671
---
What Comes In The Box:
---
What The Lights Indicate:
| | | |
| --- | --- | --- |
| W410 Base: | | = Solid GREEN when power is connected |
| | | |
| W410 Headset: | | = Solid WHITE is fully charged |
| | | = Flashes WHITE when headset is properly docked and charging |
| | | |
| USB Adapter: | | = Solid GREEN when headset is subscribed and ready for use |
| | | = Solid RED indicated it has power but not subscribed |
| | | = Flashed GREEN when headset in talk mode |
| | | = Flashed RED when headset microphone is muted |
| | | = Flashed RED and YELLOW when incoming call |