One of the most essential devices used in the customer service industry is computer headsets. Businesses have transitioned from relying on traditional handsets to corded and wireless headsets when making and receiving calls. Because of this move, employees have freed up their hands, eliminating stress and improving productivity by over 40%.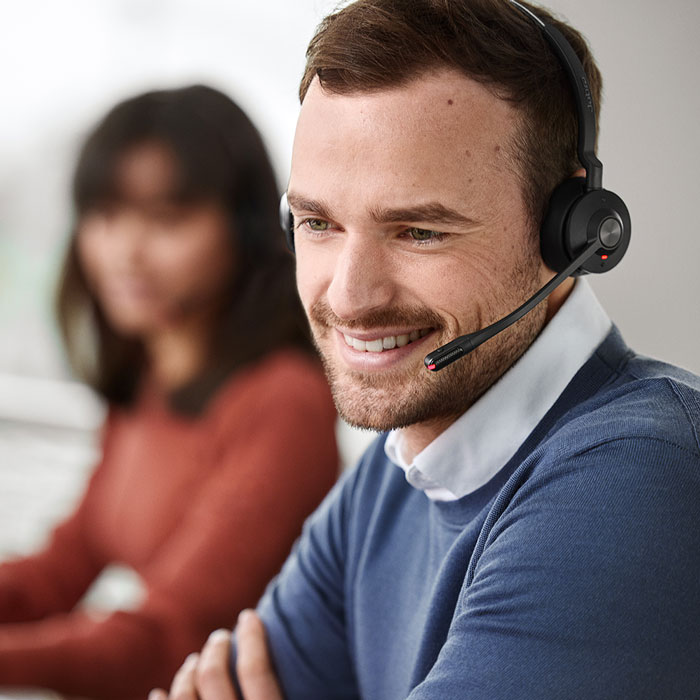 And in today's professional world, one name stands out when it comes to computer headsets: Jabra. Jabra headsets are among the world leaders in hands-free communication solutions for businesses. With advanced technology and a wide range of award-winning corded and wireless headsets, Jabra's comprehensive business offerings are well-suited for all your business needs. 
Equip your business with the best business headset Jabra has to offer. We'll uncover where to buy Jabra headsets below.
Why Use Jabra Headsets for Business
Jabra has become a household name in the business world as a leading provider of communications solutions that meet the needs of the business. The company has a long history of developing products that streamline business processes for improved efficiency and a higher bottom line. Trust in the makers of superior computer headsets with 150 years of experience to deliver solutions that help you achieve your goals through the power of a Jabra headset.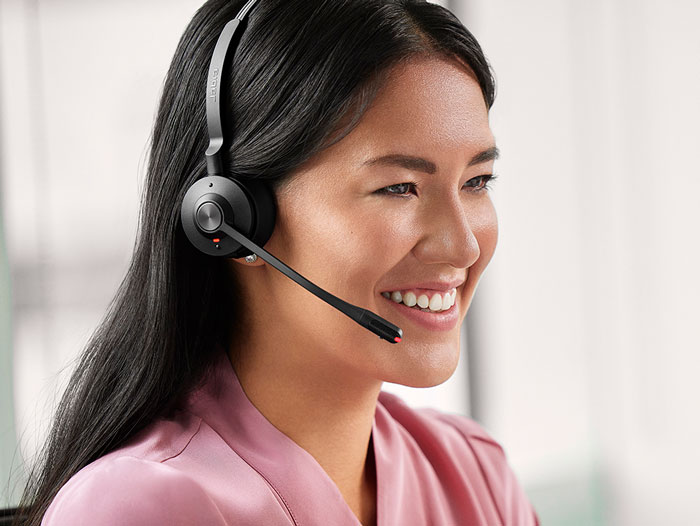 Advantages of Jabra Headsets for Business
One of the most significant advantages of using a corded or a wireless headset at work is that it alleviates neck and back pain commonly associated with extended phone usage. In addition, Jabra headsets come integrated with powerful audio components to promote better sound quality and noise cancellation, which helps employees concentrate. Aside from the exceptional Jabra headset quality, other advantages are offered by using a Jabra headset at the office.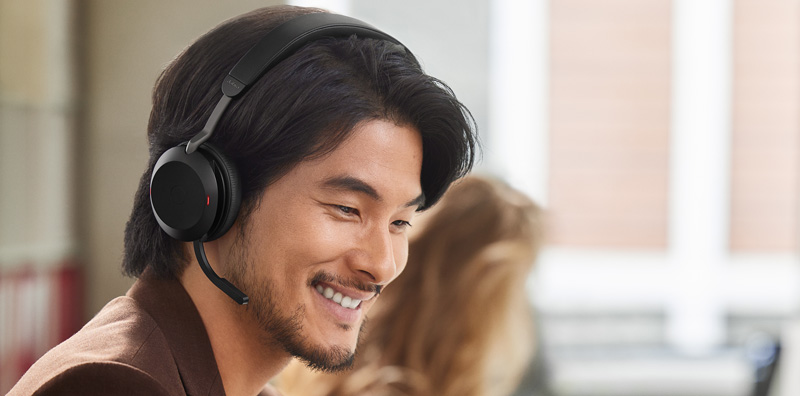 Some of these advantages include:
Superior Sound Quality. Jabra's extensive line of quality headsets is famed for the crispness of the sound they deliver. But a Jabra headset doesn't just offer excellent sound quality on the receiving end. It also transmits clear, noise-free audio thanks to its multiple microphone integration that helps you communicate with clients, suppliers, and service providers more effectively. In addition, its corded and wireless headsets are equipped with DECT and Digital Signal Processing technology, which promotes the ultimate natural sound experience.
Active Noise Cancellation. Corded and wireless headsets with noise cancellation are invaluable for high-powered business settings to ensure that both you and your conversation partner are able to hear each other clearly. Jabra's corded and wireless headsets are equipped with active noise cancellation, which considerably reduces all noise instances. Jabra cordless and wireless headsets are engineered with Active Noise Cancellation technology that helps isolate sources of noise and eliminates all distortions in the background, offering only the truest sounds. 
Freedom to Move. Jabra's wireless headset offerings provide complete freedom even while on a call. With a Jabra wireless headset, you are free to leave your desk and roam around the facility without disconnecting from your device, thanks to its extended range. For instance, an exceptional headset like the Jabra Engage 65 Mono wireless headset boasts a broadband range of 490 ft. That means whether you need to grab a piece of paper or pen, pick up a file, or type some information, you have the freedom to go about your task without any fear of interference or loss of quality.
Highly Comfortable. Elevate employee comfort levels by wearing comfortable headsets that ensure maximum comfort even while working extended hours. Jabra wireless headset product packages provide a comfortable experience. They are incredibly lightweight and built with memory foam to ensure comfort with prolonged use. But despite their light body, they are still specifically designed to withstand demanding working environments. Furthermore, Jabra offers a wide variety of designs to help you find a more comfortable configuration for you. For example, you can choose between monaural and binaural and over-the-head and over-the-ears designs for maximum comfort.
Versatile Connectivity. The Jabra wireless headset offering doesn't just offer complete freedom of movement. It also provides the freedom to connect with multiple devices simultaneously, making it easier to transition from one device to another. Connections can be established via Bluetooth or USB-A or USB-C Bluetooth adapters across different devices. With Jabra's versatile connectivity, you can easily connect and use devices such as laptops, smartphones, and tablets to improve workplace productivity. 
Where to Buy Jabra Headsets
As the preferred brand for businesses everywhere, knowing where to buy Jabra headsets is important to ensure businesses can supply the needs of their workforce with the power of the best business headset Jabra has to offer. Here are some of the best places to buy a Jabra headset, wireless or corded:
Headsets Direct
Headsets Direct was founded in 1996 with a single goal: to help our clients find the best headsets that fit their unique needs. Since its establishment, it has become an industry leader in quality products and services for business communication by offering quality headsets that work with greater efficiency and ease. Above all, Headsets Direct promises an enjoyable buying experience backed by a reputable company that cares about its customers.
Headsets Direct offers a comprehensive range of Jabra products to help businesses of all sizes – from small businesses to larger enterprises. We carry a wide selection of Jabra headsets, both corded and wireless, to provide efficient solutions to help your employees become more comfortable and productive. Learn more about our special pricing options for our Jabra headset wireless solutions for businesses as well as other offerings, including our picks for the Best Jabra Headsets of 2022.
Jabra has become a leading source of efficient business solutions for communication, making them the preferred headset brand for many businesses today. Professionals from organizations of all sizes rely on Jabra to support their operations and ensure that their employees and coworkers remain comfortable and productive. For the direct source of Jabra headsets, choose Headsets Direct. Fill out this form to request a quote.