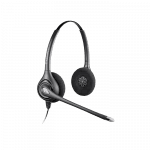 Plantronics recently announced the Plantronics SupraPlus HW261N Corded Headset has been discontinued and is no longer available now that supplies have run out. The current replacement as of August 26, 2019 is the Plantronics EncorePro HW520 Headset:
Plantronics HW520 Corded Headset:
The Plantronics EncorePro HW520 business grade headset is an all-new generation of headsets for customer service centers and offices, designed for the future, and built on experience. The EncorePro HW520 dual ear headband style delivers greater comfort for all-day wearing, superior noise-canceling for clearer calls, and increased reliability so conversations can continue without worry.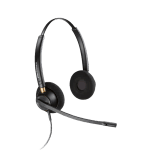 The Plantronics EncorePro HW520 is the next generation of our most popular over-the-head binaural headset. Completely re-imagined for the demands of the modern customer service center and office, with soft ear cushions (optional leatherette cushions also available) for all-day wearing comfort, metal joints that deliver durability and reliability and a flexible mic with visual and tactile positioning guides for precise positioning and clearer conversations.
As with all H-series headsets, you will need to add an amplifier or bottom cable that meets the compatibility requirements of your desk phone, PC or mobile device.  In conclusion, call if you have questions being numerous options are available, but only compatible devices will work correctly.
Connects to PC or desk phone with Plantronics audio processors.
Ideal for telephone-intensive users, including customer care centers, help desks, telesales, and customer service organizations.
Hearing protection SoundGuard technology: Acoustic limiting for protection against sounds above 118 dBA.
Audio performance Wideband audio (up to 6,800 Hz), noise-canceling microphone.
Quick Disconnect™ feature lets you walk away from your phone while still wearing your HW520 headset.
Adjustable clothing clip for cord management which removes weight and pulling from bottom cord.
Warranty: 2-Years for Unsurpassed Durability
Operating Frequency: High-Frequency Wideband
Headset Weight: 74 Grams
Compatibility: Plantronics Amplifier, Adapter Audio Processor or Direct Connect Cable
Wearing Style: Monaural / Single Ear
SKU# 89434-01
UPC: 017229144712