Headsets Direct Shipping & Handling Rates and FAQ's
---

*** We make every effort to ship orders received prior to 10:00am PST the same day from Arizona ***

---
USPS Priority Mail Shipping Options:
| | |
| --- | --- |
| Invoice Amount | Priority Mail (2-3 Days*) |
| | |
| $0 - $100 | 12.95 |
NOTE: For items too large to safely fit into a USPS Priority Mail box, only Standard UPS/FedEx Shipping will be offered at checkout.
* 2-3 day service is once the package has been pickup by our local carrier.
Daily pickup time varies between drivers causing some packages to not be picked up until the following day.
---
Standard UPS/FedEx Shipping Options:
| | | | |
| --- | --- | --- | --- |
| Invoice Amount | Ground | 2nd Day Air | Next Day Air Saver |
| | | | |
| $0 - $500 | 12.95 | 30.95 | 54.95 |
| $501 - $1000 | 12.95 | 48.95 | 74.95 |
| $1001 - $1500 | 12.95 | 62.95 | 94.95 |
| $1501 - $2000 | 12.95 | 76.95 | 110.95 |
| $2001 - $2500 | 12.95 | 94.95 | 128.95 |
| $2501 - $3000 | 12.95 | 104.95 | 132.95 |
| $3001 - $3500 | 12.95 | 152.95 | 218.95 |
| $3501 - $4000 | 12.95 | 164.95 | 226.95 |
| $4001- $4500 | 12.95 | 188.95 | 254.95 |
| $4501 - $5000 | 12.95 | 194.95 | 260.95 |
| $5000+ | 12.95 | Please call | Please call |
NOTE: Please add $15.00 for Hawaii and $25.00 for Alaska to the above UPS listed rates.
Ground Time-In-Transit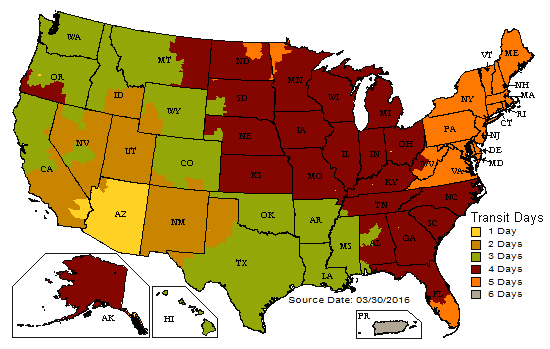 ---
First Time Customer:
We require first time customers to have their order shipped to their credit card billing address.
Alaska & Hawaii shipping charges:
Please add $15.00 for Hawaii and $25.00 for Alaska to the above UPS listed rates. USPS rates are the same price for all 50 states.
Military APO/FPO:
Please call or email for shipping rates.
International Orders:
Headsets Direct only ships within the United States. For exceptions, please contact us via phone or email with your headset request. The following is required for international orders:
$500.00 minimum order to process.
Two US business references are required prior to your first order shipping. Because of fraud, this allows us to confirm legitimate businesses.
Payment is by wire/bank transfer.
Products carry full warranty but you're responsible for shipping charges to and from Headsets Direct for warranty replacements.
We only ship using your account with UPS / FedEx / DHL or another carrier of your choice.
* We are not able to ship to Canada because of Canadian Government regulations imposed on Plantronics products. This applies to all Plantronics distributors, dealers, and vendors in the U.S. and is not specifically directed at Headsets Direct.
Shipping Delays & Refunds:
If you find that your package is not delivered on-time please contact us immediately. We will track your shipment and contact the carrier. After confirming that your UPS/FedEx shipment was delayed and you're entitled to a refund, we will credit your shipping charges. In the event of inclement weather (Acts of Nature), UPS/FedEx does not refund shipping charges, therefore we're not able to provide a refund. In the event the carrier experiences a mechanical failure, we will do our best to work with them to expedite a replacement.
UPS Tariff/Terms and Conditions, UPS Service Guarantee (From www.UPS.com - Updated 7-20-2011)
Packages that are delayed due to causes beyond UPS's control including, but not limited to: the unavailability or refusal of a person to accept delivery of the shipment, acts of God, natural disasters, war risks, acts of terrorism, acts of public authorities acting with actual or apparent authority, acts or omissions of customs or similar authorities, authority of law, insufficient information provided by a customer, Hazardous Materials packages improperly offered for transport, the application of security regulations imposed by the government, or otherwise applicable to the shipment, riots, strikes or other labor disputes, civil unrest, disruptions in air or ground transportation networks, disruption or failure of communication and information systems, and adverse weather conditions.
On occasion we receive inquiries about our shipping and handling charges and we want to be upfront and fair with our customers and potential customers in understanding these charges.
Please find the following explanations to address the most common questions we receive
:
Why is shipping so expensive?
As UPS and FedEx raise rates and add fuel surcharges, we've been forced to do the same. Our goal is to break even with shipping..it's not our profit center. We set a flat rate to simplify our ordering processing but at the end of the month our shipping charges are equal to, if not lower, than what we're charged. Most of the time we actually lose money because UPS and FedEx rates can change monthly and we make changes annually.
Why can't you ship everything USPS?

When factoring in shipping cost, labor involved, and software licensing, our orders are most cost-efficient using UPS to standardize pricing, and process orders as quick as possible.
Doesn't someone sell accessories locally and cheaper?
Unfortunately, you will find many of your local retail stores carry headsets, but they don't carry accessories. They realize there's profit only in the headset and not the accessories. Consider going back to them when you're frustrated about our shipping prices and see what they say about carrying accessories. Headsets Direct is one of the few distributors that carry the entire line of Plantronics headsets and accessories because we don't want customers to be without an option to purchase. We felt it was better to offer all products with a shipping amount to cover our expenses instead of not being able to purchase the accessory at all. Then you would be forced to purchase a new headset every time you lost an ear tip or charger.
Why can't you throw it in an envelope?
We've tried using USPS standard mail in the past for small items but shipments regularly were not received and without tracking there was no trail of the package.
In conclusion...
These are questions customers have asked us for years. Since our beginning in 1996 we have tried to accommodate our customers as much as possible. We're just as frustrated as you, but hopefully it helps to know what happens behind the scenes and ultimately we want the products you need to be available and received in a timely manner.