Be the first to review this product
Introducing Plantronics Voyager 3200 UC, the latest headset in the Voyager family
+ 3 Mics For Superior Noise-Cancelling
+ Rechargeable Case Allows 2 Exta Charges
+ One Button Access for Siri, Contana, and Google Now
+ Smart Sensor Technology Answers Calls Automatically
VOYAGER 3200 UC BLUETOOTH HEADSET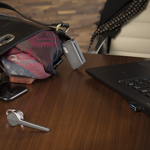 BUILT FOR BUSINESS- The Voyager 3200 UC is the perfect companion for headset users needing the convenience of one headset for mobile devices, and a USB connection point for laptops & PC's using VoIP softphones. One headset to cover all of your conversations while in the office or on the go. Being small, lightweight, and extra charging power with the included case, the 3200 UC is easily stowed with your laptop and ready for travel.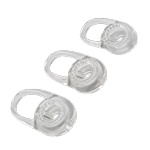 ALL DAY COMFORT - With 3 soft silicone eartips, you are ensured to find the perfect fit for extended wearing. Weighing only 9 grams, you will quickly forget you're wearing the 3200 UC allowing you to simply take calls at your convenience despite background noise and distractions.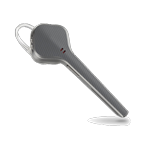 Noise cancelling Microphones - With 3 precisely tuned microphones and enhanced noise-cancelling technology, the Plantronics Voyager 3200 UC separates your voice from disruptive background sounds so your caller hears what you're saying, and not everything going on around you. As an added bonus, the 3200 UC supports wideband audio for HD Voice-enabled smartphones.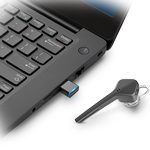 Responsive to Your Needs - The Voyager 3200 UC makes life easy with smart sensor technology that can pause your music for incoming calls, redirect calls to your phone or headset, and automatically answer calls as you place the headset on your ear. Simply say "answer" to take a call, or "ignore" to send the call to voicemail. Want to know who's calling without looking at your phone -- Voyager Edge UC syncs to your contacts so you will hear who is calling from your headset.
Plantronics Voyager 3200 UC Features:
• Precision tuned triple-mic with enhanced DSP for superior noise cancellation
• Dynamic mute alert senses and alerts you when you begin to speak while muted
• Work seamlessly across smartphones, laptops, and tablets
• Activate Siri, Google Now, or Cortana with the touch of a button to call phone contacts, send messages, or schedule meetings
• Rigorously tested ergonomic design for long-wearing comfort
• Talk/Standby Time Up to 6 hours., up to 10 extra hours with charging case; up to 7 days standby time
• Roaming range Up to 98 feet (30 meters) with Class 1 enabled device
• Audio performance Triple-mic DSP noise-cancelling technology
• Mobile wideband compatibility: up to 6,800 Hz; echo cancellation, proprietary DSP, A2DP
• Hearing protection SoundGuard®: Sound leveling for listening comfort and acoustic
limiting for protection against sounds above 118 dBA
• Headset control Call answer/ignore/end/redial, mute, volume +/-, smartphone
• VPA access, power on/off

• Model B3200: Certified for Skype for Business and Optimized for Microsoft® Lync®.
Built for UC applications and softphones from Avaya, Cisco, Skype and others (May require Plantronics HUB)
• Weight 9 g/0.019 lbs
• Wireless frequency Bluetooth v4.1
Accessories Included:
Charging case
BT600 USB Bluetooth adapter (205250-01)
Eartips (201955-xx)
Micro USB cable (201885-01)
NFC Touch to pair with NFC-enabled devices
Additional Information
| | |
| --- | --- |
| Inventory at start of day | 0 |
| Compatibility | Computer - USB, Mobile Phone - Bluetooth |
| Talk Time | 6 hrs (10 additional with case) |
| Stand By Time | 7 days |
| Roam Distance | 98 ft |
| Headset Style | In-the-Ear |
| Headset Weight | 9 grams |
| Part # | 207371-01 |
| Brand | Plantronics |
| UPC | No |
| Helpful Links | |
| MSRP | No |
We Make Your Life Easy!

• Plantronics Certified Headset Experts Since 1996
• 30-Day Money Back Guarantee
• Talk To A Real Person
• Guaranteed Latest Date Codes & Fresh Batteries
• Discounted Pricing
• Same Day Shipping On Most Orders (10:00am PST Arizona)
• Free Technical Support For Our Customers
• Out-of-Box Failures Are Replaced Immediately At Our Expense
• Expedited Warranty Replacements
• Visit: BBB Business Review A+ Rating