Positive review - 10 out of 10 Review by F16JetJock

Finally, I finally cut the cord to my PC (headset cord, that is)! No more cord tangling in my workstation chair, and no more getting up from my chair with the headset still attached to my head. What took me so long?
Indeed, the creation of this Bluetooth headset was the best innovation since Motorola's flip-phone.
Moreover, the antiquated and obsolete USB corded headset was incompatible with my PC and Bria softphone technology; nothing but VoIP fading, packet-loss and distortion in conversations. With the Voyager Focus, all conversations are flawless thanks to the Bluetooth technology interface to my PC. 10 out of 10!
Blend business and pleasure with unbelievable sound quality!
+ USB compatible for PC or smartphone VoIP business calls
+ 150 feet of range and 12 hours of talk time
+ Active Noise Canceling (ANC)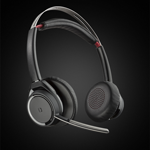 Crystal Clear Sound Quality
Plantronics Voyager Focus covers boths ears allowing you to hear your caller (when using VoIP) or your music without distraction. Plush leatherette cushions rival the most advanced headsets for all-day comfort, and an adjustable headband guarantees a perfect fit. With advanced active and passive noise-canceling technology, you can fully concentrate on calls or listen to your music without distraction.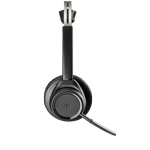 A Smarter Mute Button
Be in charge of your conversations with the Voyager Focus by muting and unmuting calls with a quick touch of a button...or by simply taking the headset off. Using smart sensor technology, it knows when you remove the headset and automatically mutes calls or pauses your music. As a bonus, if you try to talk while the headset microphone is muted, it will give you an audible reminder with its Dynamic Mute Alert.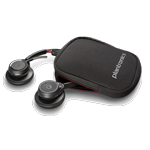 Made for Travel
The Plantronics Voyager Focus comes with a charging stand/cable, USB dongle, and travel bag making your headset ready to go when you are.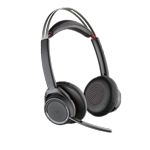 Music Lovers Delight
With this headset, music enthusiasts will enjoy rich bass, crisp highs, and natural midtones for the ultimate listening experience. The Focus is an intelligent device that knows to pause your music when the headset is removed, so you can pick up exactly where you left off when the headset is placed back on your head. Volume and track buttons are easy to navigate, and the microphone easily rotates out of your way.
---
Plantronics Voyager Focus Features:
• On-demand Active Noise Canceling (ANC)
• 12 hours of talk time (10 with ANC active)
• 15 hours of listening time (12 with ANC active)
• Headset weighs 155 grams
• Up to 150 feet/45 meters of roaming range
• Bluetooth v4.1
• Automatic music play/pause when headphones are put on/removed
• Wideband voice, hi-fi stereo, A2DP, and DSP
• 1-Year warranty
*Requires a Class 1 Bluetooth device
Additional Information
| | |
| --- | --- |
| Inventory at start of day | 12 |
| Compatibility | Computer - USB, Mobile Phone - Bluetooth |
| Talk Time | 12 hours |
| Stand By Time | No |
| Roam Distance | 150 ft |
| Headset Style | Dual Ear |
| Headset Weight | 155 grams |
| Part # | B825 / 202652-01 |
| Brand | Plantronics |
| UPC | 017229147782 |
| Helpful Links | |
| MSRP | No |
We Make Your Life Easy!

• Plantronics Certified Headset Experts Since 1996
• 30-Day Money Back Guarantee
• Talk To A Real Person
• Guaranteed Latest Date Codes & Fresh Batteries
• Discounted Pricing
• Same Day Shipping On Most Orders (10:00am PST Arizona)
• Free Technical Support For Our Customers
• Out-of-Box Failures Are Replaced Immediately At Our Expense
• Expedited Warranty Replacements
• Visit: BBB Business Review A+ Rating