Best headset I've ever purchased Review by Tim

I have the PLT BackBeat Pro and I've got the Voyager Legend. This headset is the perfect blend of both. Use them as Bluetooth headphones for music, use them as a headset for phone calls, it's all great. I've used these for conference calls countless times while I'm in an airport with no complaints.

Best sales headset for loud office spaces Review by Salesman

Call are clear with little to no delay and the buttons and functions are very intuitive. They are comfortable and stylish with good range to allow people like me the ability to move about freely and not be tied down. I love that music on your phone or computer automatically stops when a call comes in and how it auto-mutes when you take them off. Also very cool to have them auto answer when you put them on. Only weird things that happen is how it auto muted me when I haven't spoken in awhile which is annoying to a seasoned conversationalist, but the easy access mute button is quick to respond to avoid dropped calls or dead air. Great for busy and loud work spaces within an open floor concept.

The Best Yet Review by steveo

Just received these and after about 4 hours of use here are my first impressions:

Form, Fit and Style: Solid construction, sexy look and easily-adjustable comfy fit. The previous generations of Plantronics' flagship business cans have been impressive, but ultimately made you look like Lobot from Star Wars. These are much more compact, stylish and are not much larger than the ubiquitous Beats (with considerably more functionality...and Bluetooth). Plantronics listens and adjusts. +5

Function: Arrived fully charged. Instantly paired with PC via the included USB Bluetooth dongle. I already had Plantronics Hub installed. Controls are simple and intuitive, solid integration with Skype for Business, and Avaya Softphone on the PC. In addition easily paired to iPhone for use for iPhone calls, Skype for Business calls, GooglePhone calls and for music via iTunes, and Amazon Music. Volume controls on both the headset and/or the phone/app seem to overlap just a bit, but feels like this is to avoid excessive volume and/or accidental hearing damage. Easy to get to the right level. Taking off the headset, or pressing the "open mic" button pauses the music while letting you hear-through to outside sounds (which is pretty cool if your boss walks up and asks you a question). So far these are living up to the price and the hype. +5

Sound-Music: For music these are better than most in-ear solutions. The bass response is impressive. I'll need to let them burn in a bit before I give a full-range assessment, but if you like to feel the bass you won't be disappointed out of the box. Plenty loud that's for sure. There are two levels of noise cancellation. On the mid setting it covers most office background noise nicely. On the high setting it seems like it would cover up airplane noise, but I don't fly till next week so can't yet say. I like it loud most of the time and these don't disappoint. +5

Functionality for Calls: Sound great to me. Only had a couple of calls thus far and no one complained about voice quality. I've used most of the Plantronics product line over the years for business and they almost always get Active Noise Cancellation right. Time will tell on these, but I'm optimistic that wind and background noise in the mic will be stellar. Call controls, again are stellar and although I'm not a fan of switching between active calls it isn't as hard as with other solutions. The "open-mic" button acts as a mute button when in a call. If you are jamming tunes and a call comes in it pauses the music and auto-resumes when the call ends. Double-tap on the right ear calls last number dialed. Single tap, or voice command answers incoming call. Single tap hangs up when in a call. This is Plantronics bread/butter. +5

Overall: I can't yet find anything I don't like about these other than maybe the premium price. However that usually levels out over time-and if your company buys in volume and is doing due diligence procurement-wise you aren't paying list anyways. If you are buying these for yourself and need all the features you'd be hard-pressed to find a better solution so just buck up and lay down those Benjamins. In full disclosure I received these at no cost for evaluation and this is my "first impression" review. I will do a follow-up review addressing durability and long-term usage at a later date. +5
Business grade quality with 4 microphone boomless technology!
+ USB compatible for PC or smartphone VoIP business calls
+ 98 feet of range and 20 hours of talk time
+ Active Noise Canceling (ANC)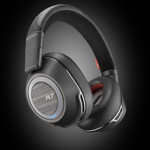 Boomless Microphone Technology
Plantronics Voyager 8200 provides business grade quality to your caller without the use of a microphone getting in your way. With dual-paired omni directional microphones with enhanced digital signal processing, your caller will hear you above and beyond anything else going on in your background. Each speaker has 2 microphones facing forward to the precise position that will pick up your voice and transmit perfect sound quality.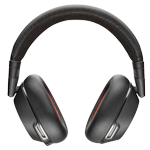 Active Noise Canceling
When most headsets mention noise-canceling, it refers to the microphone. This cuts down on background noise around you, allowing your caller to hear you more clearly. With the Voyager 8200 US, you also gain Active Noise Canceling which helps you hear better in loud environments. The dual-mode noise-canceling lets you select the most comfortable setting for your environment.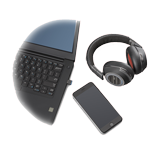 Great Travel Companion
The Plantronics Voyager 8200 comes with a charging cable, BT600 USB adapter, and soft carrying case making your headset ready to go when you are.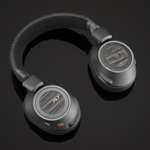 Premium Audio with Seamless UC Integration
Cut the background noise and boost productivity with the Voyager 8200 UC Bluetooth® headset. It delivers superior audio quality, seamless integration, industry-leading technology and multi-device connectivity. Plus, the boomless, dual-paired microphone design and two levels of active noise canceling help your employees stay focused and connected no matter where they work.
---
Plantronics Voyager 8200 UC Features:
• On-demand Active Noise Canceling (ANC)
• 20 hours of talk time
• 24 hours of listening time
• Headset weighs 289 grams
• Up to 98 feet/30 meters of roaming range
• Bluetooth v4.1
• Automatic music play/pause when headphones are put on/removed
• Wideband voice, hi-fi stereo, A2DP, and DSP
• Certified Skype for Business and optimized for Microsoft Lync
• 1-Year warranty
*Requires a Class 1 Bluetooth device
---
What comes in the box:
• Plantronics Voyager 8200 UC headset (208769-01)
• USB charge cable (201885-04)
• 3.5mm audio cable (209179-01)
• BT600 USB Bluetooth adapter (205250-01)
• Soft carrying case (209088-01)
Additional Information
| | |
| --- | --- |
| Inventory at start of day | 17 |
| Compatibility | Computer - USB, Mobile Phone - Bluetooth |
| Talk Time | 20 hours |
| Stand By Time | 1 month |
| Roam Distance | 98 ft |
| Headset Style | Dual Ear |
| Headset Weight | 289 grams |
| Part # | 208769-01 (Black) |
| Brand | Plantronics |
| UPC | 017229158221 |
| Helpful Links | |
| MSRP | $379.95 |
We Make Your Life Easy!

• Plantronics Certified Headset Experts Since 1996
• 30-Day Money Back Guarantee
• Talk To A Real Person
• Guaranteed Latest Date Codes & Fresh Batteries
• Discounted Pricing
• Same Day Shipping On Most Orders (10:00am PST Arizona)
• Free Technical Support For Our Customers
• Out-of-Box Failures Are Replaced Immediately At Our Expense
• Expedited Warranty Replacements
• Visit: BBB Business Review A+ Rating