The HamiltonBuhl KIDS Flex-Phones are nearly indestructible. This headphone is made from one piece of non-toxic, BPA-free EVA foam. EVA foam is a very flexible and soft material. Children can twist the Flex-Phones and bend it all different ways, and it will pop back to its original shape. It is particularly good for younger students, as they can be quite tough on headphones, but they can't hurt the Flex-Phones. The Flex-Phones have been awarded the Scholastic Teacher's Pick as "The Best of 2015".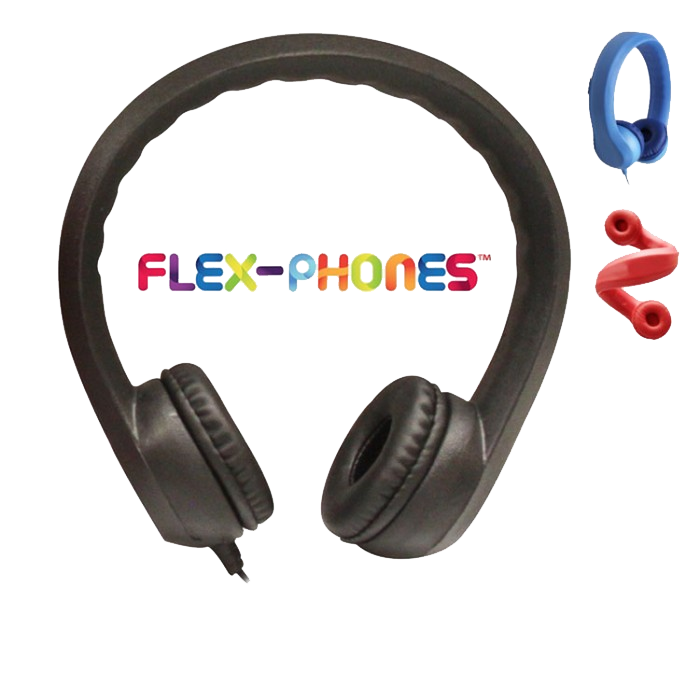 The headband has speakers on both ears with soft, leather ear cushions on the ear cups. This is considered an on-ear headphone because it rests up against the ear, so good for an average-to-quieter environment. The Flex-Phones comes with a snap-on extension for the headband that helps the headphone fit snuggly on smaller heads.
The HamiltonBuhl KIDS Flex-Phones has a very important safety feature for young ears. There is an automatic volume control that ensures the clear sound coming out of the Flex-Phones speakers cannot exceed 85 decibels, protecting students' developing hearing.
The cable is a four-foot long nylon cord that terminates in a TRRS. If you have any questions or concerns about compatibility, give us a call, and we will make sure you're getting the right headphone for the device that you're using. This is typically used on newer computers or tablets that have a 3.5 millimeter plug.
The Flex-Phones comes with a heavy-duty storage bag that you can write on, keeping your class more organized. The bag also acts as an anti-lice bag, killing all lice in 24-48 hours, making your classroom a safer place.
These budget-friendly, almost indestructible headphones also come in red, blue, and black.
If you have any questions on this or any other models, please give us a call at Headsets Direct 1-800-914-7996, or visit us online at www.headsetsdirect.com.