<< Previous Section - Headsets for Cisco Phones
Next Section - Corded Headset Solutions for Cisco Phones >>
Section 1: Wireless Headset Solutions for Cisco Phones
Plantronics CS545-XD Wireless Headset:
With a headset, you instantly become more productive, being able to write and type without holding or cradling a handset (not to mention the reduction in neck and shoulder pain). With a wireless headset, you take productivity up another notch by being able to roam your office while talking. Ever need to grab a file in another office or ask a co-worker a question? You can with a wireless headset. With the CS545-XD you get a lightweight, great-sounding headset that comes with everything you need.
How does it work? With the CS545-XD, you will start inbound and outbound calls at your phone. Most newer Cisco phones have a headset button on the phone. When a call comes in, or you want to make a call, you simply press the headset 'ON' button and press your phone's headset button. You are now talking with your caller and free to roam up to 350 feet from your phone. To answer/hang-up calls away from your desk you will need an optional HL10 or EHS cable shown below.
• The CS545-XD comes from our most popular wireless headset series
• Enjoy all-day comfort with a lightweight headset (21 grams)
• 2 batteries included for unlimited talk-time
• Includes Over-the-Ear and Over-the-Head wearing options
• Hear more clearly with speaker and microphone volume adjustments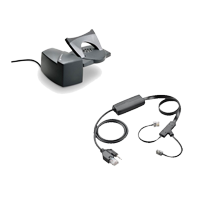 Optional Plantronics HL10 or EHS Cables for Remote Answering:
Need to answer remotely? If you want the most out of your headset investment, you will want the ability to answer/hang-up calls away from your desk. This increases your productivity again by not missing calls to voice mail or needing to run back to your desk with every ring. Most Cisco phones allow remote answering with an HL10 or Electronic Hookswitch (EHS) cable connected to your wireless headset. Consult Section 3 (Cisco Compatibility Guide) to determine which device is compatible with your specific model of Cisco Phone, and Section 7 explains Handset Lifters and EHS cables in detail. The HL10 & EHS cables accomplish the same function, thus you only need to use one or the other.
Fast and Easy Ordering:
To simplify your choices and save you hours of time researching, we've listed the most common Cisco wireless headset and remote answer/hang-up solutions below.
OPTION 1: If you don't need to answer remotely, cick below to add the wireless headset to your cart.
CS545-XD Wireless Headset
OPTION 2: If you want to answer remotely (never missing calls and being more productuve), check Section 3 (Cisco Compatibility Guide) to determine which device you need (HL10/EHS cable). Then return here to add the headset and appropriate HL10/EHS cable to your cart.
CS545-XD & HL10 Handset Lifter
CS545-XD & APC-43 EHS
CS545-XD & APC-45 EHS
CS545-XD & APU-72 EHS
CS545-XD & APC-82 EHS
<< Previous Section - Headsets for Cisco Phones
Next Section - Corded Headset Solutions for Cisco Phones >>