<< Previous Section - Wireless Headset Solutions for Cisco Phones
Next Section - Cisco Compatibility Guide >>
Section 2: Corded Headset Solutions for Cisco Phones
Plantronics HW540 Corded Headset: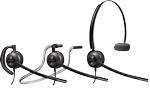 Cisco phones work great with Plantronics headsets. You need two pieces to make it work; an H-series headset and a bottom cable.
Want to make your corded headset solution easy...with no sacrifices? You need to consider the Plantronics HW540 EncorePro headset. It's a quantum leap in convertible headset design. It's a 3-in-1 headset without compromise – all of the wearing styles are designed with quality and comfort in mind in a system that is simple to convert but delivers a secure, positive fit and finish. The HW540 provides high-quality audio, a flexible noise-canceling mic with visual positioning guides, soft ear cushions, and durable, yet lightweight materials for all-day wearing.

• Flexible microphone for optimal voice clarity
• Quick Disconnect cord allows you to easily walk away from your desk
• Lightest in its class of business headsets
• Soft foam ear cushions provide all-day comfort
• Laser welded construction for unbeatable toughness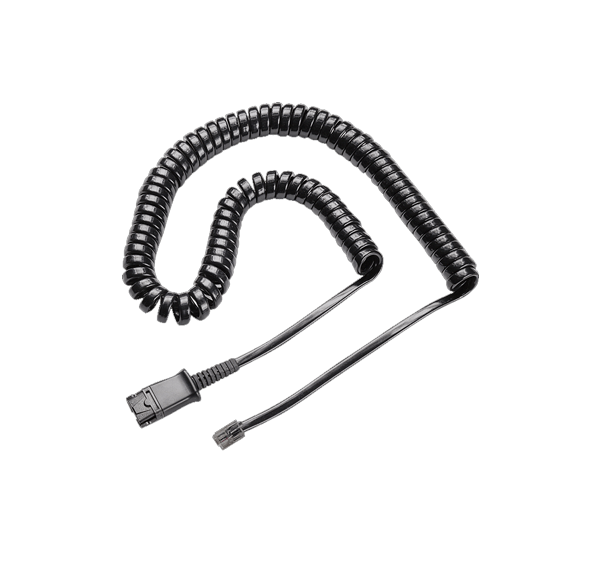 Plantronics U10 Direct-Connect Cable:
Many newer Cisco telephones have a headset port and button for easy headset use. You simply plug one end of your H-series headset into the U10 cable, and the other end into your Cisco telephone's headset port. To answer or end a call, you simply press the headset button on your phone. It doesn't get any easier. If you need to walk away during a call, you can keep your headset on, and simply pull the quick disconnect apart at the U10 cable connection. Doing this puts your caller on hold through the headset. When you return to your desk, plug the headset back into the U10 cable and continue talking.
Fast and Easy Ordering:
To simplify your choices and save you hours of time researching, we've listed a great Plantronics corded headset and the most common Cisco direct-connect cables below. Consult our Cisco Compatibility Guide to determine which cable you need and then click the links below to add them to your cart. It's that easy!
HW540 & U10 Cable (modular plug connection)
HW540 & SPA Cable (2.5mm connection)

<< Previous Section - Wireless Headset Solutions for Cisco Phones
Next Section - Cisco Compatibility Guide >>