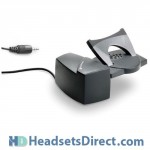 Plantronics Handset Lifters & EHS Cables:
Handset Lifter:  Plantronics HL10
EHS Cable: All Cables Available
Compatibility Assistance: Links to determine which lifter/EHS cable you need
The biggest reason you need a handset lifter or EHS cable is you get a lot more value and production out of your wireless headset by adding one of these devices.  There are three key benefits: First is you have the ability to answer away from your desk; second you don't miss calls to voice mail, because it will beep in your ear every time you have an incoming call; and last it automates how you take calls.  So you really cut down on the number of steps, most of the time in half, to answer and hang up calls.
So what exactly does a handset lifter do?  Plantronics made the handset lifter many years ago.  It is very simple.  It uses adhesive tape to stick to the side of your phone, and it works on most telephones, even very basic phones.  When you push a button on the headset, it lifts a flap, and that flap lifts your handset up, and it simulates you taking a call.
The electronic hook switch cable, or EHS cable, is for newer, more sophisticated phones that actually have a headset port built into them.  You need either a handset lifter or an EHS cable, you don't need both. The newer technology that most people are going with is the EHS cable, because it's a lot cleaner setup, and it plugs directly into the circuit board.  The engineers at Plantronics have worked with the phone manufacturers on the EHS cables so that you don't have the mechanical raising and lowering of the handset lifter, it's done directly with the circuit board.
Once you have them installed and you have an incoming call, you simply push a button on your headset to answer the call, so it automates the whole sequence.  When you are finished with the call, you just push the same button on the headset to disconnect the call.  Without these devices, you have to turn your headset on each time, and you also have to walk back to your phone to trigger your phone by either pushing a button or lifting the handset up and down, so this is a huge benefit.  You get a lot more out of your wireless headset when you use one of these devices, because you can answer away from your phone, you're not missing calls to voice mail, and it automates the whole system.
If you have any questions on this or any other headsets, please give us a call at Headsets Direct 1-800-914-7996, or visit us online at www.headsetsdirect.com.