Plantronics HW540 Corded Headset Buying Guide: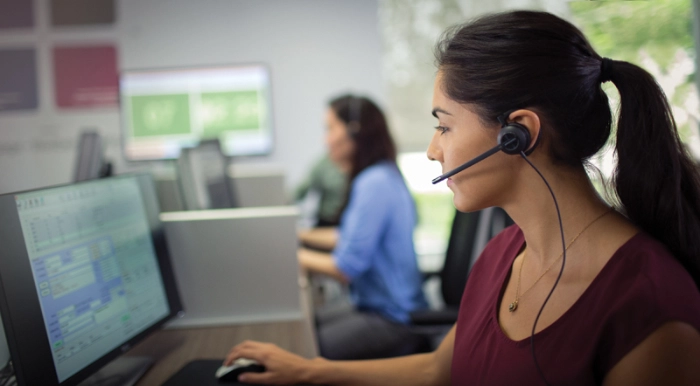 Plantronics HW540 Headset:
In late 2014, Plantronics announced and started shipping the EncorePro HW540 corded headset. It includes a noise-canceling headset, three attachments for different wearing styles (headband, ear hook and neckband), a soft ear cushion, a clothing clip for cord management, and a cable ending with a Quick-Disconnect connection. As with all business-grade H-Series headsets, an amplifier or direct-connect cable is required to connect this headset to your phone or computer.
KEY POINT: The HW540 is a business-grade headset made for all-day comfort, crystal clear audio, and backed by a two-year warranty from Plantronics.
Three Headset Wearing Styles:
The EncorePro HW540 is classified as a convertible headset, which simply means you have different ways to wear the headset. The advantage of a convertible headset is you don't have to choose a wearing style before your purchase. When you receive your headset, you can rotate through the different configurations until you find the most comfortable fit…for you. The over-the-ear option works well for users not wanting to mess their hair or those who require a low-profile headset to be less visible for face-to-face conversations. With the headband configuration, a user will enjoy a more stable and secure fit. Neckband users will appreciate a low-profile headset and a more balanced fit, with the headset being supported by both ears.
How The Different Wearing Styles Attach:
Each attachment has a half circle clip that snaps into place around the speaker housing, locking into slots. This makes it very secure, easy to remove, and is extremely durable. The HW540 can be worn on either ear by simply rotating the attachment and microphone boom as desired.
KEY POINT: Headsets are universal and can be worn on either ear.  You don't need to specify when ordering.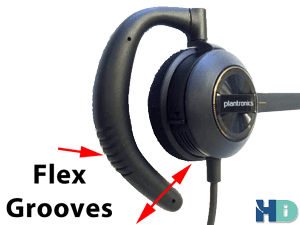 Over-the-Ear: On the over-the-ear wearing style, the earloop is 58 mm in length from the top rotating joint to the end of the loop. The HW540 earloop is a rubber material covering a hard wire, giving you both support and flexibility. The flexible grooves allow you to contour the earloop to the shape of your ear, and it will hold that position indefinitely. The top rotates, giving you side-to-side adjustability. With the ability to rotate and shape to your ear, the users choosing the HW540's over-the-ear configuration will be provided with all-day wearing comfort.
KEY POINT: The over-the-ear configuration weighs 22 grams (lightest configuration)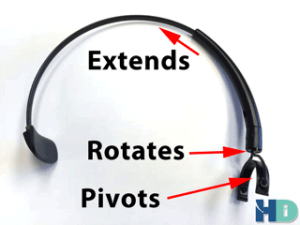 Headband: If you choose the HW540's headband wearing style, you will have three points of adjustment. First, the headband extends, making it wider or more narrow to fit the size of your head. Users with larger or smaller heads may find the headband is not the optimal option, but the majority of users can adjust the headband for a perfect fit. The headset speaker/microphone snaps into the pivoting section of the headband. The headband pivots and rotates, allowing the speaker with the soft cushion to lay comfortably against your ear. Your ear naturally tapers out at the top and tapers in at the front of your ear, and this headset automatically compensates for those curves.
KEY POINT: The headband configuration weighs 32 grams (heaviest configuration).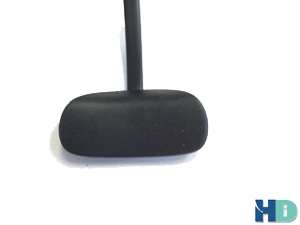 The T-pad, or temple pad, is located on the opposite side from the speaker and microphone. This is a key element for support when wearing a headband. This pad is made of a soft rubber material to hold its shape but flexible enough to be comfortable and not irritate your head. When adjusting how far the headband extends, the T-pad should be located above your ear and not on or touching your ear.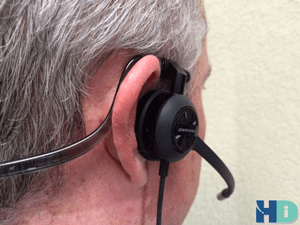 Neckband: With multiple wearing options, the Plantronics HW540 also includes a neckband. Previous attempts at a neckband option left users with a heavy, bulky ear piece attachment. The HW540 has a re-engineered neckband that, for the first time, is a great option to consider, being low profile, comfortable, and extremely lightweight.
KEY POINT: The neckband configuration weighs 24 grams.
Flexible Noise-Canceling Microphone: 
The Plantronics HW540 comes with a flexible, noise-canceling microphone. Microphone positioning is very important, so your headset can easily target your voice and reduce background noise. As you can see, the mic boom has a grooved section that's made for flexibility and for holding its position.  The microphone should extend towards the corner of your mouth, being about 1/4 of an inch away. To test, you should be able to slide your finger between the end of the microphone and your mouth.
KEY POINT: Noise canceling does not affect the headset user and only benefits the caller.
The noise-canceling microphone on the HW540 headset is made to be most effective in an office environment where it will differentiate between your voice and the sound of co-workers talking in the background.
KEY POINT: With a standard microphone and a loud co-worker, your caller may hear most of your co-worker's conversation when you're not talking. With a noise-canceling microphone, your caller will still know you have a loud co-worker, but they will not hear word-for-word what's going on in the background, but simply the noise of someone's voice.
It's also good to understand the headset microphone is trying to target your human voice and cut down on other human voices. Users may want to work from home and use a noise-canceling microphone to hide the sounds of a dog barking or a baby crying.  Unfortunately, your caller will still hear the dog barking and the baby crying because they're such distinct sounds. They will be at a reduced level, but your caller will still know you're working from home, because the mic is not able to eliminate background sounds. That's only possible in a recording studio with your favorite music group!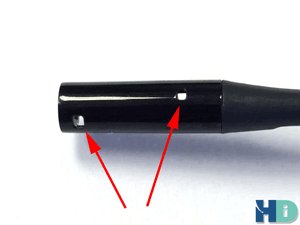 As you can see in the picture on the right, the Plantronics HW540 has multiple openings to pick up your voice and background noise. The microphone processes these sounds from different directions. The microphone then determines which voice needs to be targeted, and what background noise needs to be reduced. This great technology will help to make sure your caller hears you more accurately, they will ask you to repeat information less, and most importantly, they will not be distracted by your loud co-workers.
Improved Wideband Speakers:

 
Plantronics is constantly improving the audio quality of each new head they introduce. The EncorePro HW540 is no exception. The HW540 implements newer wideband technology giving the user of the headset better sound quality.  Wideband audio, also called HD voice, is high-definition voice quality which extends the frequency range of sounds transmitted over telephone lines or internet connections (up to 6,800 Hz). With better sound quality, HW540 users are able to hear more clearly, which means fewer errors in key information, like shipping addresses or credit card numbers.
The HW540 headset comes with a replaceable ear cushion for all-day wearing comfort. The diameter of the cushion when positioned on the headset speaker measures 1 3/8 in.
The Importance of the Clothing Clip:
Many users simply put on the headset and start using it, disregarding the clothing clip. They're missing a key component of how a little thing can make a big difference. When properly positioned, the HW540 clothing clip should be clipped onto your shirt 6-10 inches down the cord, and have enough slack between the clothing clip and your headset to turn your head freely from side to side. You should not feel any tugging on your headset as you turn your head. This provides a point for the lower portion of the cord to be pulled from when you're trying to reach for that file that's just out of reach.
KEY POINT: You should not feel tugging on your headset as your head turns from side to side.
Quick Disconnect and Compatibility:

 
The Plantronics HW540 headset has a cable measuring 36 inches (3 feet) in length. This cable is soldered into the speaker housing circuit board and it is not replaceable. The end of the cable terminates in a quick disconnect. This is a connection all Plantronics H-series headsets have. With this connection, you have the ability to choose any H-series headset and a bottom cable or amplifier, depending on your application. This makes headsets universal, and the challenge of compatibility falls on the cable or amplifier connecting your headset to your phone, PC, or other device.
KEY POINT: The HW540 headset will not plug directly into ANY phone!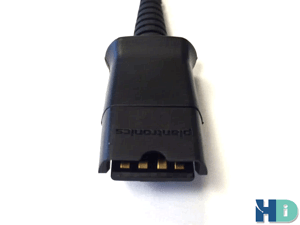 As you can see, there are four contact points inside the quick disconnect, providing your speaker and microphone audio.  These contact points slide across matching contact points when a bottom cable or amplifier is attached. They are made to attach and pull apart endlessly without wearing out or sustaining damage. You would have to stick a screwdriver or other flat object into the quick disconnect to damage it.
Using the advanced technology of a quick disconnect, you never need to remove your headset, keeping it perfectly positioned. If you go on break, need to walk to a file cabinet or converse with a co-worker, you simply pull the quick disconnect apart and walk away. If you have an active call, pulling the quick disconnect apart puts the caller on hold through the headset. When you reattach the cables, you are immediately back connected to your caller.
When it comes to compatibility, you will need to consult with an Authorized Distributor to determine what you need.  At the inception of the Plantronics HW540, approximately 20 different direct connect cables and amplifiers exist, each with different pin configurations, volume settings, and application usage. Many customers will try to guess which one of the cables to use with the HW540 and find low volume, poor sound quality, or even no sound at all. To ensure a great headset experience, call or research what makes the Plantronics HW540 compatible with your phone or application.
Plantronics HW540 PRO's:
• Convertible headset with three different wearing options
• Lightweight business-grade headset
• Compatible with virtually any phone or computer
(Additional amplifier or cable required with matching quick-disconnect)
• Single ear design keeps other ear open to communicate with co-workers
• Noise-canceling microphone to reduce background noise
• Soft ear cushion for all-day comfort
Plantronics HW540 CON's:
• Being so light weight, some users prefer a heavier duty headset
• For loud environments, a dual ear headset works better
• Smaller ear cushion measuring 1 3/8 in. compared to HW510 2 1/4 in. doesn't seal as much sound
• Limited to 8-10 feet of reach versus a wireless headset with no cord
To Order Visit: Plantronics Encore HW540 Headset