HamiltonBuhl SC-7V School Headphones
The HamiltonBuhl SC-7V headphone is an ideal headphone for students.  This headphone is a headband worn over the head with the speakers on both ears.  The wearing style is called deluxe over ear.  That means the ear cushions or ear cups go around the student's ears, cupping their ear, reducing noise for the student.  They will be able to hear much better and not be easily distracted with the HamiltonBuhl SC-7V headphone.  So if they are doing online assessment testing, for example, this headphone will help to keep them more focused.  They should get better results with a headphone like the SC-7V.
The soft leatherette ear cushions are easy to clean, and they are replaceable also.  They are very comfortable for extended wearing periods.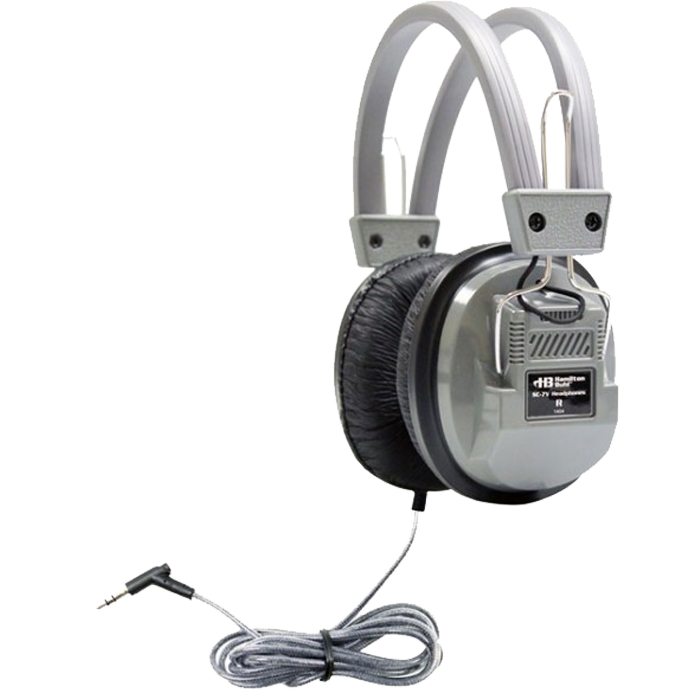 This headphone also has a volume control, so each student can dial the sound level into their personal preference.
The SC-7V headphone is speaker only; there's no microphone.
HamiltonBuhl SC-7V has a unique cable called a Dura-Cord.  So it's a five -foot long cable; chew resistant, kink resistant, knot resistant, so perfect for all students.  This cord is particularly sturdy, as it is a braided cord that is enclosed in a PVC sleeve, so it's really durable, it will last for a long time.  The Dura-Cord ends in a 3.5mm plug.
It is very important to understand that when you plug it the HamiltonBuhl SC 7V, you need to plug it into a compatible device, like a computer or tablet that is compatible with the 3.5mm plug.  It is important that If you have any questions on compatibility, you give us a call to make sure you're getting the right headphone to plug into the devices you will be using.
This SC 7V headphone comes with a heavy-duty storage bag.  You can write on the bag to put a student's name on it, or a room number, so you will always know where the headphone belongs.  The headphones are much easier to hand out when they are not tangled up together.  The bag is also anti-lice; put the headphone in the bag, and within 24 – 48 hours, the lice will be dead, without using any chemicals.  You can also bulk buy the HamiltonBuhl SC-7V in larger quantities of 12 pack (HamiltonBuhl LCP/12/SC7V Stereo Headphones) and 24 (HamiltonBuhl HMC/24/SC7V Stereo Headphones)which include a large carrying case.
The HamiltonBuhl SC-7V school headphone is  one of the most common headphones on the market.   The SC-7V is a great headphone for online assessment testing or general computer lab use.
If you have questions on the HamiltonBuhl SC-7V or any other models, please give us a call at Headsets Direct, 1-800-914-7996, or visit us on-line at www.headsetsdirect.com.