Not for soft-phone Review by Josh

Smaller than expected, which was nice. But this device does not work as expected or as described for a soft-phone (PC connection). It just flashes blue all the time whether I am on an active call or not, which is contrary to the PC LED indicator on my Savi W720 base which goes from green to red. So the base station has the ability, seems to be something with this product. Also there are no install instructions in the box or online, and the base station instructions do not mention such a device. There is only one possible port to plug it into, but I chatted for support to confirm. Would be nice if they just clarify that connection.

Busy light is a must have. Review by GM parts center

We added the busy light in our phone room and it has helped tremendously with the confusion of who's one the phone. Would definitely do it again.

Cool Review by ACE

So cool & let's co-workers know that I'm on the phone & also has a futuristic vibe.

Great Product & Great Customer Service Review by Help Desk

We ordered one of this product to test for our help desk personnel to tell when they were in the midst of a call. It has helped cut down on distractions and therefore improved customer service. When we ordered enough to have one for all of our personnel they were out of stock but arrived quickly, and we were kept informed during the entire process. Great Experience!

Works Well Easy to See Review by Kate

This has been most helpful in our busy office because I've got the Busy Light place on top of my monitor using the mounting strips enclosed, and it helps people know when I'm on a call, especially when using my headset :-)

Great Review by Sharon

I had only utilized Avaya before, and these work great.

Let's people know I'm on the phone Review by JC

Great product and the order was filled and shipped quickly and correctly. Great company to do business with.

Very efficient and clear Review by sunshyne

I love that it is obvious right away when I am on the phone.

Neat Review by Jessica H.

The blue lighted part catches the eye so that I'm not interrupted on the phone.
Headset Online Indicator - Busy Light - OLI w/ Straight Plug
This busy light has a straight plug and is only compatible with Savi, CS500 series of wireless headsets and HL10 handset lifter.
For old and new Plantronics wireless headsets and lifters, you can use the universal busy light, part # 65116-02 with a 90 degree plug.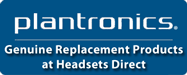 ---
Compatible with: Savi WO100, WO200, WO300, WO350, W710, W720, W730, W740, CS510, CS520, CS530, CS540, CS545-XD, HL10
Cord Length: 5 feet
*Will not plug-in properly to CS50, CS55, CS70N, CS351N, CS361N
Additional Information
| | |
| --- | --- |
| Inventory at start of day | 17 |
| Compatibility | No |
| Talk Time | - |
| Stand By Time | - |
| Roam Distance | - |
| Headset Style | No |
| Headset Weight | - |
| Part # | 80287-01 (On-Line Indicator - OLI) |
| Brand | Plantronics |
| UPC | 017229129559 |
| Helpful Links | - |
| MSRP | $29.95 |
We Make Your Life Easy!

• Plantronics Certified Headset Experts Since 1996
• 30-Day Money Back Guarantee
• Talk To A Real Person
• Guaranteed Latest Date Codes & Fresh Batteries
• Discounted Pricing
• Same Day Shipping On Most Orders (10:00am PST Arizona)
• Free Technical Support For Our Customers
• Out-of-Box Failures Are Replaced Immediately At Our Expense
• Expedited Warranty Replacements
• Visit: BBB Business Review A+ Rating