Works great! Easy to see. Review by Doug

This works just like it should. No more awkward moments on the phone.

Annoyance Saver Review by Dan

Prior to owning this, my boss was forever coming in while I was on the headset and began talking. He was continually annoyed because he didn't know, and I was continually annoyed because I'd have to indicate I was on the phone. Worth every dime!

This device is great. Review by Roger

I have been looking for one of these for sometime. I am constantly having to let my fellow workers know that I am on my wireless headset by holding up my hand and pointing at my headset to let them know I am on the phone.

Good Review by KKW

Good way to let others know you are on the phone.

Tells folk in the office you are on the phone. Review by dpsdental

Works well. Tells folk in office you are on the phone.

great product Review by American Slave

With the busy light, everyone knows when I am on the phone so they don't just walk into my office and start talking to me.

Works but.... Review by Online Light

Easy to use, but would prefer being able to change from cute rotating light to steady glow. Also indicates if wireless headset is turned on even if not on a call.

No more interruptions! Review by Program Supervisor

Our office unanimously voted to purchase this product for our front desk receptionist who manages multiple lines, always uses a headset and is our go-to person for a number of office needs and questions. It is difficult to know when they are on the phone with someone and as customer service is our #1 goal, we do not want to approach the desk with our questions and possibly interrupt a phone interaction with a customer. The Busy Light/ On-Line Indicator has solved this issue and we are very pleased with the product. It is now very easy to see when they are on the phone.
Telephone Online Indicator - Busy Light - In-use - OLI Low profile version
This is the universal busy light that used a 90 degree plug. It's compatible with old and new Plantronics wireless headset and lifters.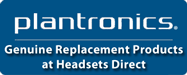 ---
Compatible with: CS50, CS55, CS70, CS70N, CS351N, CS361N, WO100, WO200, WO300, WO350, Savi, CS500 Series
Cord Length: 5 feet
Also called: busy light, online indicator, OLI
Additional Information
| | |
| --- | --- |
| Inventory at start of day | 13 |
| Compatibility | No |
| Talk Time | No |
| Stand By Time | No |
| Roam Distance | No |
| Headset Style | No |
| Headset Weight | No |
| Part # | No |
| Brand | Plantronics |
| UPC | 017229117846 |
| Helpful Links | No |
| MSRP | No |
We Make Your Life Easy!

• Plantronics Certified Headset Experts Since 1996
• 30-Day Money Back Guarantee
• Talk To A Real Person
• Guaranteed Latest Date Codes & Fresh Batteries
• Discounted Pricing
• Same Day Shipping On Most Orders (10:00am PST Arizona)
• Free Technical Support For Our Customers
• Out-of-Box Failures Are Replaced Immediately At Our Expense
• Expedited Warranty Replacements
• Visit: BBB Business Review A+ Rating